Written by Laura Pidgley
To put it simply, Tbilisi is a real treasure. With its old-meets-new, east-meets-west vibe, the Georgian capital has a truly unique allure, where handsome churches stand alongside futuristic new buildings and old ladies shuffling home from the market share the pavements with bearded young men who look to have walked straight out of Shoreditch. It's a city of contrasts, with a history rich in different cultures and ways of life, but that just adds to its charm. And with Wizz Air now offering direct flights from London Luton to Kutaisi, a fascinating town just 3½ hours to the west, it's never been easier to explore this vibrant, up-and-coming city over a long weekend.
Wander the Old Town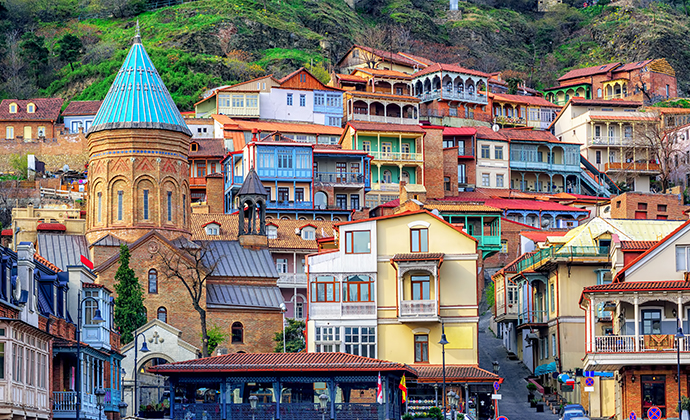 The city's colourful Old Town is a joy to explore © Boris Stroujko, Shutterstock
A higgledy-piggledy maze of pastel-hued houses, all jostling for space in a pocket beneath the hillside, Tbilisi's Old Town is a photographer's dream. The area has been inhabited by various different cultures throughout the course of its history, and evidence of Persian, Tatar, Jewish and Armenian heritage can all still be seen today – a mosque, synagogue, and Armenian and Georgian churches are all still in use, illustrating that this remains the capital's most culturally affluent district. You can easily while away a morning exploring the maze of cobbled streets, where highlights include the understated but no-less impressive Juma Mosque, the only one in the world where Shia and Sunni Muslims pray alongside one another, and the remarkable Dzveli Sulphur Waterfall, which tumbles down the Leghvtakhevi Gorge from the National Botanical Garden above. It's more about soaking up the atmosphere than tick-list sightseeing here, though, with plenty of cute boutiques, pavement cafes and photo opportunities to savour.
Enjoy a pamper session in a sulphur bath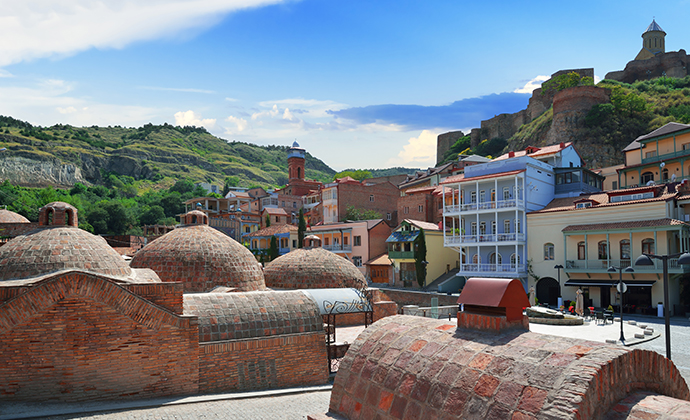 Tbilisi's underground sulphur baths are visible only by their brick-domed roofs © Artur Synenko, Shutterstock
This Old Town is also home to the Abanotubani quarter, named after the sulphuric bathhouses that are found here. Tbilisi has been famous for its sulphurous hot waters since the 5th century – indeed, wander the surrounding streets and you will undoubtedly notice the somewhat eggy scent pervading the air – with bathhouses becoming a central part of community life in the 19th century. Almost all of them were built underground, their presence given away only by the mismatched rows of brick domes over which you can walk; inside, otherwise low-key interiors are brought to life by the occasional stained-glass window or floor mosaic. The exception to this are the striking Orbeliani (or Chreli) Baths, housed within an impressive blue-tiled edifice that is more reminiscent of a central Asian madrassa than a traditional bathhouse. Bathing in the communal single-sex hot sulphur waters is a rather pleasant and relatively cheap experience, while the full works, including massage and exfoliating scrub in a private room, only costs around GEL50–80 per hour. Be warned, though, that complete nudity while bathing is mandatory.
Meet Mother Georgia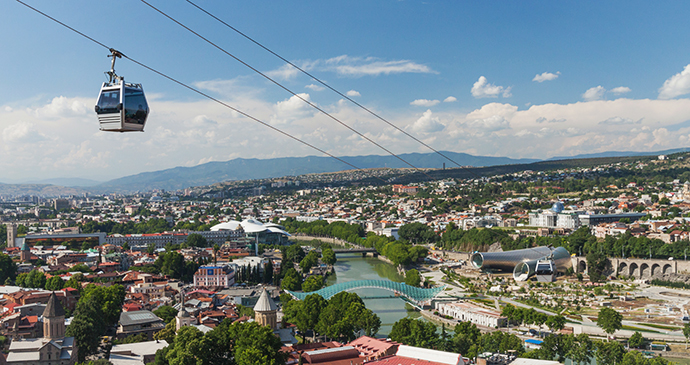 The view from the cable car up to Mother Georgia is one of the best in the city © Marcin Konsek, Wikimedia Commons
With its setting deep in a valley, dissected by the Mtkvari River and backed by mountains on three sides, Tbilisi is not short of good viewpoints. For the crème de la crème, hop on the cable car that leads from Rike Park to the top of Sololaki Hill to get a closer look at the towering figure of Kartvlis Deda, which translates as 'Mother of Georgia'. This 20m-tall aluminium figure is the handiwork of sculptor Elgudja Amashukeli, who crafted this monumental mother in 1958 to mark the 1500th anniversary of the city's independence. In one hand she holds a cup of wine, symbolising the nation's renowned hospitality, while in the other a sword represents the Georgian love of freedom. Even today, this silent figure is seen as the country's guardian angel, and to soak up the panoramas of the lively city below, with only Mother Georgia and the birds from the nearby botanical garden for company, is undoubtedly one of Tbilisi's most pensive experiences.
See the puppets at Gabriadze Theatre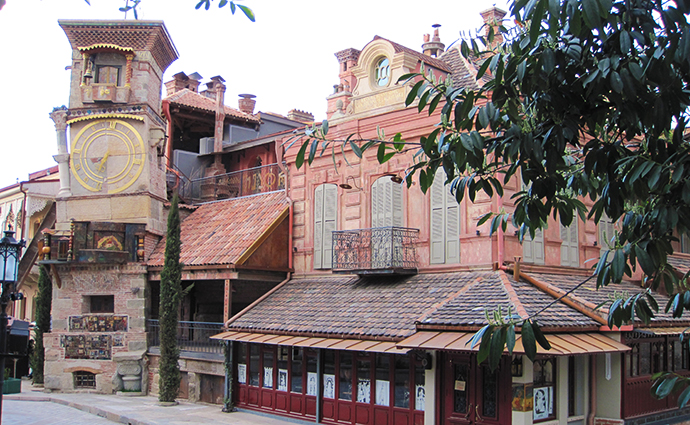 The theatre is fronted by Tbilisi's very own Leaning Tower © Kober, Wikimedia Commons
Since opening in 1981, this fairy-tale marionette theatre has become a firm Tbilisi favourite. Fronted by a delightfully quirky clock tower, with a Pisa-esque sideways lean, the theatre is the handiwork of playwright and screenwriter Rezo Gabriadze, known for his Soviet classics. Despite their playful nature, the puppets and their shows are surprisingly high brow, with dramas such as The Autumn of the Springtime and The Battle of Stalingrad in the four-strong repertoire. Even if you can't make one of the performances, come on the hour to see the clock tower ritual, when a little marionette soldier teeters out of the window to hit the bell with his tiny hammer.
If you're here around lunchtime, be sure to take a pit stop at quaint Café Leila, where excellent-value veggie specials (think fresh salads and minty falafel) are served in gorgeous vintage surroundings (think crenellated ceilings and floral china).
Explore the Dry Bridge flea market
Soviet relics are few and far between in the Georgian capital, but head to the Dry Bridge and Dadaena Park and you'll be transported to a bygone era. This daily flea market is a window to a time past, where pipe-wielding gentlemen and elderly babooshkas spread out their age-old blankets to display their jumbled wares. Wander the higgledy-piggledy rows and you'll see tarnished military badges, well-thumbed Russian classics, mismatched crockery and 1980s electricals, all mixed together with a good helping of plumbing fixtures, spare tyres and, if you're lucky, a priceless antique. It's a must for bargain hunters and anyone with an interest in the USSR, but even if you don't class yourself in either of these categories, it's a joy to amble the curbs and soak up the old-school vibe.
Marvel at some of the country's best monasteries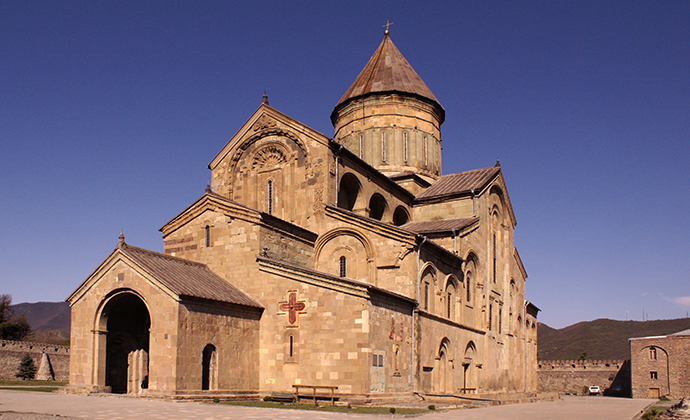 Svetitskhoveli is home to a piece of Jesus's crucifixion robe © Kroc, Wikimedia Commons
Georgia is renowned for its magnificent monasteries, and two of its finest can be found just outside the city boundaries. Just a half-hour drive north of Tbilisi brings you to Mtskheta, a small town at the confluence of the Mtkvari and Aragvi rivers, where you'll find the equally impressive Jvari and Svetiskhoveli churches. Both enscribed on the UNESCO World Heritage List, these churches are stunning in terms of location and design. Dating from the 11th century, Svetiskhoveli (or 'Life-giving Column of Light') is home to part of Jesus's crucifixion robe, which was brought here soon after his death by Elias. It is said that his sister died of joy while clutching the robe, and so tight was her grasp that she had to be buried with it. Today it remains the country's main Orthodox cathedral, and, with its green tuff dome and elaborate frescoes, its is a beautiful sight to behold.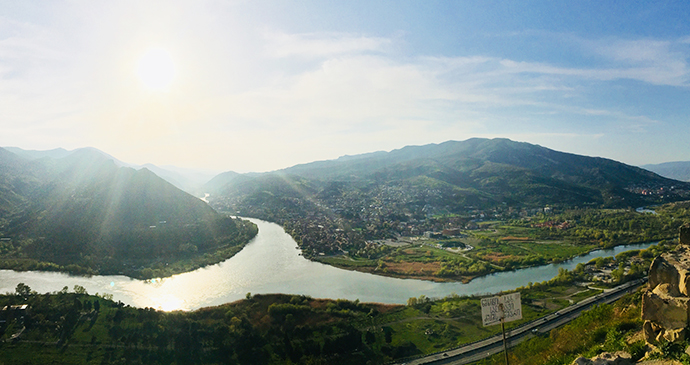 The view from Jvari Church at sunset is quite spectacular © Laura Pidgley
On the opposite hillside is Jvari (Cross) Church, a wonderfully simple but no less impressive construction dating from the 6th century. One of the finest examples of old Georgian architecture, it stands on the spot where St Nino first set up her cross overlooking the pagan shrines of Mtskheta, and inside you'll find a huge plinth of St Nino's Cross in the centre. The view from the church is simply stunning, with panoramas over Mtskheta and the confluence below; the best time to visit is in the late afternoon, when the sun just begins to set and the lighting is spectacular.
Tuck in to centuries-old Georgian classics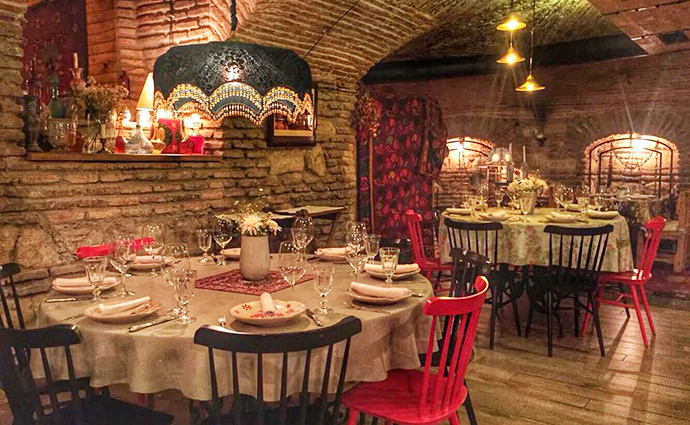 Barbarestan is housed in an old butcher's cellar © Barbarestan
Tbilisi is awash with fantastic eateries, serving everything from traditional Georgian khinkali (dumplings) and khachapuri (cheese bread) to more upmarket, fine-dining fare. At Barbarestan, however, the two worlds collide: this rustic but refined restaurant has taken the city by storm with its modern approach to age-old classics. Housed in a former butcher's cellar, where meat hooks hang alongside kitsch floral lampshades, this family-run eatery draws its menu from a 19th-century cookbook found at the Dry Bridge flea market written by Barbare Jorjadze, one of the country's first and most celebrated female chefs. After being talked through the history of the restaurant – during which you'll be shown the prestigious cookbook, enigmatically encased in a wooden box – you'll be treated to a home-cooked feast, Georgian style. Think platter upon platter of breads and fresh salads, where the roasted aubergines coated in walnut paste are the star of the show, followed by the likes of melt-in-the-mouth lamb or freshly grilled trout, and all washed down, of course, with local Georgian wine. Combining a homely atmosphere with exquisitely crafted food, it offers a wholly different eating experience to anywhere else in the city.
A word of warning: if you're looking for love, don't sit at the corner of a table. Georgian legend has it that those who take the corner seat while eating will not marry for another seven years.
Mingle with Tbilisi's hipster crowd at Fabrika
Once a Soviet textiles factory, this concrete shell has been transformed in to Tbilisi's coolest (and most Instagrammable) hangout. With its fairy-lit courtyard, graffiti-plastered expanses and all-round artistic vibe, this urban space plays host to an array of alternative bars and cafes, pop-up shops, independent galleries, co-working spaces and the biggest hostel in the city. The events calendar is as quirky and changeable as the surroundings, ranging from rooftop yoga sessions and photography masterclasses to urban art festivals and flea markets. A chilled-out creative hotspot by day, it turns into Tbilisi's liveliest party venue come nightfall, when some of the region's hottest DJs and performers take to the make-shift stages to bring this eccentric den to life.
---
Wizz Air flies direct from London Luton to Kutaisi twice a week (Thursday and Sunday), with tickets from £48 return. Specialist tour operator Traffic Travel offers tailor-made tours to Georgia, with a particular focus on cultural, wine, and adventure tours.
For more on Georgia, take a look at our comprehensive guide: