Tony got straight to the heart of things. 'Before you ask, we're in Somerset, so it's up to you whether you do it the Cornwall way or the Devon way!'
We were settled on a bench at a wooden table in the garden of Kitnors Tea Room in Bossington. A wood pigeon cooed from a nearby tree and a statue of the March Hare looked on, but we were focused on other things: namely scones, and whether to add cream first (the Devon way) or jam (the Cornish).
It's a notoriously divisive subject in this part of the world, but the Bradt team had no dog in the fight – we're from the Chilterns – and so we fell upon the pile of scones without prejudice, slathering cream on top of jam, and then jam on top of cream. Someone even swirled the two together. It was enough to bring local fishermen and farmers to tears.
Alistair and Gill, wonderful guides during our few days in Exmoor, had said that Kitnors serves some of the best cream teas in the region, and we weren't disappointed. The scones were fluffy, the cream thick and the homemade jam as sweet as you could wish. But Kitnors offers so much more besides. Katy and Tony aren't what you might expect from the owners of a village tea room; Tony wears a baseball cap and has tattoos up his arm, while Katy has a background in sports nutrition. They're a young couple who have shaken things up a bit.
'The tea room was very twee when we took it on five years ago,' Tony explained. 'We wanted to maintain the traditions, but also bring the place into the 21st century.' The result is a tea room of genuine and unusual character. It is housed in a thatched 15th-century cottage, and there are exposed beams and a wood-burning stove. But there are also comfortable sofas and striking prints on the walls, including a picture of a rhino with the caption 'I am a Unicorn!' It's an eclectic blend of the modern and the yesteryear, and makes this a spot that's both cosy and quirky.
The fusion of the classic and the contemporary extends to the menu. While they serve tea, of course – poured from teapots into cups with saucers – Tony also blends his own coffee. 'People can even buy our blends to brew at home.' Katy is the creative force in the kitchen, and she brings her nutritional expertise to make gluten-free and vegan options alongside the traditional cream teas. The tea room is busy with families and walkers in summer and autumn, but in winter Katy hunkers down to experiment. And the ingredients are as fresh and local as can be. 'That apple juice is from near here in Williton,' Katy said, as I washed down the last of my second scone. 'A week ago it was an apple!'
Next day, we headed a few miles south for a gentle circular walk through the forested valley of the River Barle, the path dappled with sunlight and the shallow water hurrying beside us. By the time we'd returned to our starting point – the famous Tarr Steps, an ancient clapper bridge of flat stone slabs that is said to have been built by the Devil – we had worked up quite an appetite for lunch at the nearby Tarr Farm Inn.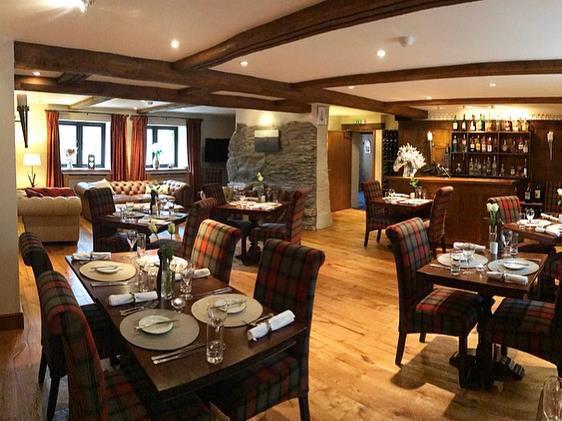 Set in 40 acres, the inn is romantic and picturesque. There's been a farm here since the 16th century, and you can sense the history in its walls. 'Some people say there are ghosts,' confided Gabby, our waitress. But Hilary Lester, who worked at the inn for 14 years before buying it four years ago, just shook her head and laughed. 'I've been here a long time, and I've never seen one!'
When she took over, Hilary refurbished the inn with the aim of creating a stopping place that was elegant in style but relaxed in atmosphere. There are nine double bedrooms, a converted barn for self-catering guests, a bar area and a snug with books to read, and a restaurant spread across several rooms. Gabby led us to the beautiful Oak Room, with its wooden floors, beamed ceiling and centrepiece oval dining table that can seat nearly 20 people at tweed-upholstered high chairs. The table, set with antler-bone candlesticks, was so highly polished that it seemed somehow a shame to eat from it.
But eat from it we did. There was a wild mushroom pie of golden pastry crimped at the edges; there was a moist maize-fed chicken breast with creamy mashed potato and a delicate gravy; there was a salted caramel cheesecake with a ginger-biscuit base and chocolate ice cream.
'Our food is locally sourced where possible,' Hilary explained. 'Exmoor lamb, Devon Red Ruby beef, fresh Cornish seafood, local game. Our beers are local too.' This commitment to regional produce comes through in the quality of the dishes, whether that's a light snack in the garden or a three-course dinner with all the trimmings. A foodie wrote in the Bradt guide to Exmoor that he'd never tasted a steak better than the one at the Tarr Farm Inn.
It had been a delicious, substantial meal, and I would have welcomed a lie down in one of the guestrooms upstairs. But after a strong coffee I roused myself once more. Exmoor awaited: we had deer to find and churches to investigate and probably another cream tea to eat later on, so we bade goodbye to Hilary, Gabby and any loitering ghosts, and left to grab hold of the afternoon.
More information
Kitnors Tea Room
Bossington, Minehead, Somerset TA24 8HQ; kitnors.com.
Tarr Farm Inn
Tarr Steps, Dulverton, Exmoor TA22 9PY; tel: 01643 851507; tarrfarm.co.uk.