The Capital Area is easy to navigate, with the mountains providing a sense of direction, as they are visible in almost every location.
Muscat is like a matryoshka doll, with smaller versions of itself inside. There are four areas called Muscat, and depending on the context the place being described might be the little tiny Muscat in the centre or the larger one that envelops the others. Muscat's Capital Area has a grand yet intimate setting. A range of mountains tower over the city, rising to a height of 500m. These mountains have a number of valleys that have been cut into the mountainsides and where settlements have been built, while the separation of each one by the hills has enabled those more interlinked communities such as Al Hamriyyah, Al Wadi Al Kabir and indeed Old Muscat itself to develop separate identities.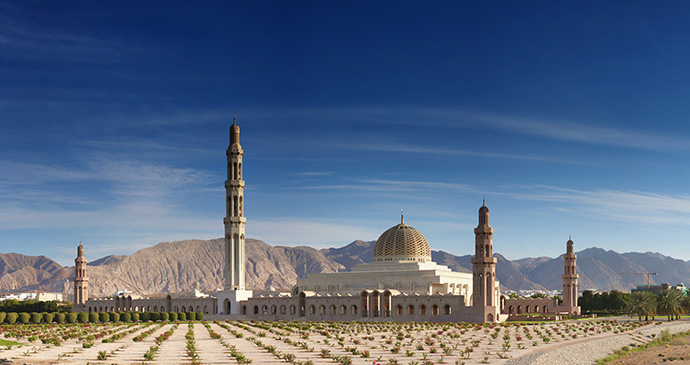 Muscat's Sultan Qaboos Grand Mosque © Marsaz, Dreamstime
The Capital Area is easy to navigate, with the mountains providing a sense of direction, as they are visible in almost every location. Driving away from the airport's terminal, the overwhelming impression is of a spacious, well-planned and affluent city. However, until the 1960s most of Muscat's houses were supplied with water by donkeys strapped with pairs of four-gallon tin drums or even carried by men trudging to and from the Al Tuyan area outside the city walls with goatskins. Now it seems new and remarkably clean vehicles glide along the broad highway, whose street lights are capped by gilded crowns. Taking a turn off Al Sultan Qaboos Street towards the sea and into Al Athaiba, you will find an area of vast mansions in a style that might be called Omanesque, with their solid, impressive exteriors having an ever so slight reference to the fripperies of an Arabesque style. These are family homes, and as with most Omani families, the occupiers have benefited from over 40 years of an almost uninterrupted rise in prosperity. Supercars abound in this glitzy boomtown.
Evening shopping is a popular pastime with Omani families. The city's malls often contain good restaurants and some independent shops. Muscat also has a plethora of art galleries and shops that make for an interesting browse. There is also an atmospheric suq worth visiting in As Sib. Dispersed around the city are plenty of restaurants offering cuisines from around the globe. In addition to the ubiquitous Arabic and Indian cuisine, American, African, Chinese, French, Greek, Italian, Japanese, Mexican, Middle Eastern, Mongolian and Thai can all be found.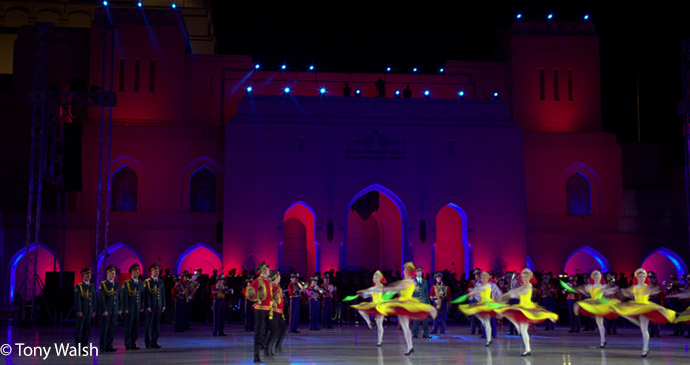 A performance at the Royal Opera House © Tony Walsh
A recent addition to the list of highlights when visiting Muscat is the Royal Opera House. The sultan first ordered this magnificent addition to Oman's cultural life in 2001. Building work started in 2007 and the it opened in late 2011 with a performance of Turandot and Placido Domingo singing the lead role. The design borrows from contemporary Islamic and Italianate styles, and several government buildings now look like this. Inside it houses a concert theatre, auditorium, small upmarket shopping mall and restaurants. Artists from around the world perform in the state-of-the-art space, equipped with the latest multimedia technology. Performances for the coming season are first announced by August. If you can't make a performance, take a short tour at 08.00 from the box office.