Getting there and away
Getting around
Visas
All visitors except GCC nationals require visas for Oman. For visitors from 68 countries (including the UK and other EU countries, the USA, Canada, Australia and New Zealand), Omani visas can be easily purchased on arrival at Muscat International Airport or at any of the border posts (after filling in a form). Cruise-ship visitors are entitled to a free visa if their visit is for less than 48 hours.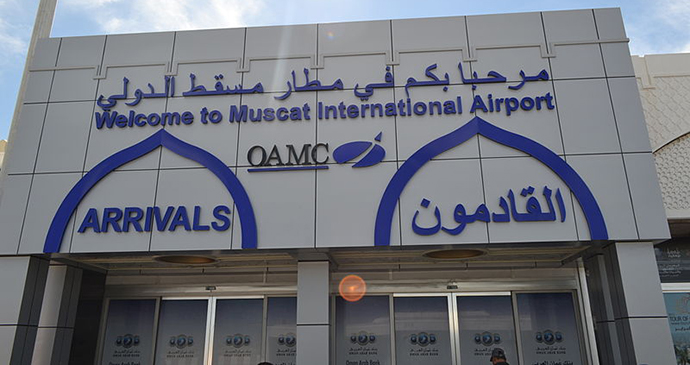 Your passport should be valid for at least six months from the date of entry. For visitors from those 68 countries there is a joint visa facility with Dubai (but not the other Emirates) and Qatar. On arrival into Oman directly from either of these two places with visas, travellers should receive visas for Oman at no additional charge. Unusually for the Arab world, having an Israeli stamp in your passport is not currently a problem.
The position regarding Oman entry regulations can change, so it's best to check beforehand either with the Royal Oman Police or the Foreign and Commonwealth Office. The US State Department also provides an informative page on visas for Oman.
Getting there and away
By air
Muscat International Airport, located 40km west of the old town of Muscat, is the country's main international airport and also a hub for domestic flights. Salalah Airport, in the south of the country, is the only other international airport, receiving flights from other GCC countries and charter flights from Europe, as well as domestic flights from Muscat.
Flight prices are always subject to change, and it is worth doing a thorough search online. A standard direct return flight from Heathrow with Oman Air, which flies morning and evening to Muscat, costs around US$900. Oman Air also flies from Manchester, Frankfurt, Milan, Munich, Paris and Zürich to Muscat. Other airlines flying into Muscat include British Airways direct non-stop, Turkish Air (via Istanbul), Gulf Air (via Bahrain), Etihad (via Abu Dhabi), Emirates (via Dubai) and Qatar Airways (via Doha).
Direct flights into Salalah are from Muscat by Oman Air, Doha with Qatar Air, Sharjah with Air Arabia, and from Terminal 2 Dubai with flydubai. Charter flights for package holidays fly to Salalah from Cologne, Milan and Warsaw. If you are looking to cut costs more, find the cheapest flight to Dubai, then catch a bus to Muscat. This also saves you the Oman visa fee, thanks to the joint Dubai visa agreement. There are no direct flights from the US to Oman.
By road
Oman borders three countries, but almost all entries by road are through the United Arab Emirates whose entire international border is fenced. There are three locations where crossing is possible into the UAE from the main part of Oman.
The Al Farjah border with Saudi Arabia (west of Ibri), crosses directly into Shaybah, Saudi Arabia, and is therefore of use only to non-GCC nationals who have a Saudi entry visa stamped in their passport. Crossing into Yemen from Salalah is possible by local bus and car; the suggested border is Sarfayt on the coast.
By sea
International sea voyages have only just started and are currently on a trial basis, running between Khasab and Dubai, Khasab and Qeshm Island within the Strait of Hormuz, and Khasab and Bandar Abbas on the Iranian mainland (Iranian visas required). Contact National Ferries regarding the current situation.
Domestic services to connect with the international ones at Khasab are well established. Taking the ferry between Khasab in Musandam and Mina Sultan Qaboos means that you will have already undertaken all the immigration procedures before embarking on the ferry.
An increasing number of cruise ships do call into Mina Sultan Qaboos as part of their itinerary and many also call at the ports of Salalah and Khasab. Several offer a round trip of a week from Dubai that visits Khasab and Muscat during winter months.
Getting around
By air
Within Oman there are domestic flights to Khasab in Musandam and Salalah in Dhofar. Oman Air also flies to Ad Duqm.
By sea
A ferry service runs between Muscat and Musandam, and three other ports have local services within the Musandam area. There are several crossings each day between Shannah and Masirah Island. Advance booking is suggested for all services, and note that identification is required and vehicle documents should be produced.
By road
The road network in Oman is excellent, so a saloon car is largely all you need to get about (noting that any use is for tarmac only). Major roads have street lighting, as do many minor roads even away from towns. The crash barriers and road surfaces are well maintained and road signs are in Arabic and English, though occasionally the location of a sign might be improved.
Directions are clearly signposted in phonetic English, so getting around is easy. There are, however, a few off-road trips where a 4×4 is necessary, and these vehicles can easily be hired, although you should always check the small print to make sure you are covered when driving off-tarmac. Do not assume that driving a 4×4 is the same as driving a saloon car. If you do, you will almost inevitably have problems with the gear ratios, axle lock and more.
Alternatively, if you arrange these trips through a tour operator, rather than going independently, the vehicle and driver/guide will be provided and included in the price with no insurance worries.The Wihibah Sands, the Empty Quarter and the wadi trips each require a 4×4, as does the ascent to Al Jabal Al Akhdar.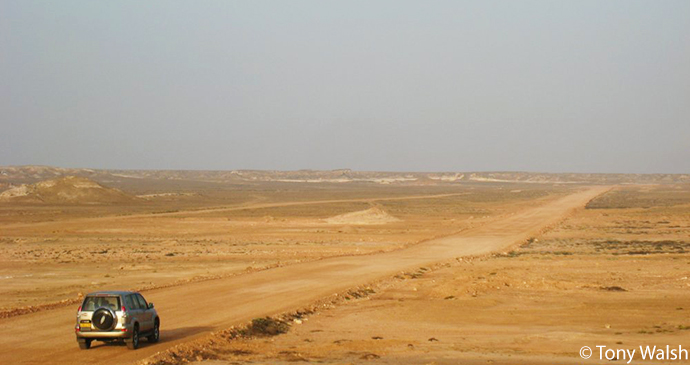 In terms of regulations, driving is on the right-hand side of the road, so all vehicles are left-hand drive. Muscat rush hour is from 07.00 to 09.00 and from 16.00 to 18.00, but with the dramatic increase in vehicles within Oman the traffic is rarely free-flowing. Be sure to carry your passport or identity card with you, along with your driving licence and hire-car agreement and insurance, in case you are asked to produce them at any time. In the event of an accident, however minor, the police must be called and the vehicles involved not moved until they have arrived.
Be aware that there may be camels, goats or donkeys crossing the road at any time. Oncoming cars may flash their headlights at you to warn you to slow down for a possible hazard up ahead.
Car hire
There is no difficulty in getting a hire car in Oman. Plenty of car-hire firms have desks in the arrivals area of Muscat International Airport, and car-hire desks/offices can also be found in the upper-range hotels, if you prefer to wait until you are rested before arranging things. The budget and mid-range hotels will also arrange a car for you on request. Most companies will drop a car off at your hotel.
By taxi
Taxis are frequent and reliable and are the easiest means of transport in urban areas of Oman. Their orange and white colouring makes them particularly conspicuous. The turquoise and white versions are the airport taxis and the only taxis permitted to pick passengers up from the terminal, although dropping people off is open to all.
By minibus
Sometimes called baisa buses, these are orange and white 13-seater van-type vehicles. They operate fixed routes and can be flagged down along the highway. Tell the driver your destination and he will tell you if he is going there.
By bus
For longer journeys you might like to consider taking a bus. The longdistance ones have air conditioning and stop at regular intervals for refreshments. Bollywood and kung fu movies are the staple on-board entertainment, which will either help you to sleep or keep you awake, depending on your inclination.
More information on travel and visas for Oman
Read more about the country, including travel highlights, food and drink, when to visit and visas for Oman, in our guide book: