Outside of playing computer games, few of us will ever get the opportunity to construct an entire city according to our own personal tastes and values, but this is essentially what Ivory Coast's first president, Félix Houphouët-Boigny, was able to do with Yamoussoukro. From the mid-1960s, Houphouët began converting the humble village of his birth into one of the most distinctive capital cities of West Africa. Opinion is divided about the results.
For some, Yamoussoukro (affectionately known as Yakro) is a fine advertisement for everything that matters to Ivorians: education, peace, deference, tradition, religion, ritual. Others feel that the city is a lurid spectacle of snarling crocodiles, vanity architecture and the cult of personality, which gives only succour to certain Western prejudices about Africa. What everyone can agree on, however, is that Yamoussoukro is clean, green and rationally planned, its broad, European-style boulevards criss-crossing vacant grassy spaces and fields of rice, plantains and pineapples. Ivorians often ask why all cities in their country can't be more like this.
What to see and do
At 3,500km², Yamoussoukro has a larger area than most other Ivorian cities. That being said, the best restaurants, hotels and the three main places of interest are all within a few kilometres of each other.
Basilica of Our Lady of Peace
From almost every part of Yamoussoukro it's possible to glimpse the Vaticanate dome of the basilica rising out of a very African landscape of brush and coconut trees. Such juxtaposition is redolent of European missionaries and how they imposed Christianity on Africa. Now though it would seem that in some ways African Christianity has eclipsed its European progenitor; when the basilica was consecrated on 25 September 1990, the dome was 20m higher than Europe's tallest Roman Catholic church, St Peter's, located in the Vatican.
This is not the only aspect of Yamoussoukro's basilica that is big. Indeed, visitors often feel like they are entering a land of the giants, given the extravagantly oversized columns, arches and nave, not to mention the basilica's capacity to hold up to 20,000 worshippers at any one time.
Some have argued that Houphouët built the basilica to reassert his authority during the social and economic crisis presaging the first civil war. Whether this is true or not, the building certainly reflects its founder's passion for both tradition and technology: the classically Catholic ornamental crosses and stained glass are complemented by a high-powered public address system and air-conditioning units built into every seat on every pew.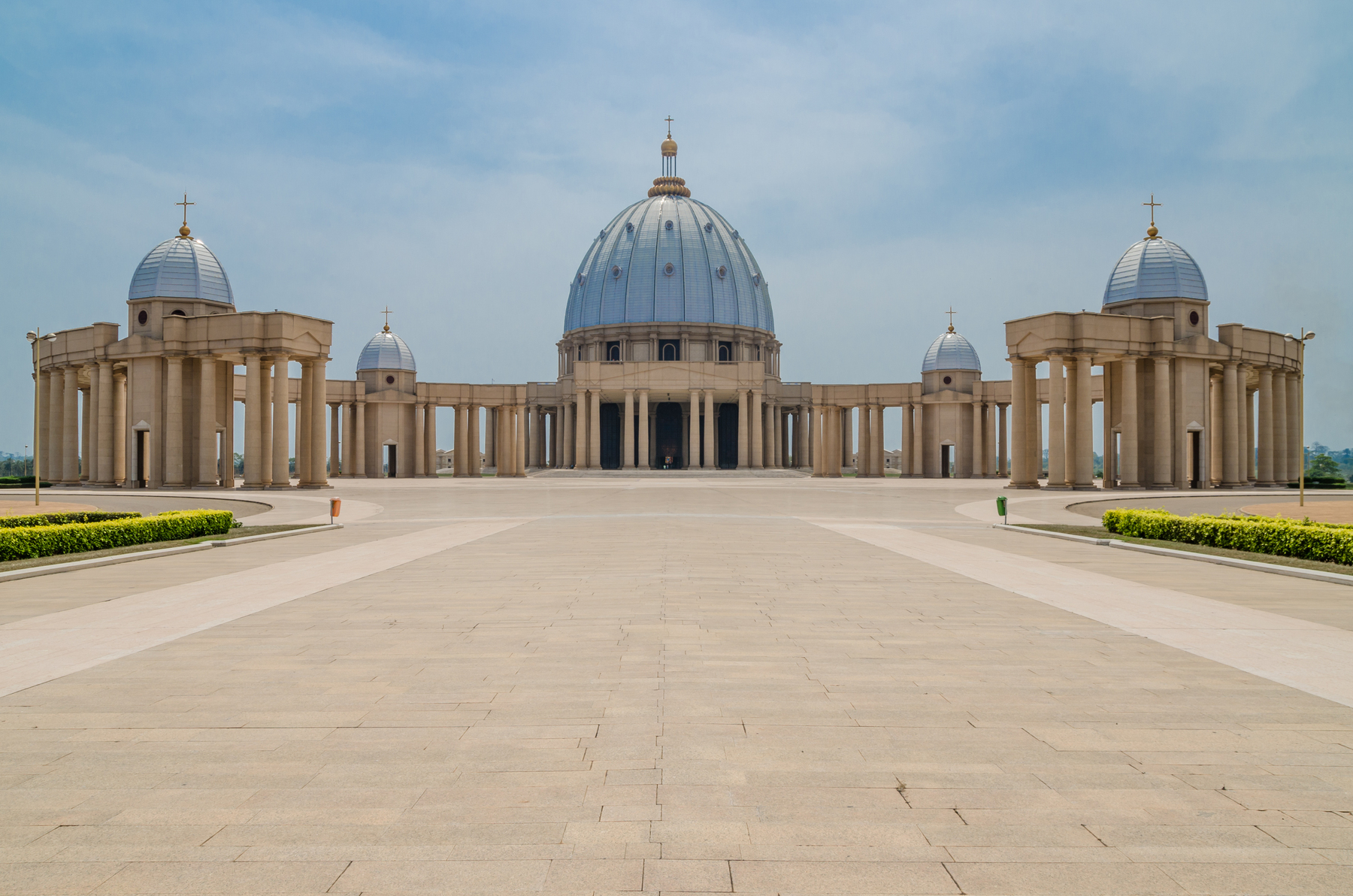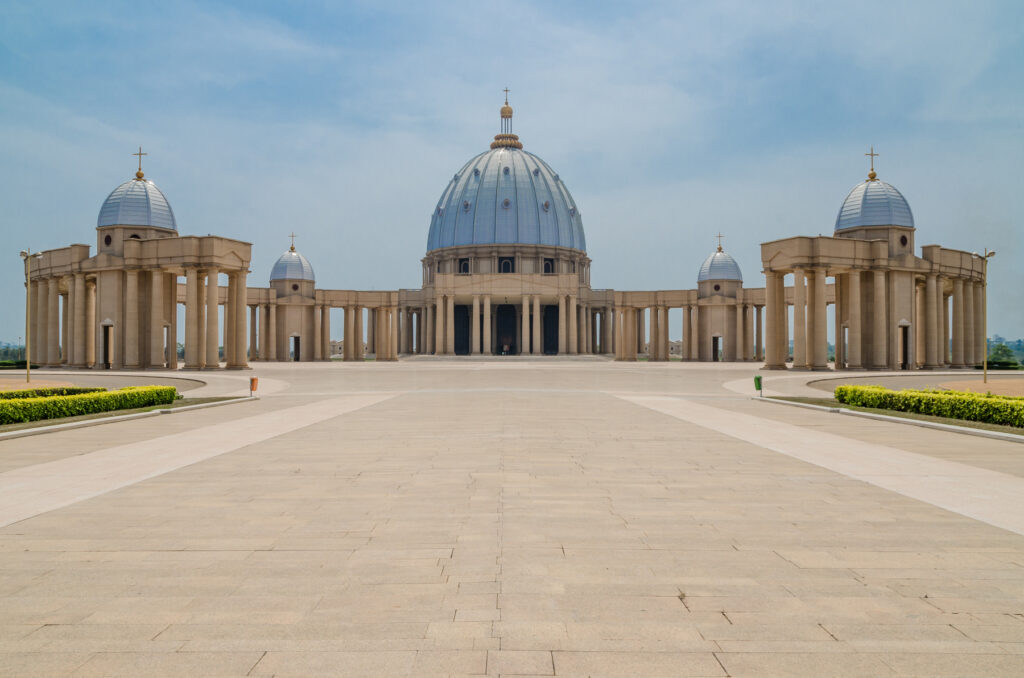 During the basilica's consecration, a foreign journalist questioned the wisdom of spending so much money on the project while so many Ivorians were living in poverty. 'Exactly how much was spent?' the journalist asked Houphouët directly. 'When God gives us a gift,' replied the president, 'it is churlish to ask him how much it cost.'
Contemporary estimates put the figure at around US$300 million. Keen to show off his pride and joy to the world, Houphouët greeted celebrities from Michael Jackson to Nelson Mandela here. The basilica is the most popular tourist attraction in all of Ivory Coast with 160,000 visits (by both foreigners and locals) recorded in 2017.
Presidential Palace and the Sacred Crocodiles
Perhaps the strangest landmark in this strange city is the gigantic Presidential Palace and its 5km circumference of grounds. Houphouët lived here until his death in 1993, after which he was buried in a tomb inside its walls.
Members of the public are not allowed within 100m of what Ivorians now regard as the sacred resting place of the father of the nation. Nor can you take photos anywhere around the palace without written permission from the minister of tourism. Nonetheless, as a recent TV documentary revealed, the palace, its outbuildings, grounds and a small chapel are kept immaculate by a corps of cleaners and gardeners.
Lac aux Caïmans
To the east of the palace is the manmade Lac aux Caïmans, which is home to the infamous crocodiles of Yamoussoukro. They were handpicked by Houphouët for their ferocity and were assigned political and military ranks according to their strength and size (commandant, captain, head of the cabinet, etc). In Baoulé culture there is no greater symbol of power and virility than the crocodile, and Houphouët was well aware of this.
Every sunset voyeuristic tourists gather at the corner of the bridge bisecting the lake to watch gendarmes hurl live chickens on to a rocky outcrop where the amphibians have gathered, teeth bared in fearsome grins. You can arrange a 'private' feeding through the Minister of Tourism for around 10,000F, plus the cost of a chicken. If you're feeling bloodthirsty you can even toss one of the poor beasts yourself.
The Trinidadian writer and Nobel Laureate V S Naipaul visited the crocs twice in the space of almost 30 years, but it was the meat-eating turtles that intrigued him because they served as a metaphor for the debility of the nation. In his book The Masque of Africa, Naipaul writes that in 1982, when Ivory Coast was still just about solvent, he had seen the turtles 'clearly … showing their underside, strong and silent and agile.' Yet on his return to the lake in 2009, during the run-up to the second civil war, the turtles were barely visible due to the fetid state of the water which, so Naipaul believed, 'was going to do away with this ritual of Houphouët's kingship'. Today you'll be very fortunate to find any turtles at all.
Houphouët-Boigny Peace Foundation
Completed in 1987, this vast, mostly Italian marble arcade of lofty windows and imposing pillars serves two purposes: to promote peace around the world and to celebrate Houphouët's political achievements. The magnificent main hall is notable for its Orphist-inspired engravings, flamboyant chandeliers and further marble features. The foundation's numerous theatres and meeting rooms have hosted, amongst other events, UNESCO's 1989 International Peace Conference and various talks concerning the Liberian civil war, which Houphouët took a personal interest in finding a resolution to.
The foundation hasn't hosted a high-level summit for some years and nowadays its facilities tend to be rented out to local cultural, commercial and educational organisations. The museum displays a 1:1 scale statue of Houphouët beside a ram, as well as photos of him meeting luminaries such as John F Kennedy, Richard Nixon and Nelson Mandela.
Getting there and away
From a transport point of view, Yamoussoukro is extremely well connected. The 238km highway linking it to Abidjan means that a drive between Ivory Coast's two main cities should take no longer than 3 hours, traffic permitting. The roads north to Bouaké (129km) and Korhogo (332km) are older but even, and they are comfortable enough. The pot-holes are a menace on certain stretches of road going west to Bouaflé (58km), Daloa (138km) and Man (327km).
Situated on Avenue Houphouët-Boigny opposite Mo Fatai Commercial Centre, Yamoussoukro's UTB bus station lays on big air-conditioned buses to Abidjan's Adjamé station (4,000F) that depart every 1½ hours daily from 06.00 until 18.30. Services to Bouaké (2,000F) leave at 08.30, 09.00 and 11.00 each day and every 1½ hours thereafter until 21.00.
Two direct buses a day leave for Daloa (3,000F) and Man (6,000F) at 10.30 and 13.00. There's also a daily 10.00 bus to San-Pédro (5,000F), and a daily service to Abengourou (7,000F) that leaves sometime around 10.00.