The historic nexus of the Baoulé ethnic group, Bouaké is an atmospheric showcase for its cooking, dancing, weaving, ceramic and sculptural traditions.
Straddling a crucial crossroads in the heart of Ivory Coast, Bouaké is 100km northeast of Yamoussoukro, 350km north of Abidjan, 250km south of Korhogo and 310km west of the Ghanaian border. Snuggled in the Vallée du Bandama, an interzone between verdant forest and the drier savannah, Bouaké has the feel of both a big city and a provincial town. In its west-central area, the university, the two football stadiums (Premier League superstars Yaya and Kolo Touré were both born in Bouaké) and the government offices are appropriately large for Ivory Coast's second city. However, the quiet cafés and low-key markets of Quartier du Commerce smack more of a sleepy southern French ville circa 1960.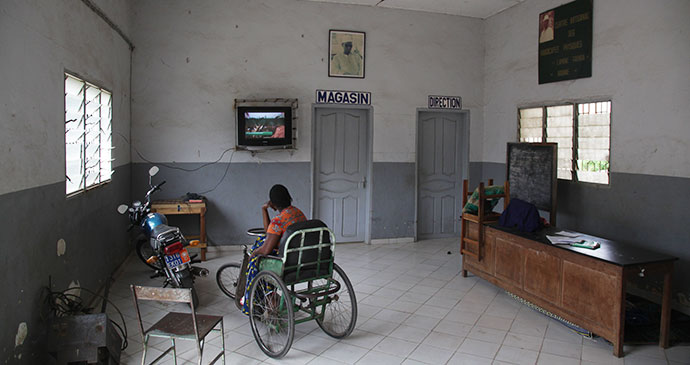 The Disabled Artisans' Centre in Bouaké is an admirably unique enterprise © Alex Sebley
Aside from the odd bullet-holed house and the presence of a UN base, there are few signs now that Bouaké was the scene of some of the heaviest fighting during the first civil war (1999–2004) and its aftermath. Many who were displaced during those dark years have been steadily returning since peace was declared in 2007. Sadly though, the war did for a lot of the cultural enterprises that used to define Bouaké as the historic capital of the proud, long-established and influential Baoulé ethnic group. You can, however, still find plenty of oldworld art, craft, music and cookery – not to say wondrous ecotourism draws – in the rural cantons around the city.