Ivory Coast's nature is as alluring as its culture, whether you want to sunbathe on the cream-hued beaches of Assinie, trek through the crimson savannahs of the north or scale the sublime Mount Tonkoui for panoramic views of Liberia and Guinea.

Tom Sykes author of Ivory Coast: The Bradt Guide
Truth be told, Ivory Coast is not the easiest African nation to explore, but those who persevere with the limited – yet rapidly improving – infrastructure will be richly rewarded.
The country's strong cultural and political ties to France mean that Ivorians are at once fascinated by the West and fiercely proud of their own indigenous customs, creeds and artistic modes. Such hybridity is a delight to experience. One day an Ivorian woman may wear Ralph Lauren sunglasses and a Pierre Cardin tunic, the next she will put on a flowing Baoulé gown and headscarf. Even the lowliest maquis (informal, open-air eateries) serve a scrumptious fusion of French cuisine and uniquely West African herbs, spices and vegetables. While most Ivorians subscribe to one of the major world religions imported from Europe and the Middle East, at the same time they hold firm animist beliefs, consulting féticheurs (shamen) and trusting in primordial medicines, rituals and curses.
One of the intriguing aspects of a visit to Ivory Coast is seeing various pagan symbols – from goat's skulls to brushes that deter malevolent spirits – in villages and markets across the land. The more daring traveller can even watch a live demonstration of fetishistic skills. Perhaps only the English love football as much as the Ivorians, who regard players such as Didier Drogba and Yaya Touré as demi-gods. But go to any rural community and you'll also see little girls playing pre-European skipping games and little boys absorbed in atté, an ancient version of marbles played with nuts.
Ivory Coast's nature is as alluring as its culture, whether you want to sunbathe on the cream-hued beaches of Assinie, trek through the crimson savannahs of the north or scale the sublime Mount Tonkoui for panoramic views of Liberia and Guinea. In the Taï, Banco, Azagny and Ehotilé Islands national parks, it's possible to glimpse elephants, leopards and lions (if you're very fortunate), as well as chimpanzees, antelopes and 500 bird species.
Food and drink in Ivory Coast
Food
Few outside Ivory Coast are aware of her delectable cuisine, which fuses French fine dining with traditional African ingredients and techniques. More than anywhere else, Ivorians abide by George Bernard Shaw's aphorism: 'There is no love sincerer than the love of food.' Furthermore, the choice is far broader and the ingredients generally of higher quality than neighbouring countries such as Ghana and Guinea.
The most common dishes are juicy barbecued meat and fish, and hearty stews liberally dosed with palm oil and accompanied by either rice or foutou, a kind of dumpling made from pounded cassava and a touch of plantain, which gives the concoction a slightly sweet undertone.
A rarer alternative is toh, a maize-based foutou with the consistency of blancmange. The ubiquitous main lunch or dinner course is poulet braisé, which is chicken that hasn't been braised so much as marinated in garlic, lemon juice, mustard, pepper and chillies, and then cooked on an open charcoal grill and served with a tomato and onion salad. Other accompaniments include attiéké (a light, couscous-like preparation made from ground cassava pulp) and/or alloco (sliced plantains pan-fried with onions, chilli and salt). Poisson braisé is prepared and presented in the same way as poulet braisé except the chicken is substituted with carpe (carp), machoiron (sea catfish) or capitaine (hogfish).
Brochettes are decent-quality chunks of chicken, beef, fish or liver cooked on skewers on the same types of barbecue used for the braisé dishes above. In addition, up north you'll find little brown paper packages of mouton (mutton) slow-cooked in the drawers of a wood-fired metal oven. Sauce claire is a casserole with a distinctively sweet-sour yet briny flavour that's derived from slow-cooked aubergines, shrimp paste and fish scales. A warming broth of garlic, onions, tomatoes, chilli and palm tree grains, sauce graine's killer ingredients are kable, an indigenous aromatic leaf and akpi, an African spice that not only thickens the sauce but adds a smoky dimension to the flavour. Sauce graine is so versatile that it works with chicken breast, beef thighs and white fish. Sauce arachide comprises chicken, mutton or fish in a creamy groundnut sauce, while the thick, earthy thono is a delightful combination of spinach and tuna fish.
Drink
Ivorians claim to have the cleanest tap water in Africa, but it is still recommended to stick to drinking inexpensive, bottled mineral water. The main brands are Awa, Celeste and Organe, available in 1.5 or half-litre bottles. Sucrerie is a catch-all term covering tinned and bottled Coca-Cola, Fanta, tonic water and other globally recognised carbonated soft drinks, also widely sold in stores, maquis, restaurants and hotels. Lipton and Nescafé seem to have a grip over the tea and coffee market and should be ordered by brand name to avoid confusion. Only high-end restaurants and hotels will have real filter coffee.
For a more local flavour try kinkéliba, an aromatic tea made with herbs from the north, and hot or cold bissap, a sweet and sticky beverage made from sorghum, hibiscus flower and vanilla sugar. For some reason the finished product tastes like blackcurrant. Also consumable hot or cold, gingembre is a tart and spicy brew of ginger, lemon and pineapple juice. For next to nothing and particularly along the coasts you can purchase a nutritious and delicious coconut from a machete-wielding vendor, who will chop the top off so you can drink the juice and then cut the fruit in half so you can eat the flesh.
Lager is Ivory Coast's number one alcoholic tipple, served ice cold in more or less every hotel, restaurant, maquis and magasin (convenience store). Flag and Castell are the most popular brands, followed by the gassier Bock Solibra, nicknamed 'Drogba' after the country's best-loved footballer due to its large, litre-sized bottle. Locally produced and scandalously good value, Valpierre would give any mid-priced French vin de table a run for its money. Most bars and higher quality eateries stock US and European spirits, from blended whiskies such as Chivas Regal and Johnnie Walker to Smirnoff vodka and Gordon's gin. Ivorians are also partial to foreign liqueurs such as Campari, Chartreuse and Baileys.
Health and safety in Ivory Coast
Health
Sensible preparation will go a long way to ensuring your trip to Ivory Coast goes smoothly. For first-time visitors to Africa in particular, this includes a visit to a travel clinic to discuss matters such as vaccinations and malaria prevention. The following points are worth emphasising.
Don't travel without comprehensive medical travel insurance that will fly you home in an emergency. Make sure all your immunisations are up to date. It is wise to be up to date on tetanus, polio and diphtheria (now given as an all-in-one vaccine, Revaxis, which lasts for ten years) and MMR. In the UK, two doses of MMR given at least one month apart are recommended for best protection. Immunisation against hepatitis A and B, meningitis, typhoid, rabies and TB may also be recommended.
A yellow-fever certificate is required from all travellers aged nine months and over. However, the vaccine is not suitable for everyone so it is wise to have a consultation with a designated yellow fever centre specialist before you book your trip. If you are unable to take the vaccine then health-care professionals will advise you not to travel in most circumstances.
The biggest health threat is malaria. There is no vaccine against this mosquito-borne disease, but a variety of preventative drugs are available, including mefloquine, atovaquone/proguanil (eg: Malarone) and the antibiotic doxycycline. The most suitable choice of drug varies depending on the individual and the country they are visiting, so visit your GP or a travel clinic for medical advice. If you will be spending a long time in Africa, and expect to visit remote areas, be aware that no preventative drug is 100% effective, so carry a cure too.
Though advised for everyone, a pre-exposure course of rabies vaccination, involving three doses taken over a minimum of 21 days, is particularly important if you intend to have contact with animals, or are likely to be 24 hours away from medical help. If you have not had this then exercise serious caution around stray animals, as you'll need to head for Abidjan immediately and possibly evacuate for the necessary treatment.
Safety
Since the cessation of hostilities in 2011, Ivory Coast has generally been a safe travel destination, certainly where crime and associated issues are concerned. However, two fairly recent – albeit thankfully isolated – incidents sent shocks through the tourism sector: the 2016 Grand-Bassam terrorist assault and the 2017 military mutiny.
Instead, the biggest concerns for most travellers should be malaria and road accidents associated with public transport. Levels of hassle are low, too, and tolerance for the quirks of outsiders is high, though it should be pointed out that, as is the case almost anywhere in the world, breaking the law – in particular the usage of illegal drugs – could land you in big trouble.
The level of crime against tourists is generally very low, and almost entirely restricted to a few specific neighbourhoods in the bigger cities. The main centre of crime, not unexpectedly, is Abidjan, where muggings and drive-by theft from foreign nationals are reported from time to time, though certainly not with the frequency of many other African capitals. There have been recent cases of armed bandits holding up motorists on the main highways around Abidjan and those leading to the far north and west, although the vast majority of victims have been Ivorian. Very occasionally foreigners fall foul of home invasion robberies.
Female travellers
Women travelling alone have little to fear on a gender-specific level in Ivory Coast, and will often find themselves the subject of great kindness from strangers who want to ensure they are safe.
The most hassle you are likely to face is heightened levels of flirtatiousness from many Ivorian men, with the odd direct proposition and a million marriage proposals thrown in. They can be persistent, but barring the marriage part, it's nothing that you wouldn't expect in any Western country, or – probably with a far greater degree of persistence – from many male travellers.
It would also be prudent to pay some attention to how you dress in Ivory Coast, particularly in the more conservative Muslim north, where covered shoulders and skirts or trousers that come below the knee are advisable. It's not that Ivorians would be deeply offended by women travellers wearing shorts or other outfits that might be seen to be provocative, but it pays to allow for local sensibilities, and under certain circumstances revealing clothes may be perceived to make a statement that you don't intend.
LGBTQ+ travellers
Unusually for an African nation, consensual sex in private between members of the same gender is legal in Ivory Coast. However, such an act committed in public is punishable by law with up to two years' imprisonment and a 530,000F fine. Moreover, there is no legislation in place to prevent harassment or discrimination towards LGBTQ+ people. Legalities aside, the vast majority of Ivorians regard any homosexual act or relationship, whether between male or female, or local or foreigner, as profoundly unnatural and sinful.
None of which means that homosexuality doesn't exist in Ivory Coast, only that out of necessity it is somewhat clandestine. At risk of stating the blindingly obvious, Ivory Coast clearly isn't a destination suited to single travellers in search of anything approximating a gay scene, while homosexual couples who do visit the country should exercise maximum discretion.
Travel and visas in Ivory Coast
Visas
You do not need a visa to visit Ivory Coast for up to 90 days if you are a citizen of Benin, Burkina Faso, Cape Verde, Central African Republic, Chad, Congo, Gambia, Ghana, Guinea, Guinea-Bissau, Liberia, Mali, Mauritania, Morocco, Niger, Nigeria, Philippines, Senegal, Seychelles, Sierra Leone, Singapore, Togo or Tunisia.
If you hail from anywhere else you will require a visa for which you must apply online. You will need to provide copies of your passport identity page, your airline ticket and your hotel booking/evidence of alternative accommodation. Visas cost €140/93,397.50F, are multi-entry and valid for one stay up to three months from the date of entry. Multiple-entry visas are valid for the same period of time.
The authorities will inform you by email within two working days as to whether your application has been approved or not. If it has, you will receive a 'pre-enrolment document' by email that you will have to present at the airport when you arrive in Abidjan whereupon the visa will be added to your passport.
Should you want to stay in Ivory Coast for longer than three months, you will have to apply for a visa extension once you are in the country (a somewhat bureaucratic process handled by the Ministry of Foreign Affairs in Abidjan) and pay an additional fee for every extra 30 days. It's worth knowing that a visa extension in Abidjan might take two weeks to process, whereas it shouldn't take more than 48 hours at any other regional capital. A more attractive option might be to cross into a neighbouring country and get an extra three months on your return to Ivory Coast.
It's compulsory to have a valid yellow fever vaccination certificate to enter Ivory Coast, and customs officials will likely check you have one upon arrival.
Getting there and away
By air
At the time of writing there are no direct flights to Abidjan from the UK, USA or Canada, so passengers from these countries usually have to change in Brussels or Paris. Unless it's absolutely unavoidable, don't even think about flying to Ivory Coast on a one-way ticket and organising your return once you are there. Firstly, you may encounter serious problems with airport immigration officials if you don't arrive on a return ticket and, secondly, flights out of Abidjan are very expensive, so you'll almost certainly end up paying double what you would for a cheap return.
Overland
There are two overland routes between Europe and Ivory Coast. Both start in Morocco and involve crossing the Sahara – one via Algeria and the other via Mauritania – then continuing through Mali and Burkina Faso. The Algeria option has been impassable for some years now, and more recent events in Mali mean that this country should be avoided altogether for the time being at least.
For readers based in the UK, the best way to gauge the situation would be to get in touch with the many overland truck companies that advertise in magazines such as TNT and Time Out. Frankly, unless you have a reliable 4×4, joining an overland truck trip is almost certainly the best way of doing this difficult route, especially if you have thoughts of continuing through the Democratic Republic of Congo to East Africa.
Travellers visiting Ivory Coast overland from Europe will presumably want to carry a regional or continental guide. If you are taking your own vehicle, get hold of Sahara Overland by Chris Scott, the essential companion, while Africa Overland by Siân Pritchard-Jones and Bob Gibbons is very useful when it comes to general planning. It might also be worth investing in a regional guide to West Africa, or even a more general guide to Africa, but bear in mind that the wider the scope of the guide, the skimpier it will be on individual country detail.
Getting around
By car
Without doubt the most effective way of traversing Ivory Coast is by private 4×4 car, although it is by no means the cheapest. The roads between the largest cities in the north, south and centre are smooth and robust, making overland travel easy enough. With a 4×4 you'll also be able to explore the rural villages of the north and access the national parks, most of which have rough or muddy approaches.
Petrol stations are ubiquitous – even in rural areas – and fuel is inexpensive by international standards. Aside from the illegal checkpoints, there are tolls (péages) charging tiny fees on the main roads connecting Abidjan and the major routes around the country. The telecoms company Orange has erected helpful signs on roads all over Ivory Coast indicating the direction and distance in kilometres of significant towns and cities.
By air
Air Côte d'Ivoire offers flights from Abidjan to the five other major cities in Ivory Coast: Bouaké, Korhogo, Man, Odienné and San-Pédro.
By boat
Short-distance ferries travel across Lagoon Ebrié and to its interior islands, and whisk guests at Assinie's resorts to the waters surrounding Ehotilé Islands National Park.
By bus and taxi
The highways and byways of Ivory Coast are served by air-conditioned buses, non-air-conditioned minivans (known locally as gbakas), inner city and town buses, and shared taxis and motos (motorbike or moped taxis). The main towns and cities boast several different bus stations, each one usually run by a particular company with several different-sized vehicles in its fleet. Smaller settlements will have just one bus station, if any.
UTB (L'Union des Transports de Bouaké) publishes official timetables in paper form (obtainable at their stations) but doesn't stick rigidly to them – it's not uncommon for buses to set off long after their scheduled departure time. The best policy is to find out what time in the morning the earliest bus will leave and get there at least an hour before. Other buses, gbakas and long-distance shared taxis head off only when they have enough passengers. This, of course, can be problematic if punctuality is your goal.
When to visit Ivory Coast
It's sensible to visit Ivory Coast between November and March, when the heat and humidity are a little lower and rainstorms are rarer. At this time of year there are fewer malaria-carrying mosquitoes and most of the national parks are open to the public before shutting for the wet season (June to October).
If you're planning to explore the west, avoid going between June and October when showers can cause rapid deterioration of roads and hiking paths. Those tempted by the north ought to get there before the harmattan season begins in June, as the dust can ruin visibility for sightseeing and photography, and irritate uncovered eyes, mouths and noses.
Climate
Due to its location some 400km from the equator, Ivory Coast is generally hot and humid, day and night, all through the year. However, there are minor regional variations. While the national daytime temperatures average 26.6°C, the equatorial south of the country regularly exceeds 30°C. The tropical centre is a little cooler and the arid and semi-arid north is colder at night due to lower humidity. In the periods of June to September and December to January, temperatures in the high-altitude Dix-Huit Mountains in the west can fall as low as 15°C. The average relative humidity is 71% in the north and 85% in the south.
Ivory Coast has three seasons, the third of which is more discernible than the first two. From November to March, the climate is typically warm and dry with occasional rainfall. March to May is hotter and drier, with very little rain. June to October is the hot, rainy season, during which the west and southwest are stricken with heavy downpours. Towns like Touba, on the Liberian border, experience up to 2,300mm of rainfall per annum. During the same period, there are lighter rains in the south, north and – to a lesser degree – the centre and east. An average of 1,847mm of rain a year falls on Abidjan, on the south coast, whilst the far northern outpost of Odienné sees 1,500mm, and Bouaké in the centre and Bondoukou in the east both receive just 1,100mm. The national average annual precipitation is 1,289mm.
In the first six months of the year, the warm maritime air mass thrusts north over Ivory Coast in a reaction to the movement of the sun. At the front of the mass, an inter-tropical front brings rain, hot air and prevailing winds from the southwest. Around December, this cycle reverses and the continental air mass travels south over the country, causing the harmattan, a dry and dusty trade wind, to sweep down from the Sahara Desert and over the northern and central parts of Ivory Coast. While the harmattan rarely travels faster than 20km/h, it can be strong enough to stir up small dust storms, decreasing visibility to as little as 1km. On the odd occasion over the years, the harmattan has been so powerful that it has felled trees, flattened crops and knocked over flimsy buildings.
What to see and do in Ivory Coast
Bouaké
Straddling a crucial crossroads in the heart of Ivory Coast, Bouaké sits 310km west of the Ghanaian border. Snuggled in the Vallée du Bandama, an interzone between verdant forest and the drier savannah, Bouaké has the feel of both a big city and a provincial town.
In its west-central area, the university (home to 21,000 students), the two football stadiums (Premier League superstars Yaya and Kolo Touré were both born in Bouaké) and the government offices are appropriately large for Ivory Coast's second city. However, the quiet cafés and low-key markets of Quartier du Commerce smack more of a sleepy southern French ville circa 1960.
Bouaké couldn't be easier to navigate. Most of the bus stations, accommodation options, shops and eateries are located in the petite Quartier du Commerce at the crossroads of the two busiest roads, Avenue Houphouët-Boigny and Avenue de la Fraternité. The district's northeastern corner is occupied by the bustling Grand Marché and is roughly delineated by the Stade de la Paix Bouaké to the west, Place de la Paix to the east and Le Black and White restaurant to the south.
Korhogo
Sited at the foot of the gradually rising mountain sharing its name, Korhogo lies at the heart of Ivory Coast's 40,000km² dry brush and grass savannah. The southern approach to the city is blessed with baobab-and acacia-lined valleys and thick, road-creeping plant life.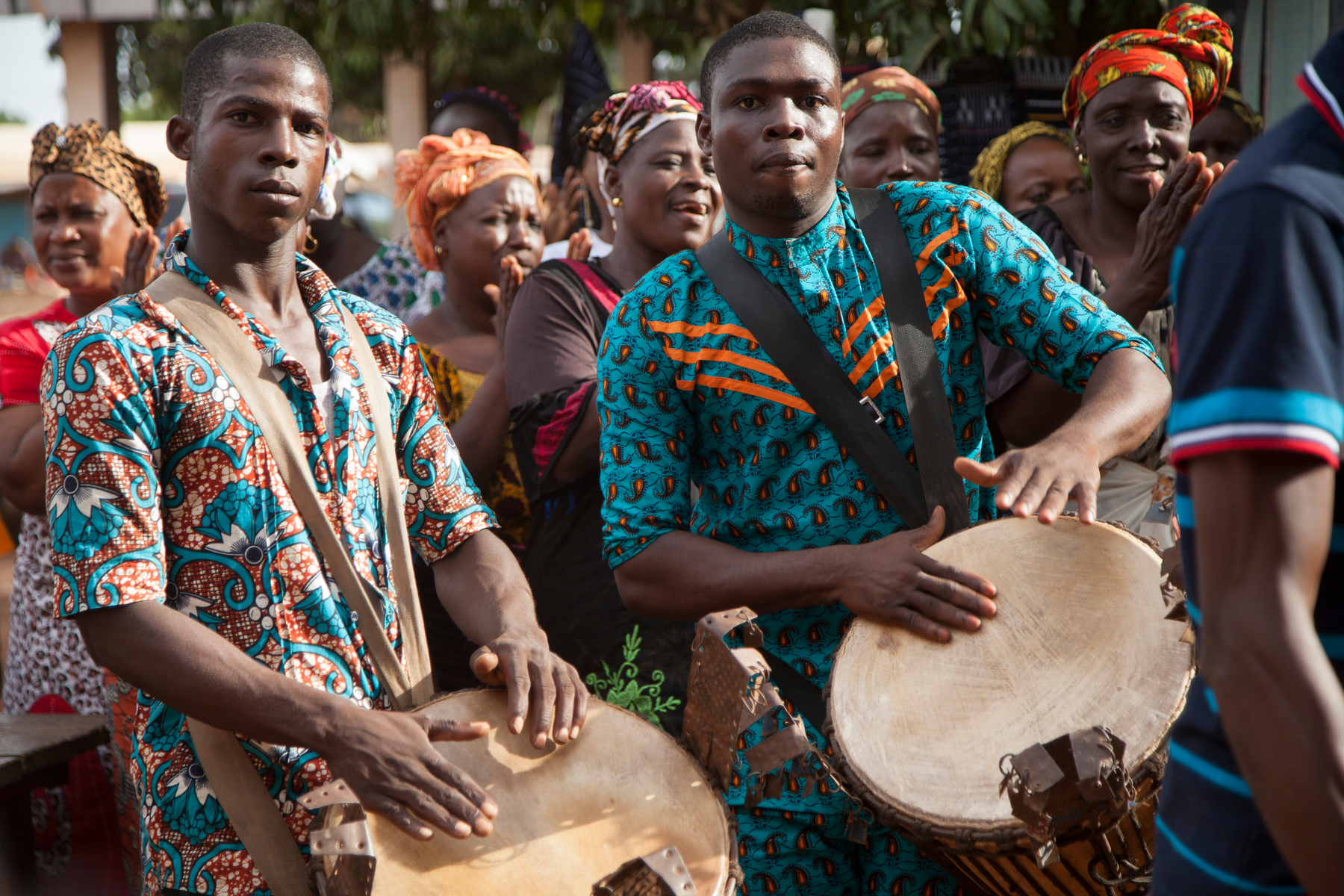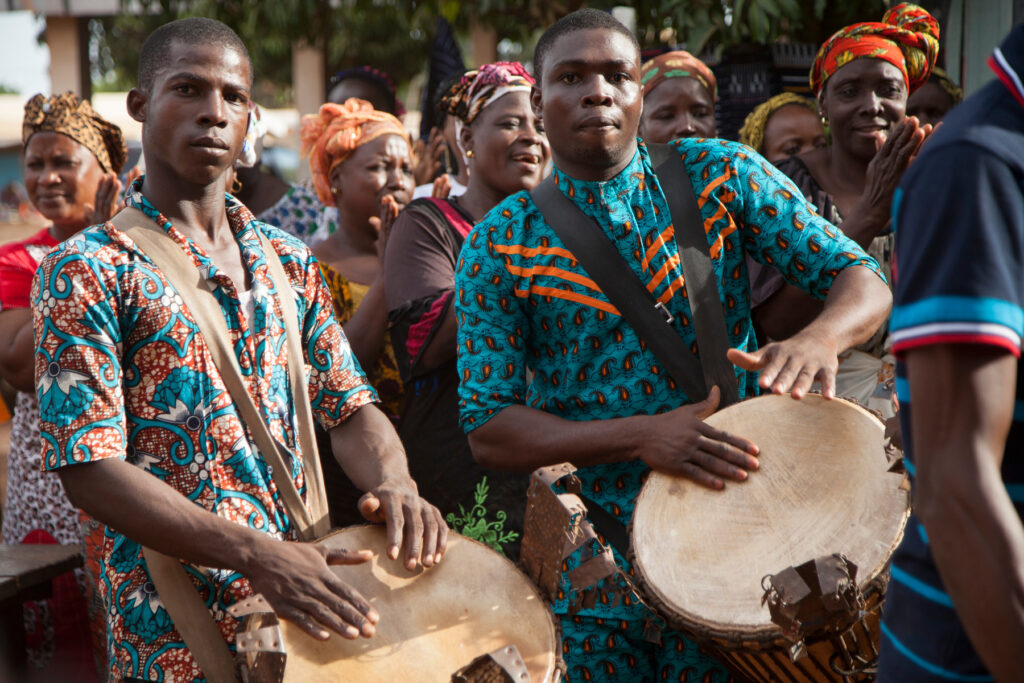 In Korhogo city itself though, the trees are scanter and the scrub below them barely spreads over the hard red and orange earth, like a carpet wearing thin. In the summer this terrain can get exceedingly dusty, making you feel like you took a wrong turn somewhere and ended up much further north in Africa. Coming here from Abidjan or Grand-Bassam, the slower, calmer pace of life is conspicuous. You'll see few cars (though a lot of motorbikes) and receive little to no hassle from vendors, inquisitive kids and dubious, self-appointed 'guides'.
In both civil wars, Korhogo was the site of several flashpoints which damaged the infrastructure and scared off the tourists who had been important to the city's pre-war economy. Regeneration has been slow, but it has seen Korhogo's main attractions re-open and flourish anew. All over the city and in the local Senoufo villages, you'll find the old-world craftspeople who have helped build Korhogo's reputation as one of Ivory Coast's cultural hubs: weavers, painters, metalworkers and wood carvers, all of whom use intriguingly pre-modern tools and techniques.
Sassandra
At first sight, Sassandra appears to be a dull, oversized Ivory Coast fishing village on the estuary of the 650km-long Sassandra River, built on an incline among the mangroves, vines, climbing palm forests and commercial plantations of the southwest. Anyone who invests some time and effort here, however, will find a veritable trove of idyllic beaches, invigorating walks, singular wildlife-spying opportunities and stimulating historical relics.
Sassandra sits on a knobbly 4km-long promontory, its furthest point marked by the Old Governor's Mansion, which stares mournfully out across the embouchure – the point where the Gulf of Guinea meets the Sassandra River. There's no denying the romantic profile of these serrated ruins (erected around 1900) perched at the highest point of the headland, even if close up there's not a lot to see beyond a roofless façade, some vaulted arches and a balustraded balcony just about still standing.
When the Ghanaian fishermen return with their catch they hand it over to their wives who prepare it in a special area of their village, located in a small valley just off the road from Hôtel Le Pollet. The women laugh, sing and chat while smoking the fish on charcoal-fired grills inside small igloo-like stone chambers. By the afternoon, a wispy cloud of grey smoke hangs above this inimitably Sassandran scene. Visitors are usually offered a sample and the crispy morsels need their skin picking off before eating. Intriguingly, the community is roughly divided by nationality, with Ghanaians working cheerfully alongside Liberians, Burkinabés and Sierra Leoneans.
Taï National Park
In the time before illegal logging and slash-and-burn agriculture, gorgeous virgin forest occupied much of West Africa. The only significant expanse left of it in Ivory Coast is Taï National Park, a 4,540 km² UNESCO World Heritage Site of towering ebony trees, glittering epiphytes clinging to cliffsides, evergreen-carpeted peaks and valleys, and oxbows swerving round velvety plots of savannah.
The geography is no less diverse than the animals populating it. Protected species on the IUCN's Red List include colobus and mangabey monkeys scrambling about the canopies 60m above leopards stalking zebra duikers, and African elephants and pygmy hippopotami cooling off in the mud. As if that wasn't enough, Taï is home to a thousand other types of vertebrate.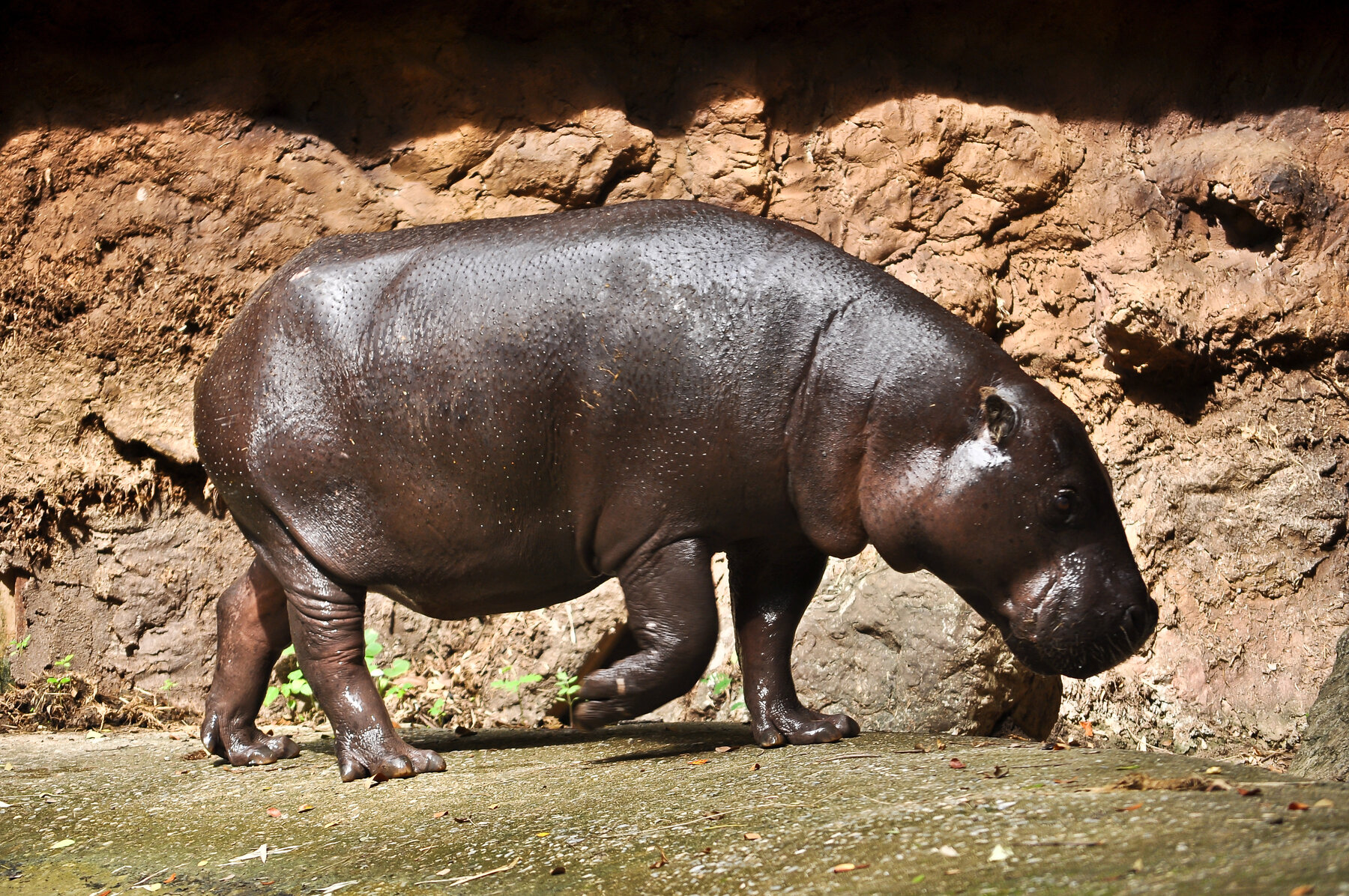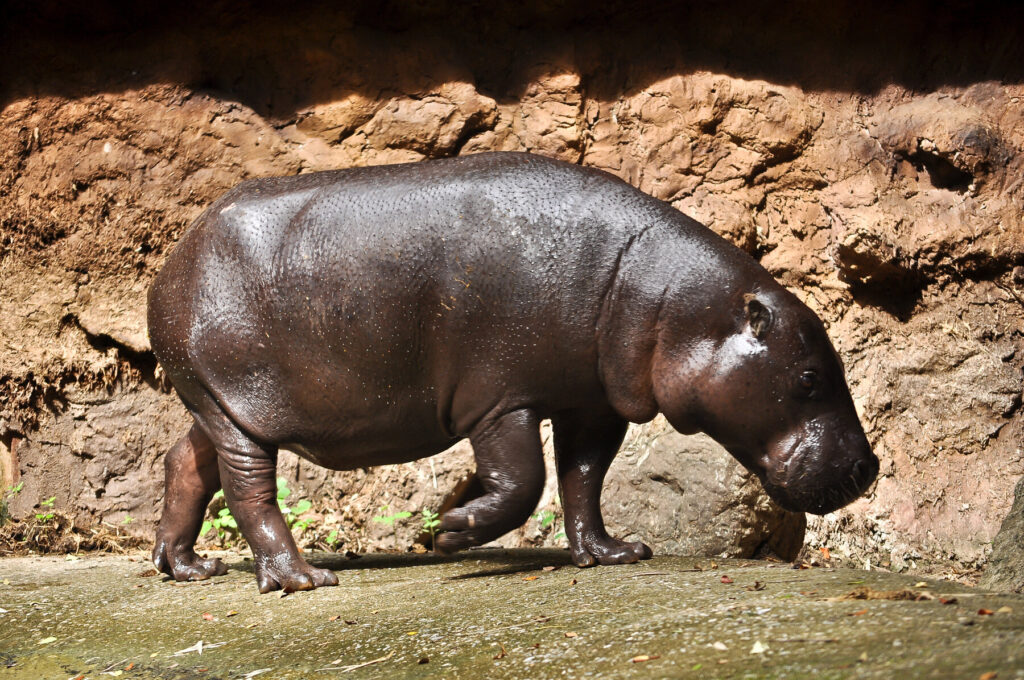 It is, of course, pot luck as to how many of these fascinating beasts you'll get to see, but few who go to Taï come away having found nothing of interest. Moreover, after years of official neglect, the OIPR (Ivorian Office of Parks and Nature Reserves) is now collaborating with the Wild Chimpanzee Foundation (WCF) on Ecotourisme Taï, a new ecotourism project that makes every effort to ensure tourists get the most out of their visit.
The Dix-Huit Montagnes
Those travelling in Ivory Coast up from the low-lying, developed south will be pleasantly surprised by the west's elevated terrain, chillier climes and eco-tourism opportunities. Mountaineers will relish Tonkoui and other 1,000m-plus peaks, while the more casual hiker can easily conquer Zaala and Le Dent de Man for stirring views of the countries neighbouring Ivory Coast to the west. Although not Niagaran in scale, the cascades at Zadépleu are the biggest in the country and worth a frolic under.
The Dix-Huit Montagnes (literally 'Eighteen Mountains') is also the home of the Dan (also known as the Yacouba) ethnic group, famous for its striking masks and sacramental dances. Subsistence farming villages such as Godufu, near the border with Liberia, lay on energetically elaborate masked stilt dances celebrating everything from marriages to harvests. In the regional capital Man, which has the atmosphere of an enlarged hill station, artisans use traditional methods to construct masks and whittle all manner of symbolic objects out of acacia, teak and bois de veine trees.
---
Related books
Related articles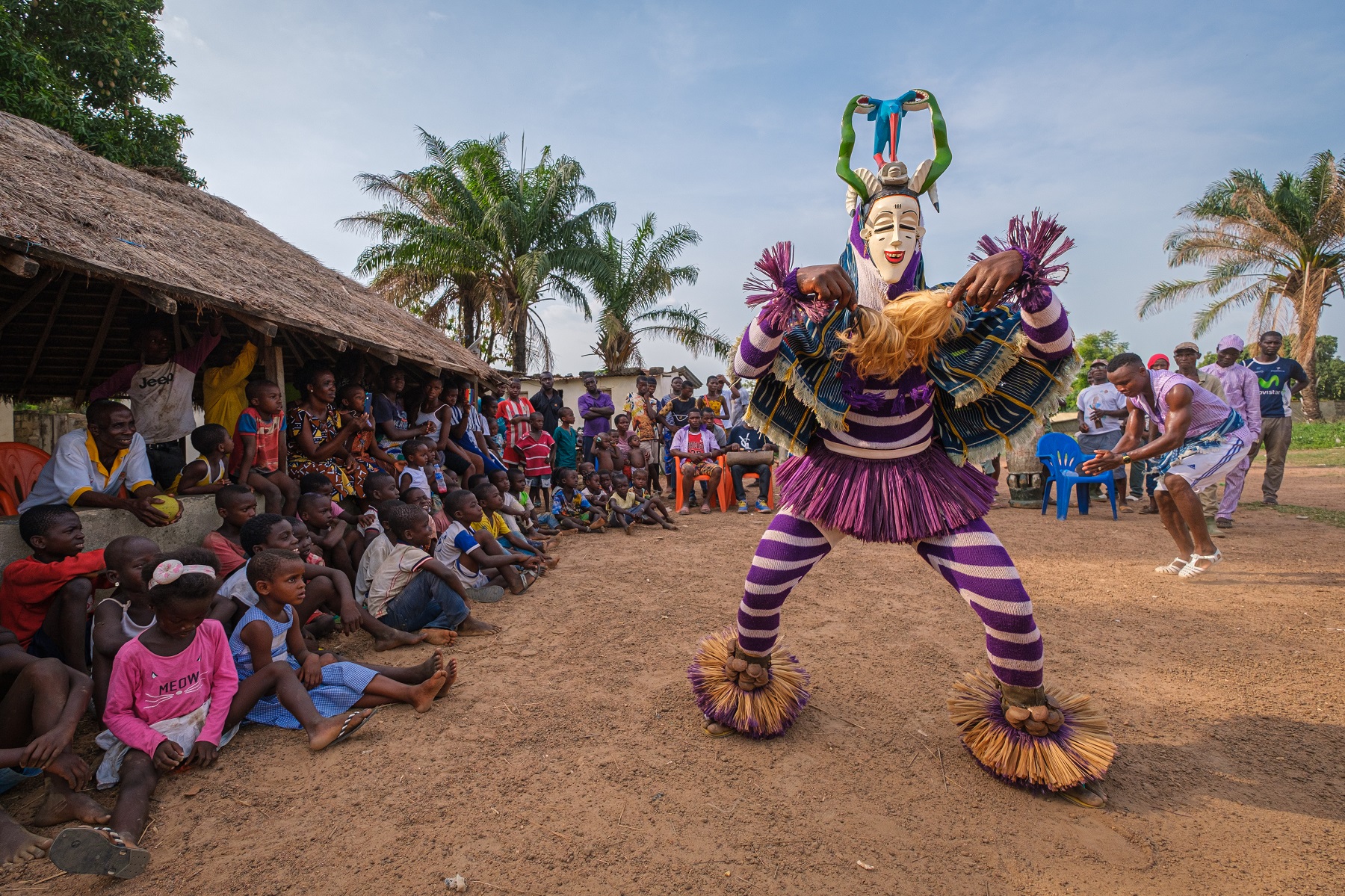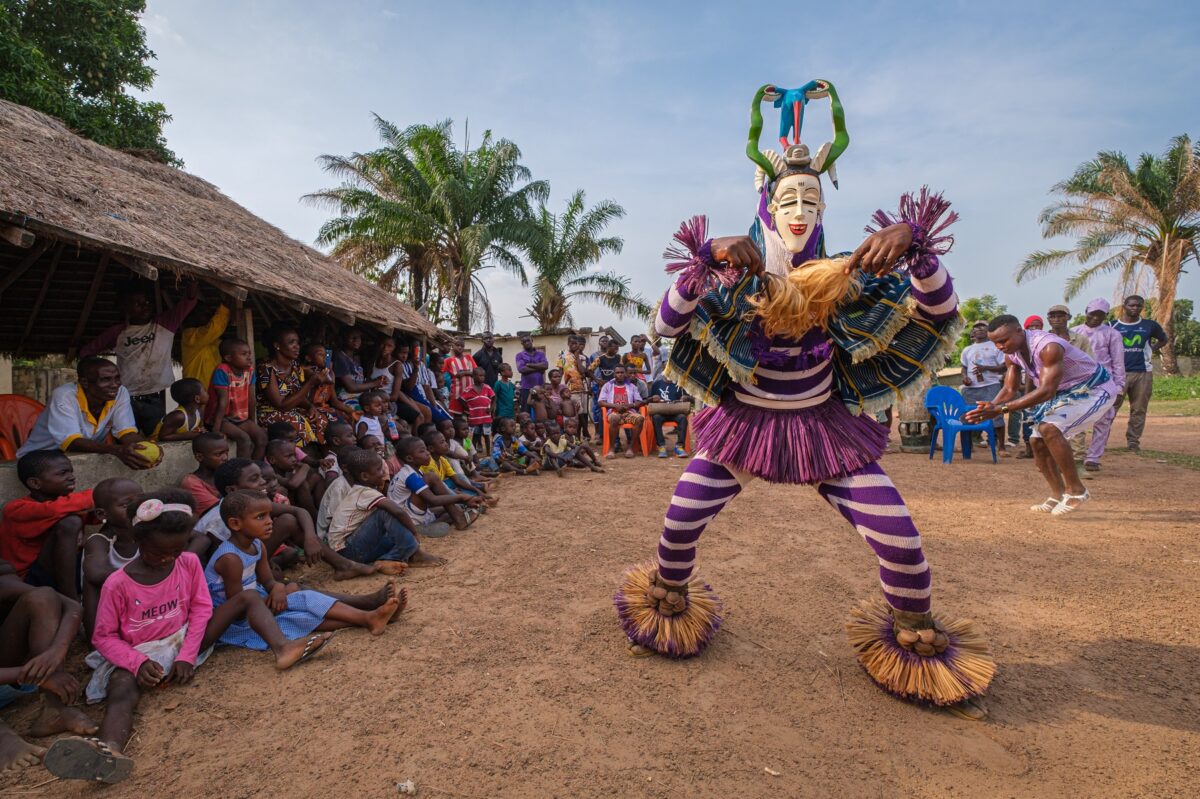 From masked dances to traditional festivals.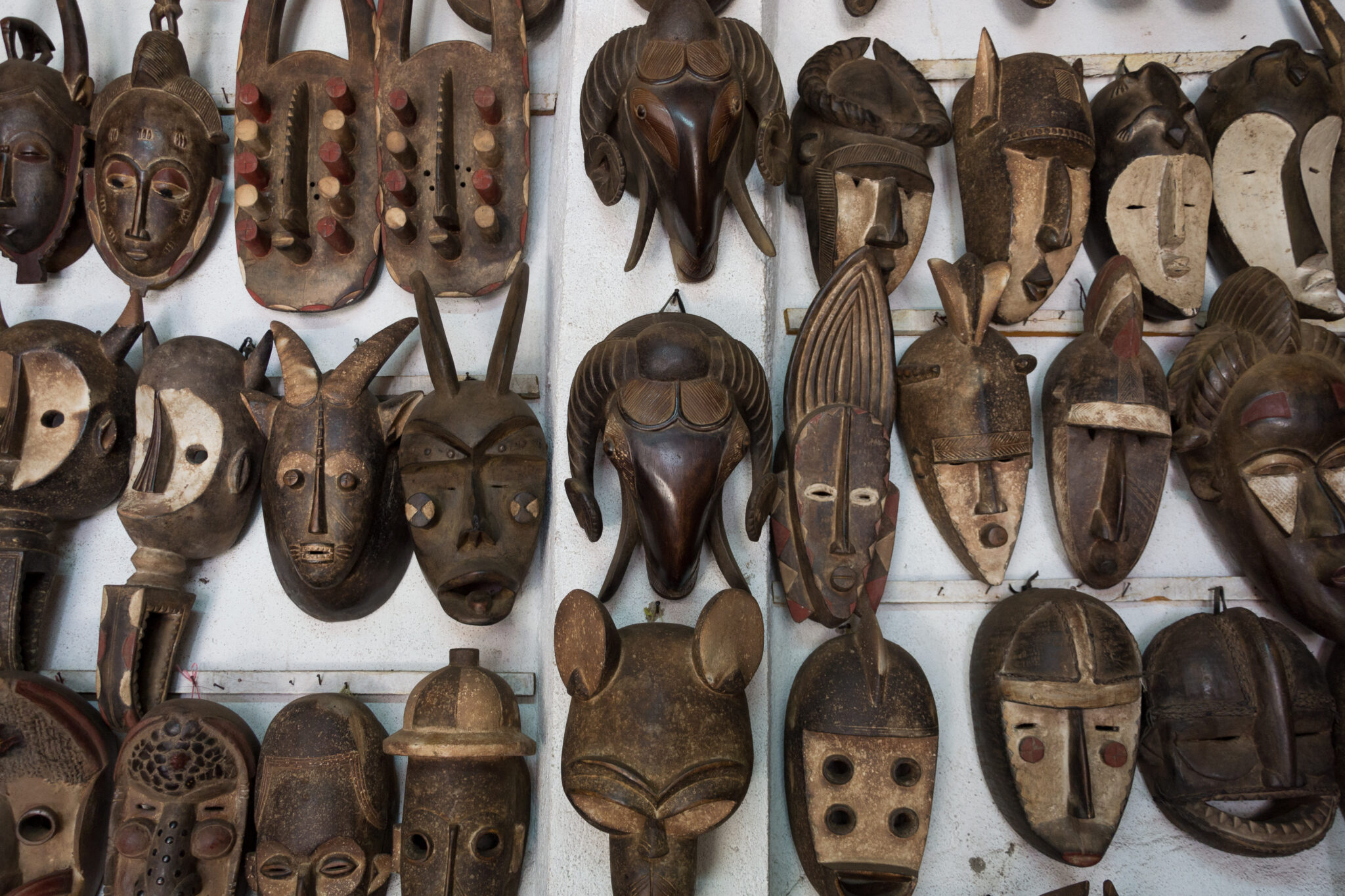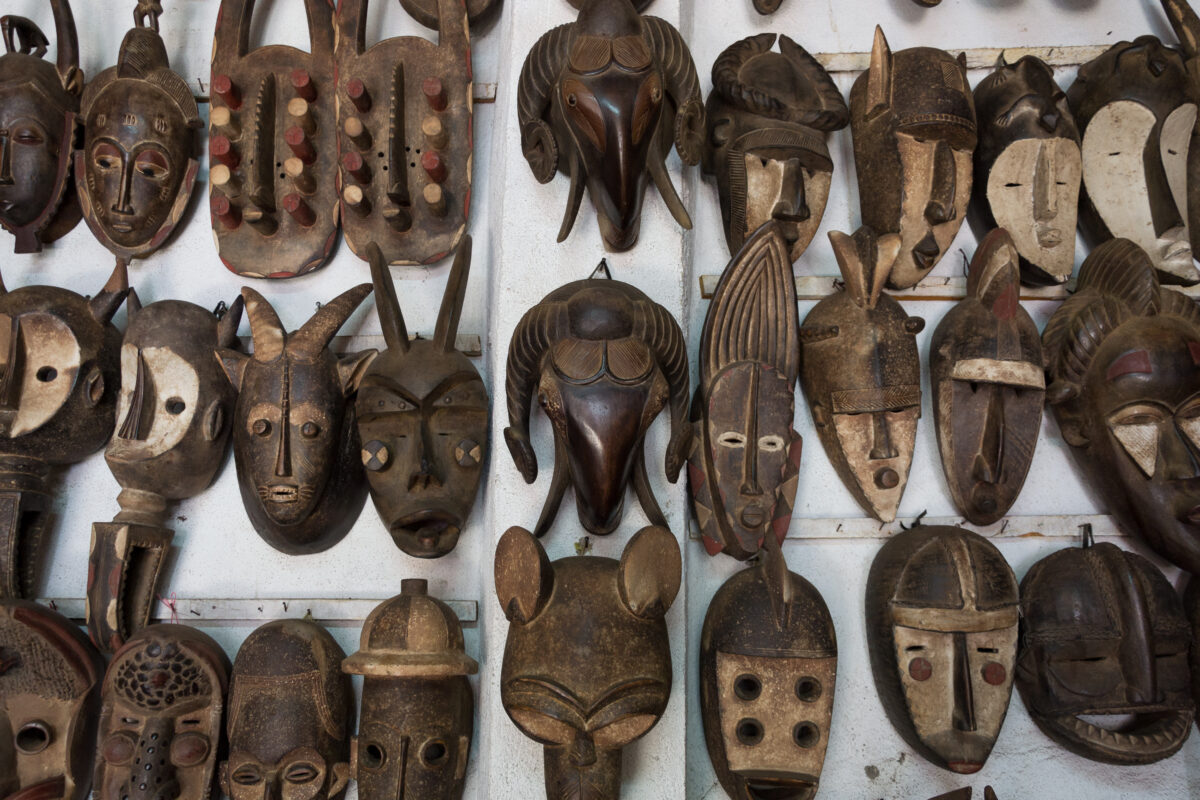 Whatever social upheavals have befallen Ivorian society, its arts and crafts scene has always remained vital, fecund and significant.