Sited at the foot of the gradually rising mountain sharing its name, Korhogo lies at the heart of Ivory Coast's 40,000km². dry brush and grass savannah. The southern approach to the city is blessed with baobab-and acacia-lined valleys and thick, road-creeping plant life.
In Korhogo city itself though, the trees are scanter and the scrub below them barely spreads over the hard red and orange earth, like a carpet wearing thin. In the summer this terrain can get exceedingly dusty, making you feel like you took a wrong turn somewhere and ended up much further north in Africa. Coming here from Abidjan or Grand-Bassam, the slower, calmer pace of life is conspicuous. You'll see few cars (though a lot of motorbikes) and receive little to no hassle from vendors, inquisitive kids and dubious, self-appointed 'guides'.
In both civil wars, Korhogo was the site of several flashpoints which damaged the infrastructure and scared off the tourists who had been important to the city's pre-war economy. Regeneration has been slow, but it has seen Korhogo's main attractions re-open and flourish anew. All over the city and in the local Senoufo villages, you'll find the old-world craftspeople who have helped build Korhogo's reputation as one of Ivory Coast's cultural hubs: weavers, painters, metalworkers and wood carvers, all of whom use intriguingly pre-modern tools and techniques.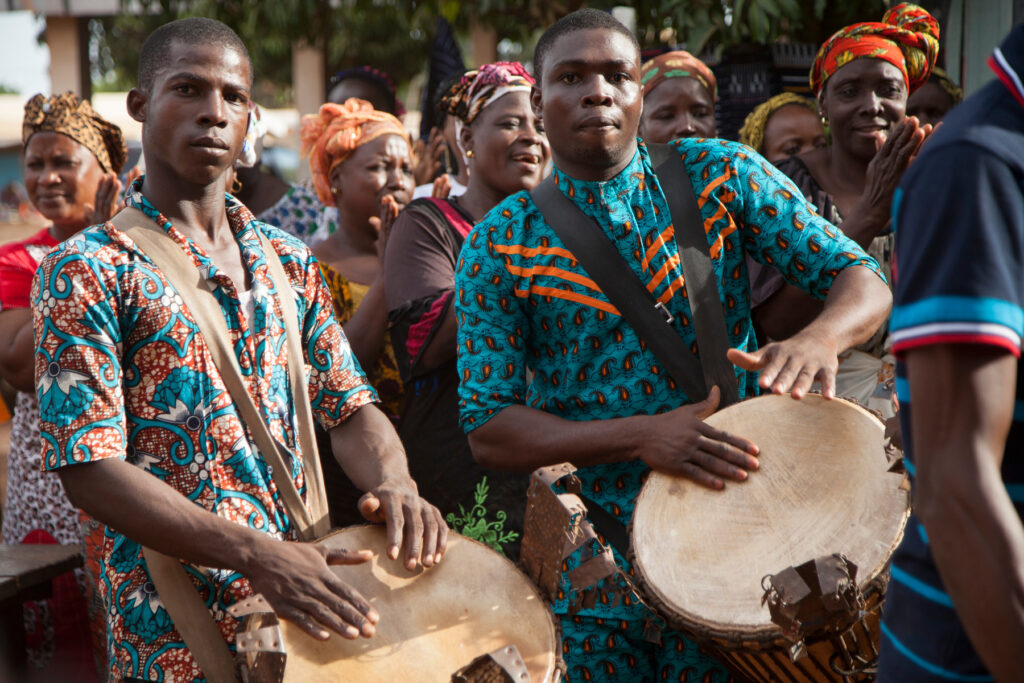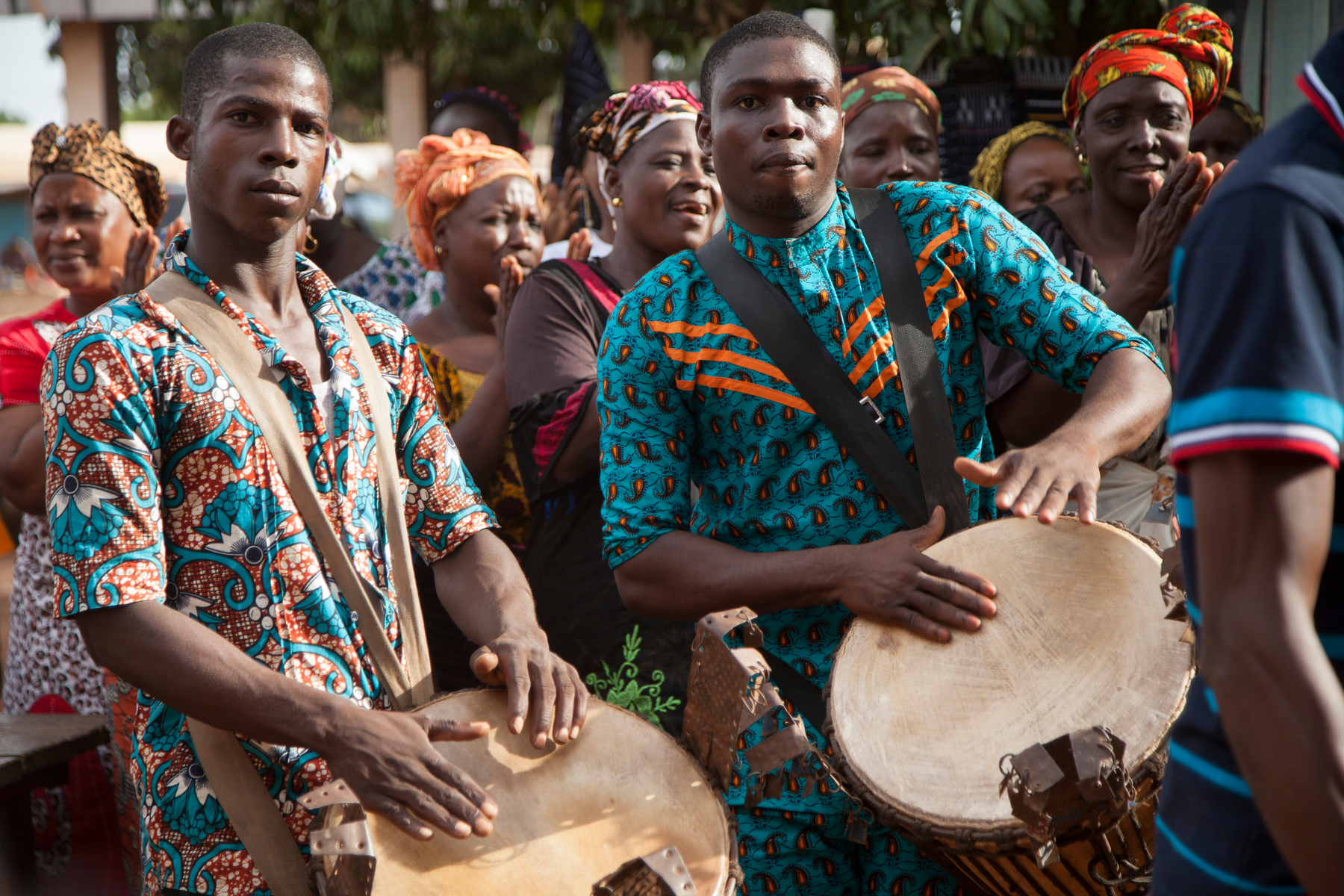 What to see and do
Place de l'Indépendance
The core of Korhogo is the Place de l'Indépendance – a small roundabout with a field to its west that is often used for concerts and other public events – and, to the south, the maquis area known as Bois Sacré. Most of the shops, a pharmacy and the Grand Market are located on the nameless main road that strikes northeast from the Place de l'Indépendance. The quarter containing all these things is known as Commerce, and directly to its west is the Koko neighbourhood where the UTB bus station can be found.
Dalekhana Artisans' Centre
Dalekhana Artisans' Centre is more than just a centre – it's a veritable village employing 70-odd workers and showcasing the talents of the north's most skilled craftspeople. The quality is always high here and the prices low, or at least lower than the tourist shops of Abidjan which, at any rate, import most of their products from the north, passing on such costs to the consumer. Kolo Fibé Coulibaly is a veteran woodworker whose fascinating creations include intricate Senoufo masks (37,000F) with gorilla-like teeth and locks of hair made from rope, teak statuettes of biblical characters and calao birds representing fertility and virility. Perhaps the most astounding articles are the door-sized funeral beds with wood-carved pillows emblazoned with tortoise motifs.
Kolo's brother Tenena specialises in grander objects such as the 1:1 scale model of a Senoufo warrior on horseback, spear at the ready. It has a pleasing classical Greco-Roman feel to it. Another relation, Ahmadou Coulibaly, works exclusively in bois wood, fashioning ram ornaments with sharp horns and huge-breasted tribal women. Elsewhere, Soro Zanan Abou makes little polka-dotted figurines, stipple-design masks and an eccentric giant stork with oversized testicles. Those more interested in bronze working will enjoy the Rastafarian Diabété Bakramoko's charming sculptures of villagers and his Senoufo masks.
Painters' commune
Inside an assortment of Bedouin-esque huts with low ceilings, the Painters' commune is home to dozens of artists painting stylised depictions of villagers, goats, turtles, snakes and elephants in the Korhogo cloth mode on to robes, dresses and sheets. If you don't want to buy, just watch crackerjacks like Sekongo at work, delicately applying homemade plant- and bark-based paint with fine brushes before deftly distorting the lines with a sponge. The experience comes close to meditation.
Getting there and away
By air
Air Côte d'Ivoire operates daily flights between Korhogo and Abidjan. With its faded, earthy setting, flat roofs and triangle-shaped fencing, there's a hint of Islamic design about Korhogo's minuscule airport, which is situated 15 minutes' drive southeast of the city along the B311 road in the area known as Blabokaha. In November 2019, the authorities began renovating and extending the airport to bring it up to international standards.
By road
The A3 highway south that connects Korhogo to Bouaké (229km), Yamoussoukro (332km) and Abidjan (570km) is in good condition and the journey is relatively smooth. The routes west to Odienné (207km) and east to Kong (142km) are more scabrous.
West of the market is the bus station from where, courtesy of the private firm Léopard Transport, you can catch big and comfy air-conditioned buses to Abidjan (8,000F), Bouaké (6,000F) and Yamoussoukro (3,000F). Although you are advised to get to the station for 07.00, these services only seem to depart when enough passengers have boarded, rather than adhering to a rigid timetable. A few other bus stations are located in and around the market, offering journeys to different places.
From MTK station you can catch 'VIP' (which effectively means loud TV, air conditioning and free mineral water) buses to Yamoussoukro and Abidjan, costing 8,000F and departing at 07.30 and 10.30 daily. From the CTKB station you can travel even further to Bamako in Mali and Ouagadougou in Burkina Faso. Both services are 14,500F and set off at 08.00 daily.