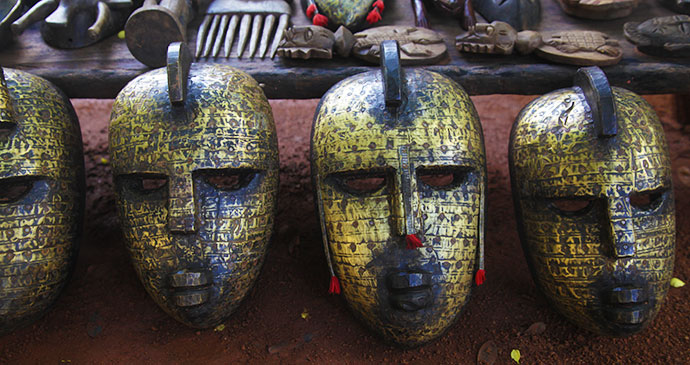 © Alex Sebley
This city is the centre of northern cultural modes that date back millennia, from smithies teeming with occult symbolism to sacrificial sites at the foot of Mount Korhogo.
Sited at the foot of the gradually rising mountain sharing its name, Korhogo lies at the heart of Ivory Coast's 40,000km2 dry brush and grass savannah. The southern approach to the city is blessed with baobab- and acacia-lined valleys and thick, road-creeping plant life. In Korhogo city itself though, the trees are scanter and the scrub below them barely spreads over the hard red and orange earth, like a carpet wearing thin. In the summer this terrain can get exceedingly dusty, making you feel like you took a wrong turn somewhere and ended up much further north in Africa. Coming here from Abidjan or Grand-Bassam, the slower, calmer pace of life is conspicuous. You'll see few cars (though a lot of motorbikes) and receive little to no hassle from vendors, inquisitive kids and dubious, self-appointed 'guides'.
In both civil wars Korhogo was the location of several flashpoints, which resulted in damaged infrastructure and the scaring away of tourists who had been so essential to the city's pre-war economy. Regeneration has been slow, but it has seen Korhogo's main attractions re-open and flourish anew. All over the city and in the local Senoufo villages, you'll find the old-world craftspeople who have helped build Korhogo's reputation as one of Ivory Coast's cultural hubs: weavers, painters, metalworkers and wood carvers, all of whom use intriguingly pre-modern tools and techniques.