Written by Helen Matthews
Every year we go on a company outing, and in late 2018 we put the authors of our guide to The Chilterns and the Thames Valley and travel narrative The Country of Larks to the test, asking them to use their expert knowledge to help us create a perfect day out in Henley-on-Thames, where we went on a Midsomer Murders walk. Author Helen Matthews tells us more…
---
By the time we joined our guide Sarah Osborne on the steps of Henley Town Hall for a Midsomer Murders themed walk, we already felt that we were in Midsomer territory. Dropping in to a quaintly traditional shop on our way to the meeting point, we found the door open and the place completely deserted. We opened and closed the door a few times to ring the bell, but to no avail. After some minutes I was beginning to wonder whether there was a bloodied corpse somewhere out the back. Fortunately, the shopkeeper eventually appeared before we had summoned the courage to go and look.  At least I hope he was the shopkeeper…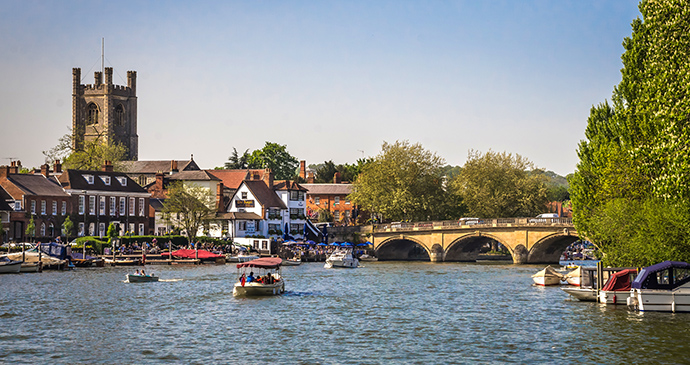 Henley-on-Thames provides the setting for the famous television show – Midsomer Murders © Sharad Raval, Shutterstock
Constructed in honour of Queen Victoria's Diamond Jubilee, Henley Town Hall occupies a commanding position at the top of Market Square, and to fans of the show it may look vaguely familiar. You may remember seeing Jason Hughes as DC Ben Jones leaving the Causton court house, or Joyce Barnaby attending a sale in the Causton auction rooms. In reality, the town hall is actually the site of the Henley Information Centre, which makes it an ideal starting point for a guided walk.
We didn't have to wander far to our next Midsomer location. A little way down the Market Square is the Argyll pub, which featured along with the town hall in the episode Last Year's Model. A brass plaque inside the pub indentifies where 'Inspector Barnaby interviewed Pru Plunkett in the Argyll Henley on Thames.' Close by is Gabriel Machin, a butcher's shop since 1861. Its old-fashioned façade, unchanged for over 60 years, made it an ideal location for Anton Thorneycroft's butcher's in The Magician's Nephew. Midsomer tourism provides a welcome boost in custom for businesses such as these. The series is broadcast all over the world and has a huge following of viewers who enjoy its unique blend of attractive Chilterns villages, countryside and gruesomely inventive murder methods. One of the Bradt team claimed – improbably, of course – never to have seen it, which is an achievement to rank alongside never having seen Star Wars.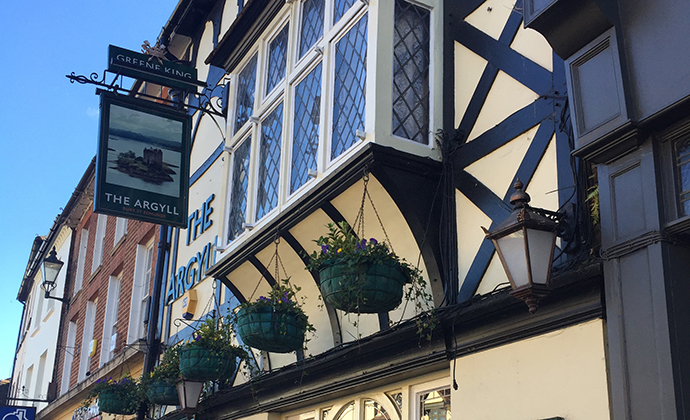 The Argyll pub featured in the episode Last Year's Model © Holly Parsons
From Market Square we made our way into Duke Street, formerly known as Duck Street, where we stopped to look at Tudor House Antiques – another Midsomer setting. Sarah explained that it is not quite as old as it appears from the façade, but it certainly looks the part. Several of our party returned later to have a look inside at the eclectic stock of antiques and vintage items.
Whilst Midsomer locations featured strongly in our itinerary, Sarah also gave us a background to Henley's history and pointed out other places of interest on the way. Our route took us down Friday Street, 'which probably derived its name from the medieval fishponds,' Sarah explained. Fish was a popular meal on Fridays, when people were expected to avoid eating meat. Until 1868, Sarah told us, the town had multiple insurance companies, each with its own fire brigade. If a building caught fire, the firemen would check the plaque on the outside was for their company before putting out the blaze.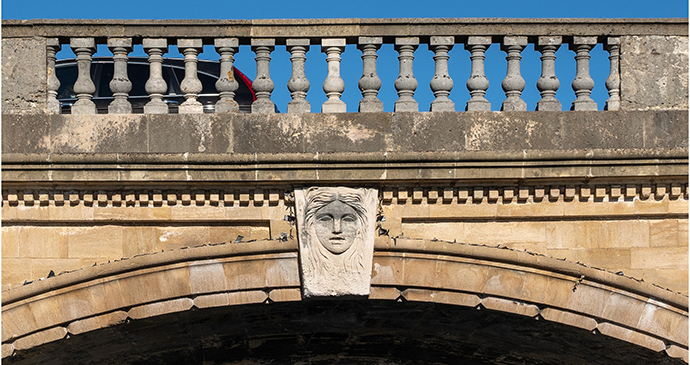 The historic Henley Bridge dates from 1786 © Peter Jay
Our walk ended by the Thames, where we had a good view of the historic Henley Bridge. Dating from 1786, it links Berkshire and Oxfordshire, and on the Berkshire side is the rather newer headquarters of the Henley Royal Regatta, designed in 1984–86 by the Terry Farrell Partnership. A pair of Egyptian geese joined the group as Sarah recounted how the episode Dead in the Water had been filmed during the Henley Royal Regatta, with the Barnaby family enjoying a picnic and local Olympian Sir Steve Redgrave playing a cameo role.
Even for those who aren't die-hard Midsomer fans, the walk is a fantastic introduction to a day in Henley.
---
Midsomer Tours, via Tours2Order, offer guided Midsomer Murders location walks in Henley and Dorchester-on-Thames, as well as guides on a half- or full-day basis to join coach groups. You'll also find lots more Henley information at www.visit-henley.com and information about self-guided driving and walking trails of different Midsomer towns and villages at www.visitbuckinghamshire.org/midsomer, www.visitmidsomer.com and www.visitchilterns.co.uk/uploads/midsomer_chilterns_Top10.pdf. 
---
Interesting in reading more about our trip to Henley? Click here. 
Want to find out more about the Chiltern towns that feature in Midsomer Murders? Check out our comprehensive guide to the region: