Written by Hilary Bradt & Janice Booth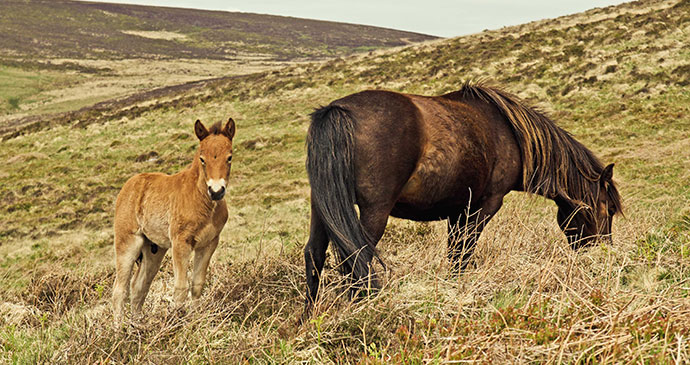 True Dartmoor ponies are few and far between nowadays © Unique Devon Tours
In contrast to Exmoor, where all ponies on the moor are similar in appearance (as you would expect of a distinct breed), Dartmoor's ponies are much more varied. There are few true Dartmoor ponies left now, the result of generations of cross-breeding, there being no rules on which ponies may graze Dartmoor common land as long as the stallions used to breed from do not exceed 12.2 hands (4 feet 1 inch) and are believed by a vet to be fit for surviving the often harsh conditions found on Dartmoor.
Since no pony is truly wild, and many will be sold on at some point, there are commercial considerations. 'Coloured' (piebald or skewbald) ponies attract higher prices than bay or brown, the original Dartmoor pony colour, so they are replacing the less strikingly coloured animals. Pony drifts, when the animals are rounded up and marked for ownership before being sold on, take place once a year in the autumn. The pony markets are held at Tavistock on the first Friday in October and Chagford the second Thursday in October.
The Dartmoor Pony Heritage Trust (DPHT) was set up to preserve the unregistered Dartmoor pony gene pool, and to maintain the traditional native herds on Dartmoor. It aims to increase the value of the annual foal crop through handling, castrating colts not suitable for breeding and promoting the good temperament and versatility of these moor-bred ponies. Every year the Dartmoor Pony Heritage Trust, supported by Dartmoor Pony Society, assesses the quality and conformation of the foals and awards the cream of the crop Heritage status.
One of the Trust's most successful strategies for highlighting these ponies' exceptional temperament is through its 'Ponies Inspiring People' programmes aimed at young people with physical, emotional, behavioural and learning disabilities. Dru Butterfield, the manager of this charity, explained that through various courses they have been able to help many young people with problems ranging from anger management to attention deficit and autism, along with those with multiple physical disabilities.
The Trust's visitor and education centre is in the Parke Estate, near Bovey Tracey, TQ13 9JQ (www.dpht.co.uk; 01626 833234). Where they run a 'meet the ponies' afternoon. It's run by volunteers, so check they're open when planning a special visit.
---
Want to learn more about Dartmoor ponies? Our brand new guide will give you all the details you need: