Written by Rosie Whitehouse
In the lush green valley of Aquila below the ruined castle in Finale Ligure the Parodi family farm has been booming despite the years of economic crisis in Italy. Sixty-six-year-old Giacomo Parodi and his wife Maria-Stella have been leading a small food revolution riving the chinotti industry which had almost died out.
These tiny bitter oranges were brought back to Savona from China in the 16th century by a local sailor. In Italian, cinese means Chinese. About the size of a golf ball, they once grew all along the coast from Varazze to Pietra Ligure, where there were thousands of trees. Sailors used the fruit to guard against scurvy and the farmers sold them to the French and American navy but a sharp frost in 1956 killed many of the trees just at the moment that mass tourism was about to arrive on the Riviera. Rather than planting new trees farmers either turned to crops that could be safely grown under glass, like basil and lemons, or sold their land for development.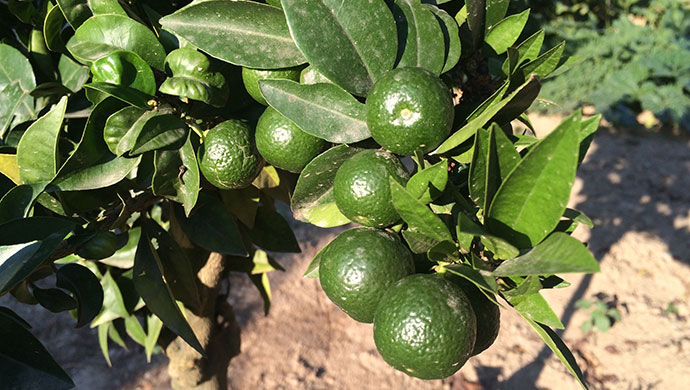 Chinotti are typically tiny and bitter © Rosie Whitehouse
In 2004 Giacomo decided to take a chance. 'I was encouraged by a friend of mine in the Slow Food Movement to start selling chinotti again,' he explains. 'Although I was a bit sceptical, I thought why not give it a try. After all my father used the profits he made from chinotti to set up the family home here back in the 1930s and he said chinotti will always make you money. It was because of this that, even though the market for chinotti disappeared we did not destroy the trees because he believed in them.'
Since then he and his son, Alessandro, have also planted new trees but it takes 10 years to get them into full production. 'The trees grow very, very slowly,' Giacomo explains. 'We call them the bonsai of citrus trees as they never get taller than 4m.' The Parodi family now have 200 trees of which 120 are fully grown.
In the last ten years, the Parodis and the Slow Food Movement have brought together 15 local producers who now have 1300 trees, in total, into a consortium, which was launched in 2006 with the help of the EU Rural Development Fund. 'Slow Food was crucial in the relaunch,' Giacomo says. 'Being part of the Slow Food Movement is a tough discipline and production must be totally organic. They come to check we are adhering to the rules at least twice a year. We welcome their visits because having the label is crucial to our business as people look for their symbol.'
'Wherever we go we are finding a lot of interest and we didn't think it would be like this. It is about 30-40% of our business but at this rate it will soon be 90%! We are selling kilos of the stuff,' he says proudly, waving a jar of jam in his hand. The family Piaggio van is loaded to the brim with their products ready to go to tomorrow's market. That said, Giacomo is keen to emphasise that he is keeping his farm as diverse as possible in case another hard frost hits the crop. 'It just takes one night to wipe out the crop.' The family also grow pumpkins, pears and oranges, and have even experimented with bananas.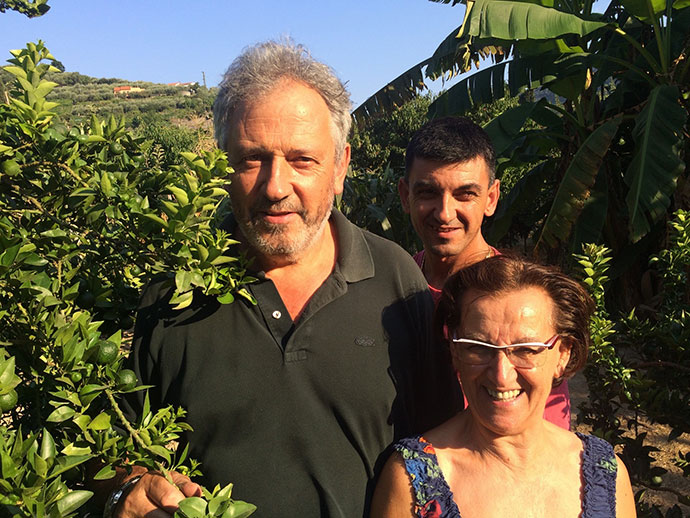 The Parodis say it takes 10 years to get chinotti trees into production © Rosie Whitehouse
The business benefited, says 69-year-old Maria-Stella, from the enthusiasm of the Milan-based TV chef Carlo Cracco, who was one of the first to buy their chinotti back in 2004. It is now stocked by the supermarket chain COOP and the Turin-based chain Eataly have also commercialised chinotti and taken the cooperative's products around the world, selling them in Istanbul, Brazil, New York and Chicago.
'Finale was the home of Giorgio Gallesio,' she tells us, pointing out his former elegant villa on the other side of the valley. 'He was one of the giants of the history of citrus farming.' Gallesio was the author of Traite du Citrus, published in 1811, and he called the fruit 'the little dwarf from China'.
The Parodis mostly produce chinotti for the drinks company, Lurisia who make a clear fizzy drink that tastes rather like tonic, and a stronger brown one, which is used in cocktails sold in the local bars. The family's homemade liqueur is surprising light and not that sweet. In 1932, San Pellegrino invented Chinnotto, as the fascist answer to cola, but as Giacomo explains, they did not use the fruit from this part of Liguria and as a consequence it was not so good and was far more bitter.
The history of the farm throws an interesting light on just how feudal Liguria was until the 1970s when the family finally brought the land. 'When Granpa Lorenzo started farming here in 1930 half of the crop grown by the peasants was given over to the landlord,' explains Maria-Stella. 'But when it came to chinotti they had to hand over 70%. They considered it a rich man's fruit,' she laughs, as we drink chinotti liqueur in tiny plastic cups. She prepares the marmalades and jams in the traditional way in large pans on a hot stove. Harvest time is between September and December. The first harvest is used for candied fruit, the second to make drinks and the third to make jams and is used in cooking. 'It is added in meat dishes, served with prawns and in salads,' she explains. Maria-Stella likes to use chinotti to make a sauce to serve with cheesecake. 'The marmalade is good with chocolate cake and with cheese. You must cook chinotti as you can't eat them raw.'
Chinotti are also candied and large glass jars of them were traditional in every bar in the area. They were served at the end of Christmas dinner, not only for their flavor, but their digestive properties. First the fruit was soaked in seawater for four months but today a brine mixture is used. Then they are removed from the water and turned by hand and put back in the salty water. They are then boiled in a sweet syrup and either candied or preserved in maraschino. Everything about chinotti is slow.
If you want to visit the farm, you'll need to call and make an appointment before you go. It is difficult to find as it is not sign-posted. Park by the church on Via Aquila II, then cross the bridge and turn left.
Giacobbe, the butchers in Sassello, also use chinotti to flavor some of their salamis. You can also find them in the market in Finale and Varigotti. You can also taste chinotti in the Besio bar on Via Sant'Ambrogio 5, in Savona. Besio have been creating delicious chinotto products since 1860. Their website has a full list of shops that stock their products, if you can't make it to Savona.
---
For more on Liguria's food and drink, take a look at our award-winning Liguria guide, the only standalone guide to the region.