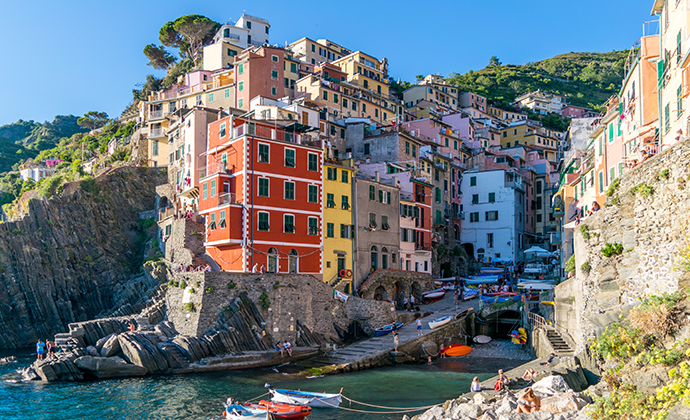 The five towns of the Cinque Terre are linked by the 14km-long Sentiero Azzurro, also known as the Blue Footpath © IulilaSlyshko, Shutterstock
The loveliest way to explore the Cinque Terre is on foot. The five towns are linked by the Sentiero Azzurro, the Blue Footpath. It's 14km long and takes anywhere between two-and-a-half and five hours to walk. The hills are dotted with Aleppo pines and the coastal scrub, macchia. Higher up there are chestnut trees, cork, myrtle broom and arboreal heather. The Club Alpino Italiano produces a 1:40,000 map of the area entitled Cinque Terre e Parco di Montemarcello.
The Sentiero Azzurro is the only footpath that you have to pay for in the entire country. It can work out as a pricey little walk if you just opt to ramble along the Via dell'Amore, the Path of Love, a half-hour stroll between Riomaggiore and Manarola, as you have to pay the price of the ticket to walk the entire route, which costs adults €10. The path starts in the piazza behind Riomaggiore railway station. There's a lift for wheelchairs and this part of the coastal path is paved and is easy for disabled visitors to enjoy, as well as families with pushchairs. It is, however, the busiest part of the walk.
The Via dell'Amore was cut into the cliff in the 1920s and the path originally led to a gunpowder store that was used to blast the tunnels for the second railway line. The old storehouse now houses the Bar dell'Amore. This part of the trail got its name because someone graffitied 'Via dell'Amore' on one of the barrels and it later became somewhere that young people from Manarola and Riomaggiore would come to meet.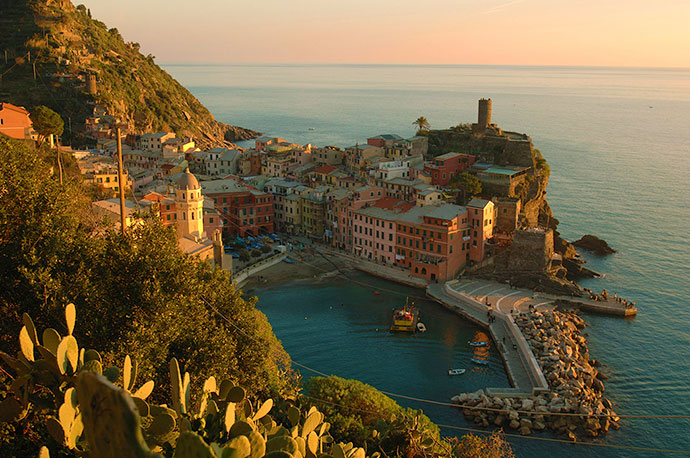 The views from the Sentiero Azzurro are truly unmissable © Rosie Whitehouse
The coastal path between Manarola and Corniglia was inaccessible at the time of writing, following the flooding of 2011. The coastal walk between Corniglia and Monterosso is a proper hike, which means it's quieter but is relatively easy if you are reasonably fit. Look out for peregrine falcons, ravens and blue rock thrushes.
There are plenty of free footpaths, however – 137km in all. The Strada dei Santuari that links the five pilgrimage churches dotted along the mountaintops, one above each village, is far less busy. The higher coastal footpath runs 45km from Levanto to Porto Venere and starts at Piazza Basteri in Porto Venere, where there is a steep climb up the staircase by the castle. It passes through Campiglia, across the Colle del Telegrafo and on to the Santuario della Madonna di Soviore, above Monterosso.
A word of warning: never walk along the footpaths if there is a chance of bad weather, as flash flooding is an issue.
---
For more on activities in Liguria, take a look at our award-winning Liguria guide, the only standalone guide to the region.