Written by Heather Haynes
Glasses were raised. I was all set to clink, then came the instruction: 'You have to look deep into the eyes of the person you are toasting.' Our guide was very clear. 'If you don't look into their eyes and look only at the glass, you will have seven years' bad sex.' There was a moment's startled pause before the ripple of laughter. 'Ah, so that's where I had been going wrong,' I quipped…Thus began the first lesson – how to drink crémant, the delicious Luxembourgish answer to Prosecco.
It was at the start of a three-day trip to Luxembourg, an unexpectedly lovely country nestling between Germany, France and Belgium, and so small that it is usually overlooked by European travellers, including myself. Crammed with castles, pretty villages and spectacular scenery, it appeared to have fallen right out of a fairytale. And on top of that, there was the crémant. Over the course of the weekend, I was to get used to this essential part of daily life, taken as an aperitif before every meal (excluding breakfast) and what a civilised and relaxing treat it is – sparkling, refreshing, exquisite, just enough to tempt the palate before setting to with knife and fork.
Day one: from madeleines to minted gin
After a relaxed stroll through the charming capital of Luxembourg City, and admiring the grand shopping streets, the city walls, the deep valleys, the pretty pointed-roofed buildings built in a Belgian-Franco style and the tree-covered hillsides, it was time for a mid-morning coffee break and lesson number two – an introduction to the madeleine. Now, I am familiar with these little sponge cakes sold six to a bag in most supermarkets in the UK, and, dare I say it, boring enough to forget within minutes of swallowing. Slightly disappointed to have been steered away from the mirror-glazed chocolate and cream patisserie on display in a nearby café, I resigned myself to the more sensible sponge… How wrong I was.
Obviously, what I had previously eaten must have been a pale imitation of the real thing, judging by the anticipatory delight of the German elements of our party. Apparently, Lea Linster is a Michelin-starred chef, the first woman to win the acclaimed Bocuse D'Or, and famous throughout half of Europe. Her madeleines were a gastronomic delectation – dainty and pale brown in appearance with a slightly crisp outer coating and a smooth, dense yet buttery sponge inside – utterly delicious. No wonder Proust devoted an entire chapter of Swann's Way to rhapsodising over this little cake. I could have munched my way through an entire plateful. Naturally, of course, being the polite person I am, I stopped after one. In the Lea Linster Delicatessen shop, customers were devouring madeleines with coffee, chocolate, and even with crémant. How very continental. Someone ought to tell M&S.
Our first lunch was in the Ca(fe)sino at the Casino-Forum of Contemporary Art, a grand building that houses an impressive art collection but which also serves the most sumptuous meals, but on a rather different scale from the self-service approach at London's V&A. Here, waiters arrived and spoke French (the formal language spoken in Luxembourg), German (if that was appropriate), Luxembourgish (if they knew you were local), or in my case English, switching from one tongue to the other with startling ease. I began to feel somewhat ashamed of my poor linguistic skills. However, there were more important considerations – food, and lesson number three – don't be satisfied with a sandwich when you can plump for creamy risotto with butternut squash, goat's cheese and sprouted seeds – a picture on a plate, and so perfect I took a photo. Sitting at a long, wooden table, surrounded by centuries-old panelling, pictures and mirrors, I felt almost as though I had been transported back to the Renaissance.
After an afternoon familiarising ourselves further with the attractions of Luxembourg City – the genteel Place d'Armes with its terraced cafés and bandstand, the beautiful cathedral with its astonishing stained-glass windows, the Grand Ducal Palace protected by two giggling sentries, and the delightful cobbled alleyways of the Old Town, we were treated to dinner at the Restaurant Um Plateau. Here we sat outside on the terrace next to the city walls, and blankets were thoughtfully provided in case the weather became cold. Iced minted gin cocktails were served as an aperitif, followed by scallops and pea mousse (a dish so beautiful it looked like a dessert) and roasted salmon and baby vegetables for mains. No one had any room for pudding. As the evening progressed and the sun went down, the outside heaters were turned on – it was autumn after all – and the talk flowed.
Day two: a porky assault
The next day dawned delightfully bright and sunny – just perfect for a visit to the Ardennes, and more specifically to Clervaux Castle, a majestic building perched on top of a rocky promontory in this pretty village, surrounded by tree-covered hills and an imposing monastery. There we visited 'The Family of Man' photography exhibition (listed on the UNESCO Memory of the World register in 2003), a powerful collection of some 500 documentary photos featuring men, women and children experiencing love, faith, war and peace. Absolutely remarkable. Since its creation, The Family of Man has attracted over 10 million visitors and entered the history of photography as a legendary exhibition. To talk it over, of course, we needed a good lunch, and the Brasserie & Bar in Clervaux did not disappoint. Overlooking a golf course, our view also took in a whole panorama of hills, slopes and distant villages. Now, I had read that pork was Luxembourg's national dish, so I was determined to try it for myself and blithely ordered roast pork … But why the tittering around the table? The answer was apparent when the dish arrived – it was a whole leg of pork, sufficient for a hungry family of four. Lesson number four – check out portion size before ordering. Undeterred, I made a brave assault on the meat, which was rich and delicious, but was inevitably defeated by its sheer size. The rest of the party sensibly stuck to salads and teased me mercilessly for the rest of the day.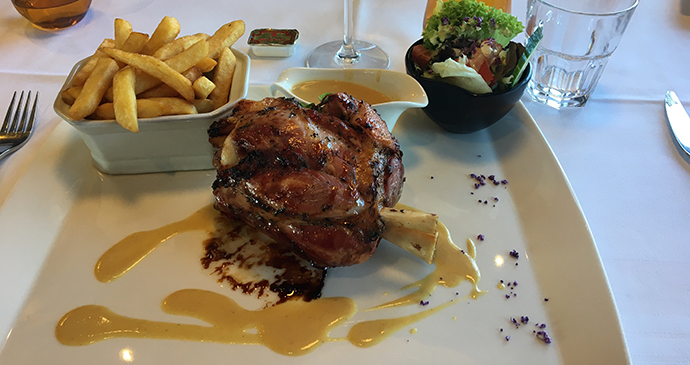 I was somewhat overwhelmed by the size of the roast pork © Heather Haynes
Vianden was the next stop – another quaint village, another castle on a hill, but this time we ascended the hill via a chairlift and marvelled at the view all the way up while our feet skimmed the treetops. This castle was medieval and we could wander around at will, with headphone guides explaining everything in our preferred language. Afterwards, the now familiar sit-down and chat on the banks of the River Our with a cold drink. Sightseeing can be tiring. However, revitalised by our drinks, we headed back to the capital in time for dinner (although I had little appetite, still stuffed as I was with pork), followed by the annual cultural occasion known to Luxembourgers as Museums Night, where the city's seven museums and art centres open their doors to the public for free until late at night. It was astonishing to see families, both young and old, packing out the museums, looking at exhibits, listening to music and, yes, eating and drinking, until the small hours. Yet there was no drunken behaviour, no rowdiness in this, the safest capital in Europe. The one incident approaching devilry was when a teenager who, after carefully placing his pint on the cobbles, raced against his mate to leap over a bench.
Day three: wine, wine, wine
The final day of our trip – and to some no doubt the highlight – took us to the Moselle, Luxembourg's wine-growing region and the home of Schengen, the historic site where the Schengen Agreement was signed in 1985, whereby the Benelux countries agreed to dispense with border controls. What is the point of borders, our guide asked. Every day thousands of people commute into and out of Luxembourg for work – this is vital for the economy. Coming from the UK, where many citizens would like to close off our borders altogether, this was a refreshing, if salutary, conversation. I felt as though I needed to apologise on behalf of my countrymen for the fiasco that is Brexit. To lighten the mood, the subject was tactfully changed to a more universally accepted topic: wine.
All around the valley sides there was a patchwork of vines growing, rows and rows of them in shades of green and yellow. Another picture postcard view. The talented vintners of the Moselle produce some of the country's best white wines and crémants. Unfortunately, in the UK, we are unlikely to taste any as Luxembourgers drink most of it, and export only about 30% to nearby countries. You need to head to Luxembourg yourself for this experience. From the banks of the Moselle, you can see across the sleepy river to Germany and its own vineyards, where they produce a slightly sweeter wine than that of their neighbour.
Our final lunch was another outdoor affair in D'Waibar in the attractive town of Remich. We opted for brunch, which meant we could basically eat as much as we liked from a table of cold meats and cheeses, bread, salad, hot chicken, quiches and omelettes. On this occasion, lesson number four (portion control) was practised with tremendous restraint, but this was because our last visit of the trip was to the winery of Caves St Martin, where you needed to keep some space in reserve in order to taste the wine. Here we were taken on a fascinating guided tour around the dark, damp cellars, where we were almost overcome (in a good way) by the heady fumes of bubbling wine emanating from the barrels. The end of our tour saw some wine tasting and my final lesson, number five – don't drink too much just before your flight home in case you misplace your ticket. I defied this lesson in the spirit of research, but couldn't decide exactly which crémant I preferred, the white or the rosé… I had to quaff several glasses before finally determining that, frankly, they were both heavenly.
And so, sadly, it was back to the airport and to a wet, soggy London, but Luxembourg taught me a lot. Not least that it was a truly welcoming and appealing place to be. Äddi Luxembourg, I'll be back.
---
The above trip was courtesy of Luxembourg for Tourism, with travel on LuxAir and accommodation at Hotel Sofitel Luxembourg Le Grand Ducal.
Inspired to enjoy a long weekend in Luxembourg? Start planning a trip with our comprehensive guide: