Anyone with an interest in Robert Burns will find much to entertain them in Dumfries. After living at Ellisland, he moved here while still working as an exciseman until his untimely death. The town is replete with references to the poet and there is a Burns Trail linking all of the relevant points of interest (a leaflet is available from the visitor information centre).
Burns first lived in a flat in the 'wee vennel' as it was known, or Bank Street, before moving to his house in Mill Street (now Burns Street). Along the High Street, the Hole in the Wa' was one of Burns's regular drinking haunts, though perhaps his favourite was the Globe Inn Close, also on the High Street. And near to both is the Midsteeple, where in July 1796 Burns's body lay in state before the funeral procession to St Michael's Kirk.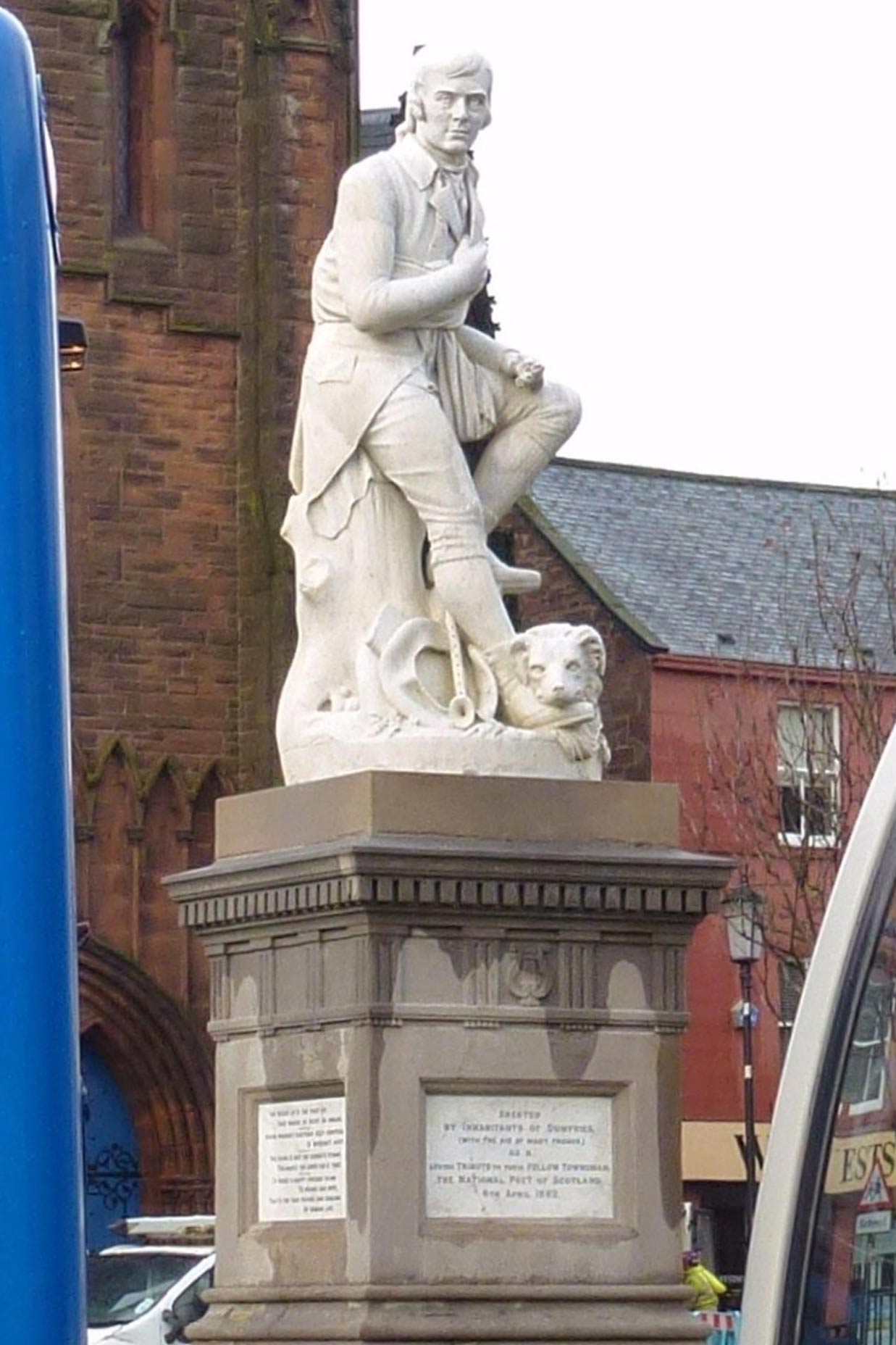 Opposite the entrance to Greyfriars church stands a statue of Burns, executed in Carrara marble from a model by Scottish sculptor Amelia Paton Hill, who is believed to have been the first woman sculptor to have a sculpture exhibited in a public space. The statue is a strong work showing Burns seated with a dog at his feet and was unveiled in 1882 by Archibald Primrose who went on to become one of the country's least remembered prime ministers (1894–95).
On Burns Street, you can visit the house in which the poet and his wife lived from 1793 until his death in 1796, although Jean continued living there until her death in 1834. The house was bought in 1851 by their son Colonel William Burns and placed in the hands of trustees. The four rooms that make up the house are open to the public and contain a range of period furniture, portraits and personal items.
St Michael's Kirk, which stands on the site of a much older 12th-century church, is home to the mausoleum of Burns, with his wife buried next to him. Burns was buried here initially in a different plot but his remains were moved in 1815 to a vault under the mausoleum which was erected to his memory. A plan at the entrance to the graveyard shows the location of his original resting place, as well as the location of the graves of his contemporaries.
From here it's only a couple of minutes' walk to the Robert Burns Centre, housed in an old mill building, which tells the story of the connections between Burns and Dumfries. It also hosts an intricate scale model of Dumfries in the 1790s, the time that Burns was here, plus a bookshop, café and popular Film Theatre (art house cinema) that screens movies most evenings.
---
Want to find out more about Burns' region? Get 10% off Slow Travel Dumfries and Galloway: