Written by Bradt Travel Guides
Adam Balogh is a painter-photographer born in Budapest who has been exhibiting his work since 2000 and has been working with us here at Bradt for the last 10 years. Adam believes his open heart and exotic travels across Central and South America, southeast Asia and the Middle East are reflected in his art.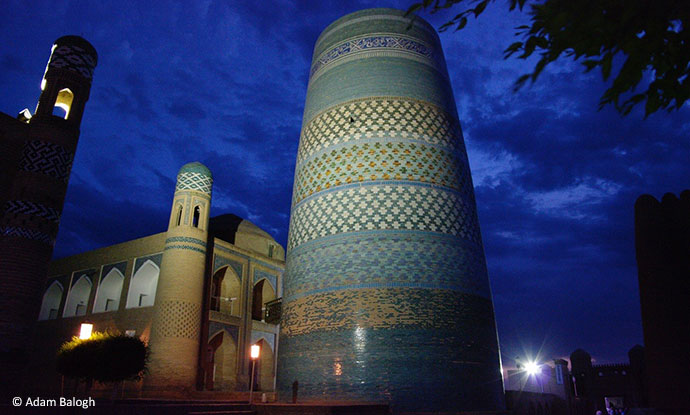 Kalta Minor in Khiva, Uzbekistan © Adam Balogh
Adam's photos have been published in several travel guides both in Hungary and abroad. His photos capture a sense of the exotic, but also aim to demonstrate what connects us as human beings and to create an understanding between people across the globe.
You can see Adam's stunning photos in our Uzbekistan, Georgia, Iran, Jordan and Armenia guides as well as across our website. For more about Adam and to find out where you can view his work in galleries both in Hungary and internationally, visit his website.
---
Given your extensive travel history, have you had any particularly close calls on the road?
I am grateful to fate because whenever I have experienced anything like a close call, I have found the kindness of local people humbling regardless of beliefs, background or preconceptions of identity. Every time, I lost my wallet or even my camera helpful people found them and ran after me. It felt as if the whole universe had come together to help me.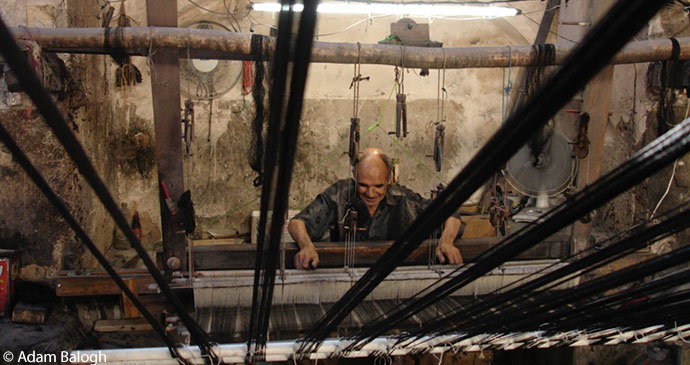 A traditional weaver in Kachan, Iran © Adam Balogh
After 12 years of office work in the financial sector, I made the decision to get off the corporate treadmill – I have never regretted it. I felt I needed something different: 'A jewel that never leaves the mine is never polished,' the Sufi poet Saadi said.
When I travel, I let go of the reins and try to keep an open heart and mind. I buy a plane ticket and, although I do draw up a rough itinerary, it is always abandoned in favour of chance encounters with locals.
You've taken a lot of photos in the Middle East – what drew you to this region in particular?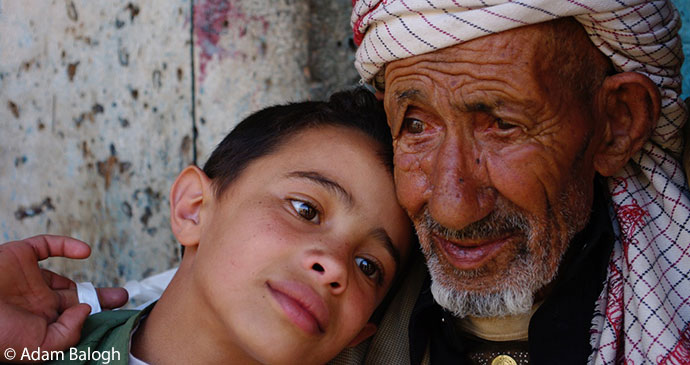 Locals in Shibam, Yemen © Adam Balogh
When I first went to the Middle East in 2001, I was mostly driven by the desire to explore. I didn't expect to be so deeply affected by the fabulous East or to rediscover long-forgotten emotions first evoked by my reading (and rereading!) of One Thousand and One Nights as a child. These days, my yearning for the East is a constant temptation. For Middle Eastern people, hospitality and travelling has remained a sacred, blessed activity. Wandering nomads have retained their hospitable attitude, it is a respectable thing to be a host in their society. Random, unexpected visitors are always offered food and drink. Also, being a guest means being respected.
What is your first memory of travelling? Did you have a camera with you?
My first great journey took me to a mystical world, Mexico in 1997. I was visiting a friend who studied on a scholarship at a university in Mexico City. It was such a fantastic experience, I became addicted to travel. I had my favourite camera with me: a single-lens reflex device. No matter what the advances in digital technology, I still consider it the best option.
How do you hope that people will react to your photos?
My photos are highly personal and subjective even though you might think nothing could be more objective than photography, especially considering that these photos actually document my travels. Nothing could be further from the truth, since these photos depict events and scenes we might not notice without a personal, subjective interpretation. What you see is a moment, a snapshot of another culture, of people living ordinary lives. In many cases, the subject of the photo is looking straight at us. Their gaze is revealing, no matter how commonplace it sounds – the eyes are a mirror to the soul.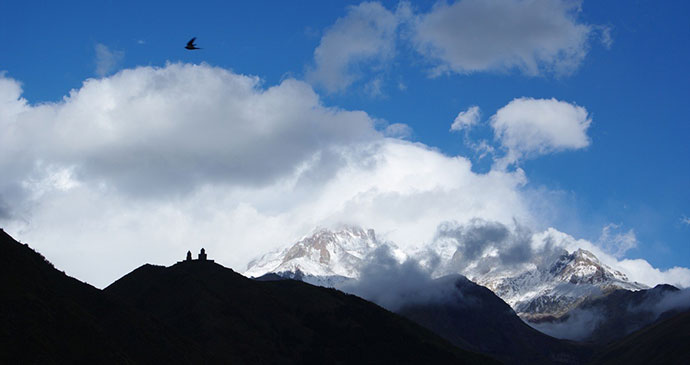 This photo of Kazbegi in Georgia, titled The Song of the Swallow, inspired a woman to climb the majestic peak © Adam Balogh
At one of my photo exhibitions, a visitor told me that her daughter had been greatly inspired by a photo I had taken in Georgia (The Song of the Swallow, Kazbegi, Georgia, 2013 – pictured above). She was so touched by the photo that she climbed the 5,033m peak – only the second woman ever do so. Nothing happens without reason.
What has been your favourite place to photograph?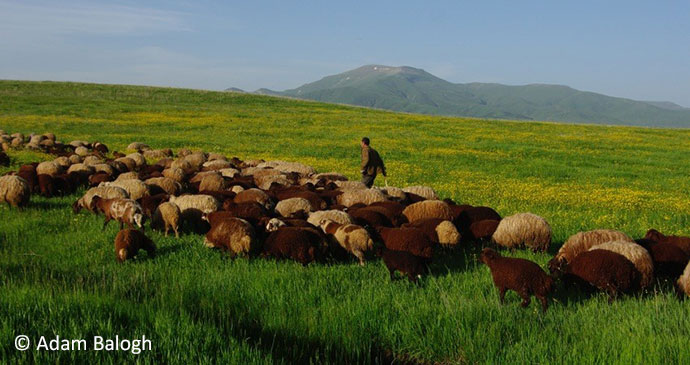 Armenia is Adam's favourite place to photograph – and you can see why © Adam Balogh
Armenia. I met a middle-aged man in a Yerevan market who was dealing in pre-Christian coins and spent most of my travel time with him. He had previously worked as a professor of astrophysics at the university but could not support his family on that income, unfortunately. My decision to choose him as my guide was justified; I got an insight into local life through the eyes of an Armenian family.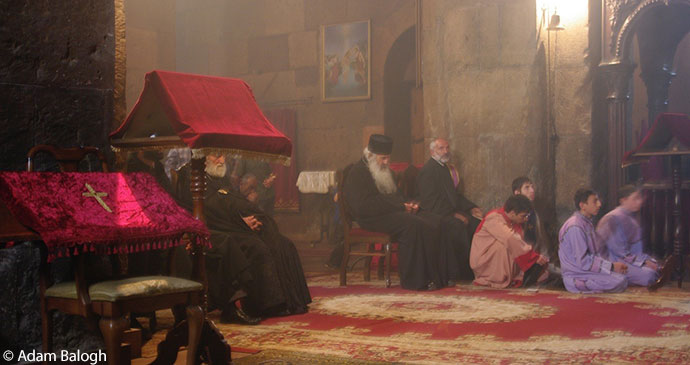 Prayers at Geghard Monastery, Armenia © Adam Balogh
What I could see from this special point of view was a country with its mountains and birds, still calling God in the language of Christianity while singing hymns in the depths of ancient monasteries in the voice of colourfully dressed girls, praising the greatness and beauty of creation. Through the eyes of a local, travel becomes a more soulful experience.
Which destination is top of your photography wish list?
I would very much like to get to Ethiopia and roam the land of miraculous ancient Christian relics. Next year I would like to visit my friends in southern Australia and see the beauties of nature there.
You're also known for your wonderful abstract paintings. How has this influenced your photography?
Each of my paintings has been a journey: a pilgrimage towards finding inner peace, quiet and harmony. My art can be interpreted freely, since the soul of the beholder greatly influences what feelings are invoked by particular details. Although the titles I give to my paintings may 'guide' observers in their interpretations, they never limit them in any way. Something different – a new dimension, a new universe – is born with each interpretation, which fills me with peace.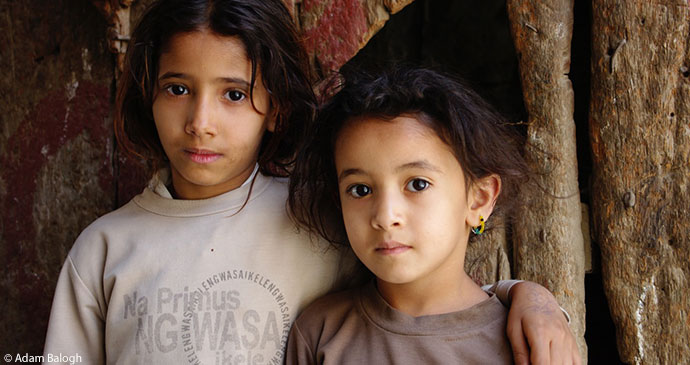 One of Adam's favourite things to photograph is the locals, such as here in Sana'a, Yemen's capital © Adam Balogh
During my travels, I am always inspired. I always look for the sacred in the everyday life . No matter where I go, my chosen subject is always the same: human beings, maybe in the wondering eyes of local children, mysterious stone walls, ancient churches or squares or the centuries'-old tales of cities.
In a world photographed by so many people, what advice do you have for photographers who want to create unique images of well-known places?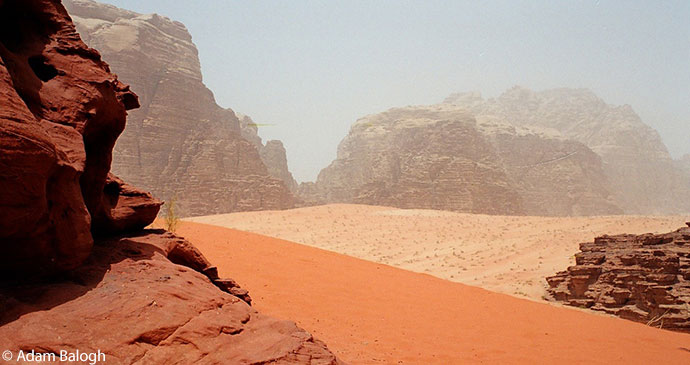 Jordan's magnificent desert – the Wadi Rum © Adam Balogh
The best advice I can give is to keep your heart and soul open. Sadly, we live in a world in which our souls seem to be asleep – we have eyes, but we don't see; ears, but we don't hear. Lengthy preparation, careful planning and quick reactions might lead to a competent shot, but they won't necessarily capture the spirit of that special moment.