Written by Tony Soper
A pleasure-boat cruise of Devon's south coast from Torbay (Torquay or Brixham) offers a great opportunity to observe seabirds and other wildlife, even if the cruise is for general interest. If you are a birder, don't forget your field guide, and a pair of binoculars is recommended for everyone.
As you leave Torbay behind you, the massive limestone cliffs of Berry Head loom on your starboard hand. Perched on the outermost clifftop you'll see the diminutive tower of the highest lighthouse in the British Isles. Tucked in around the corner and behind a few sentinel islets is a stretch of near-vertical cliff, some 200 feet high, pierced by seabird ledges and a fine cave: it's home to a thriving colony of kittiwakes and guillemots.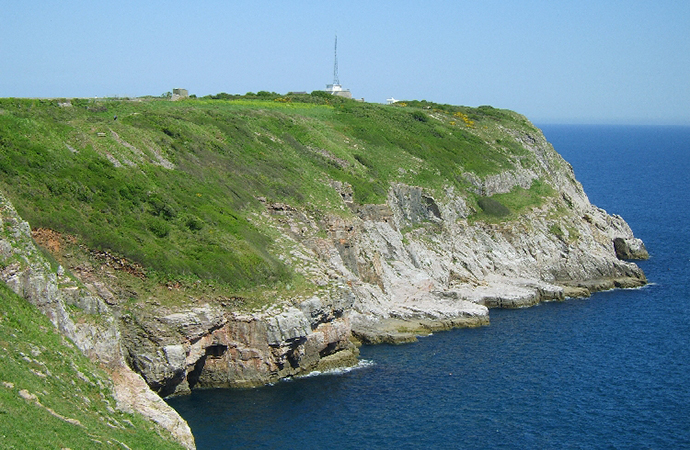 Berry Head's cliffs are one of the attractions on this journey © TempyIncursion, Wikimedia Commons
Keep a sharp eye open for a possible peregrine power-diving on a hapless newly fledged chick. Many years ago puffins bred on the cliff slopes here; now we see just the occasional solitary one paddling a few miles offshore. Shags will keep station as you cruise. On a calm day there may be swarms of jellyfish decorating the surface of the sea, there may be the lazy fins of a basking shark cruising for plankton, there may even be a turtle.
On a wild day clouds of gannets will be looking for shelter and a shoal of mackerel to indulge their plungediving. This open-sea part of the cruise may offer anything from a healthy slice of discomfort to a Mediterranean-style tan.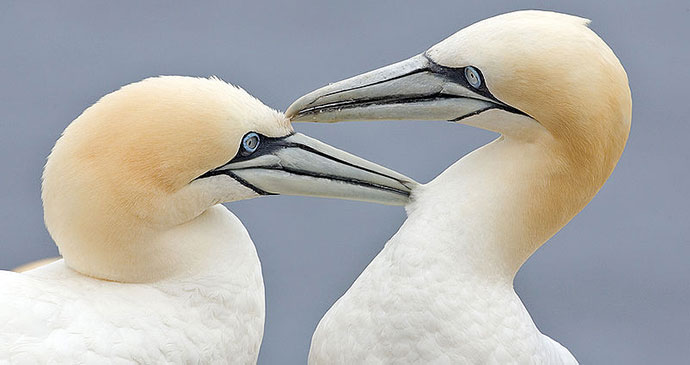 On a wild day clouds of gannets will be looking for shelter © Al Wilson, Wikimedia Commons
Dartmouth is guarded by a typically shaped mewstone, a giant lump of rocky cheese, as you approach its entrance. On the exposed seaward side the steep slope is colonised by cormorants, a secret cove is a favoured seal pool and the jungle of sea-kale is home for herring gulls.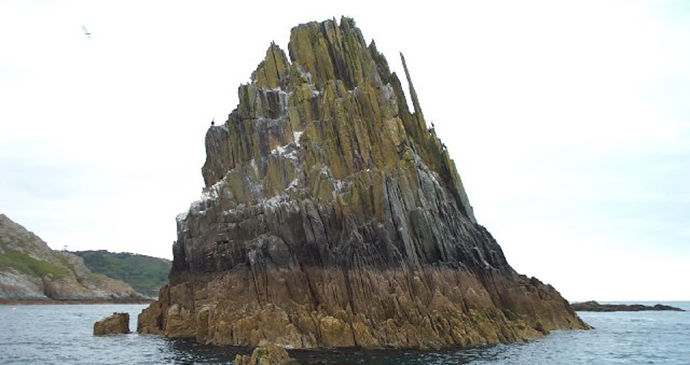 Dartmouth is guarded by a typically shaped mewstone © Richard Knight, Wikimedia Commons
Great black-backs favour the very top of the island. A chain of rocks, some barely submerged, leads across to the mainland.
Your final approach takes you between the much-photographed twin castles of Dartmouth and Kingswear as you enter the sheltered harbour.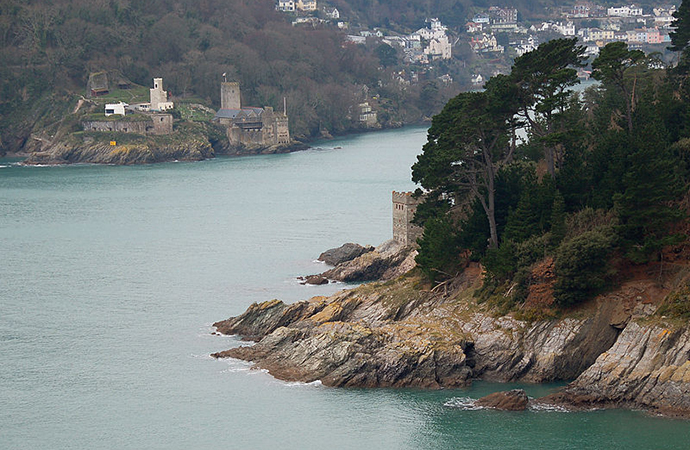 End your day by cruising between the twin castles of Dartmouth and Kingswear © Nilfanion, Wikimedia Commons
Now you have the choice of jumping ship to join one of the River Link ferries which will take you up the winding waterway to Totnes; crossing the harbour by way of the Lower Ferry to Kingswear and the steam railway back to Paignton; or getting a quick cream tea and reboarding for the return passage to Brixham. The perfect day.
---
Learn more about South Devon's birds in our guide to the region: