Written by Bradt Travel Guides
Whether you want to find the freshest fish, go rockpooling with the kids, or simply want to escape the crowds – we've picked some of our favourite beaches in England.
Brighton & Hove – excellent for activities
As well as swimming, the Brighton and Hove beachfront is full of scope for activities, with windsurfing on Hove Lagoon, surfing on Shoreham Hotpipes (or the Marina for more experienced surfers), basketball, a sand pitch for volleyball or other beach sports, a pétanque piste and marker posts for joggers on Hove seafront. The city is the main place in Sussex for surfboard hire.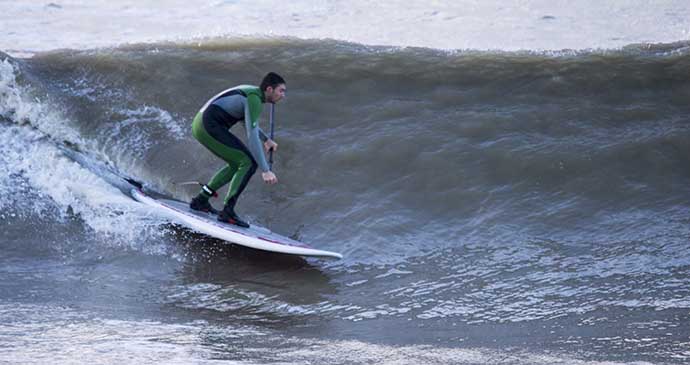 There all all sorts of activities to be enjoyed on Brighton's seafront © Lagoon Watersports
Woolacombe, North Devon – perfect for families
Woolacombe Sands has been voted one of Britain's best beaches, so it's not surprising that it is so popular with families. There's room for everyone along this expanse of golden sand and white surf, and in the several holiday parks for camping and caravans. But tucked into recesses on the southern face of Morte Point are smaller, less crowded beaches, as well as a gorgeous headland walk.
Woolacombe was popularised during the Victorian era © ian woolcock, Shutterstock
Woolacombe came into its own during the Victorian period when sea-bathing became all the rage and the large houses and hotels that we see today were built. The beach is privately owned and deserves its accolades. It has ample car parking close by, clean loos, plentiful refreshments including fish and chips, and is cleaned daily. Beach huts can be hired for the day. Lifeguards are on duty and there is a doggy stretch as well as a dog-free area in the summer. And there are tide pools. For families it really is ideal.
Lantic Bay, Cornwall – escape the crowds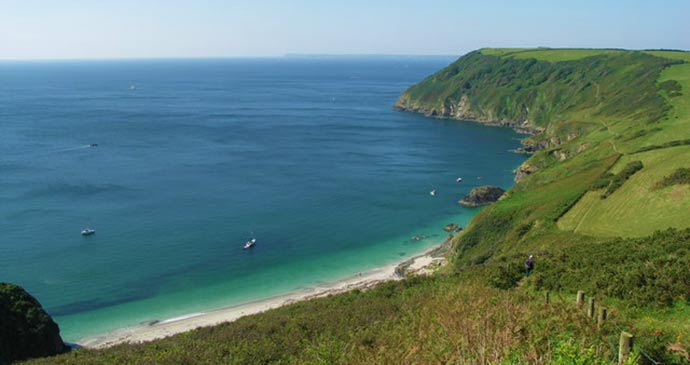 The mile-long walk to Lantic Bay ensures it's free from crowds © geograph.co.uk
This is one of Cornwall's best south coast beaches, and the effort of getting to it from the Pencarrow car park a mile away ensures it's never overcrowded. A wide horseshoe of pale sand, studded with outcrops of rock, and turquoise sea is the reward for those prepared to walk the sloping fields and plunging final descent. At low tide, a succession of smaller, sandy coves are revealed towards Polruan, often visited by boating families out of Fowey. The cove is known, however, for its occasional rip currents, and great care should be taken if you're contemplating a swim. From Polruan, the mile and a half of clifftop walking eastwards to here gets choice views all the way.
Budleigh Salterton, East Devon – the place for pebbles
Budleigh Salterton has pebbles galore © Tony Howell, Heart of Devon Images
Towns have different specialities. One may have a historic church, another some picturesque cottages, a third particularly fine gardens. Budleigh Salterton has – pebbles. It's attractive in other ways too, of course, but the stones on its beach are remarkable: smooth, multihued and rather smug, as they gleam up at you with an air of 'yes we know we are beautiful'. 'Budleigh Buns', they're sometimes called, and indeed some are plump and bun-like, but no bun has such subtle colouring. And no, you must not collect them! Walking along Fore Street with its thriving independent shops and businesses, you'd never guess that two miles of curving beach were just a stone's throw (sorry) away. Residents use it extensively: walking, exercising dogs, flying kites, swimming – it's a beautiful bay, and the town's biggest natural asset.
Aldeburgh, Suffolk – buy the freshest fish
Aldeburgh is one of the Suffolk coast's main contenders for the role of favourite seaside resort: a former shipbuilding and fishing town that went into decline when fishing boats became too large to drag up the beach and other, more suitable ports were favoured for the construction of ships. Before this happened though, ships as illustrious as Sir Francis Drake's Pelican (famously later renamed as Golden Hind) were built here.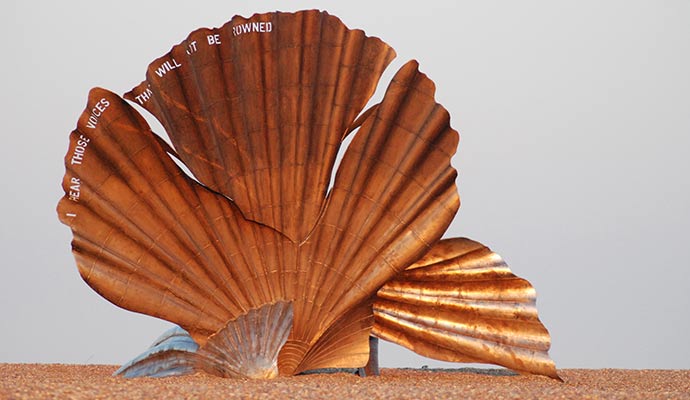 This shell sculpture at Aldeburgh, made by local artist Maggi Hambling, bears a line from the libretto of Britten's Peter Grimes opera that was set in the former fishing town © David Falk
There's still some fishing done from Aldeburgh's shingle beach and one of the town's great pleasures is to buy ultra-fresh fish from one of the huts on the beach and go off and cook it. Of course, you could have fish from the very same catch cooked for you instead.
Although actually a Lowestoft man, the composer Benjamin Britten is remembered through a sculpture, The Scallop, found on the northern beach, close to the car park. It's a large stainless-steel sculpture in the shape of a shell made by Suffolk artist Maggi Hambling, and was unveiled in 2003 to much controversy. The upright shell bears the words: 'I hear those voices that will not be drowned', taken from Britten's Peter Grimes.
Chesil Beach, Dorset – the largest shingle beach in Britain
Stand on Portland Heights or outside St Catherine's Chapel high above Abbotsbury and look out to sea and you will be treated to the most extraordinary sight – a wide, golden, shingle bank rising out of the water and running along the coastline, with a lagoon sheltering sheepishly behind it. If you saw such a thing in Dubai you might assume it was the zany creation of a capricious sheikh, but this is Dorset and Chesil Beach is all natural.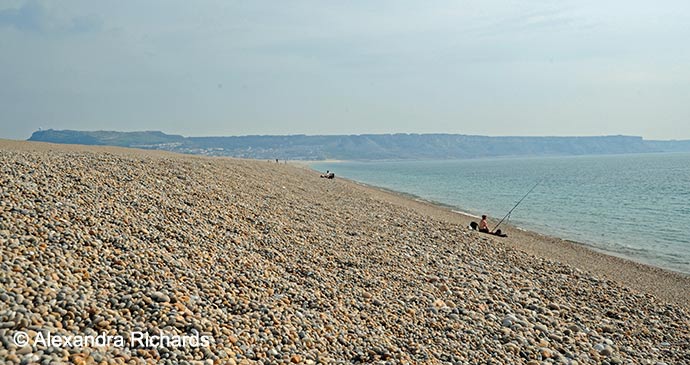 Chesil Beach plays a prominent role in a novel by Ian McEwan © Alexandra Richards
Stretching for 18 miles between West Bay and Portland, Chesil Beach is the largest of three major shingle structures in Britain. The shingle bank, which reaches around 40 feet at its highest point, was formed by rising seas at the end of the last Ice Age. Its rounded pebbles have been graded in size by strong tidal currents; they are as small as peas at the western end and the size of oranges at the Portland end. For centuries the size of the pebbles has been helping locals, mostly smugglers and fishermen, pinpoint where they are landing on the beach.
Druridge Bay, Northumberland – in search of solitude
Northumberland's most desolate beach is a sweeping expanse of sand that extends for six wind-whipped miles from Cresswell to just south of Amble. The shore is sheltered somewhat by high dunes, but it's hard to completely escape the bracing winds. Perhaps this explains in part why Druridge Bay is not the most popular bucket-and-spade beach. You'll easily find a spot to yourself where the nearest family is several hundred yards away. Walkers will love it here.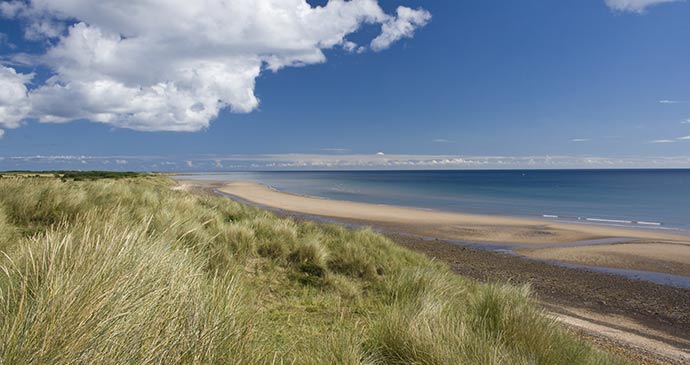 Druridge Bay is ideal for those seeking peace and quiet © H Athey, Shutterstock
Behind the dunes is a broken chain of (sheltered) lagoons fringed by reedbeds and farmland that attract large numbers of wildfowl in winter. They are linked by the coast path which takes a varied route along the beach, tracks and grassy dunes.
Porth (Polly) Joke, Cornwall – share the beach with cattle
Kirsty Fergusson, author of our Slow Travel Cornwall guide writes: I don't suppose adding my voice to the growing numbers of visitors who have 'discovered' this lovely, unspoilt beach, will do it any good at all. In English, it would be Jackdaw Cove, for 'Joke' is a corruption of the 'jack' in jackdaw, and 'chough' is similarly derived. There are plenty of jackdaws around, and since 2012 choughs have returned to their old haunts, which is very pleasing to hear.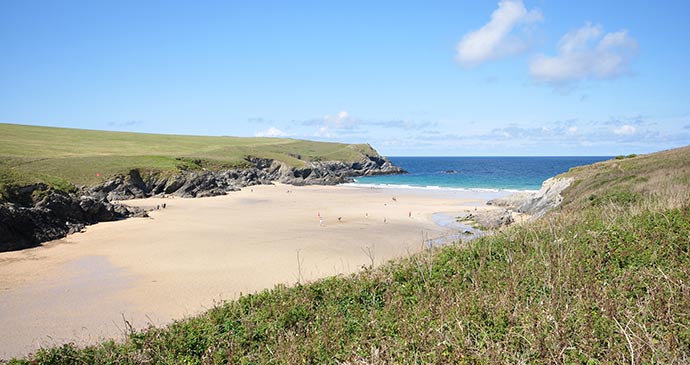 Porth Joke is owned by the National Trust © Wikimedia Commons
What's particularly nice is the way that cattle and sheep are able to wander down from the ancient pastures above, known as 'the Kelseys' to the beach, either looking for shelter or to drink from the trickling stream. It's National Trust land and policy to graze like this, and as they politely say on their notices, 'if the cattle concern you, there are other beaches at Crantock and Holywell'.
Studland, Dorset – canter along this National Trust beach
A National Trust permit is required to ride your own horse on the beach at Studland and the relevant forms can be downloaded from the National Trust website. It is advisable to contact the National Trust's Purbeck office before applying to discuss availability. Only 50 permits are issued per year and you will need to allow a few days for processing. If you don't have access to your own horse, never fear because Studland Stables has a yard full of horses and ponies to suit all abilities.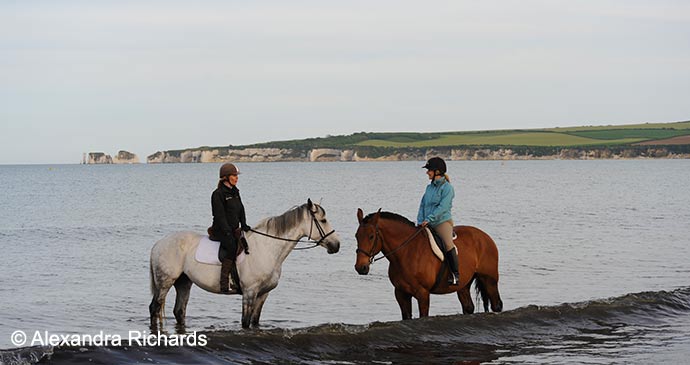 Studland has long been popular with naturists © Alexandra Richards
The beaches at Studland have been popular with naturists since the 1920s. Those pioneering naturists were taking a risk greater than sand in places where sand shouldn't be because in those days exposure was illegal. Naturists can now relax on the right side of the law in a designated zone on Knoll Beach. Signs clearly mark the naturist area, including the instruction 'naturists please dress before passing this point'.
Runswick Bay, North Yorkshire – find the wild side
Runswick Bay possesses two particularly appealing features, a huddle of pantile-roofed cottages that comprises the village, and the beach. The village resembles a miniature Robin Hood's Bay with its maze of alleys and passageways but the beach is much more attractive than that of the larger near neighbour. Ice creams, buckets and spades, multi-coloured wind-breaks and crowds of bank holiday sunbathers; Runswick Bay beach does all of that, but venture a frisbee-throw away from the car park and slipways and it shows a much wilder side to its nature. Halfway round the sandy bay, and just past the yacht club, low shale cliffs begin and the guttural cackles of nesting fulmars compete with the 'swosh' of the waves. This place is known as Hob Holes locally, after the old jet mines at the crag foot. Legend has it that a hobgoblin lived in the darkness with the unexplained ability to cure whooping cough. A chant of 'Hob, Hob, me bairn's got kink cough. Takk it off, takk it off,' was the brief and to-the-point request that was supposed to do the trick. The Cleveland Way footpath makes its way to the top of the cliff at Hob Holes, so very few people carry on along the shore beyond this point, but the extra effort is well worth it.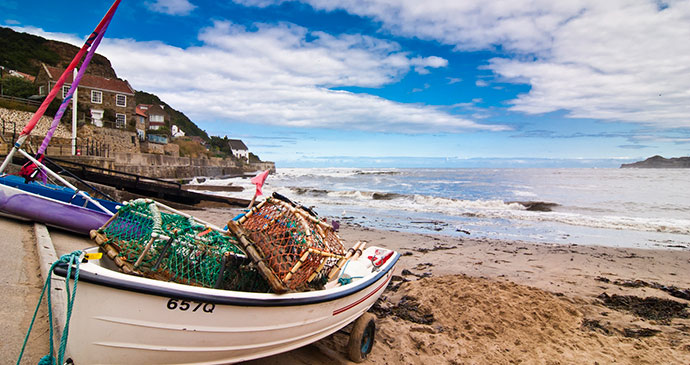 Runswick Bay is one of the UK's more rugged beaches © Welcome to Yorkshire
Wembury, South Devon — A mix of everything
Wembury's beach is the perfect seaside escape. With shale/shingle at high tide and a wide expanse of sand at low tide, it offers safe, clean bathing and paddling as well as surfing. Views are stunning, of sea and cliffs. Wembury Beach and its surrounding coast and sea are designated a Special Area of Conservation and a Voluntary Marine Conservation Area. It's a short stroll from the beach out to Wembury Point, with spectacular views across the bay and coastline to the historic Mewstone, a tiny triangular island that is now a bird sanctuary but in times gone by was a haunt of local smugglers and a prison.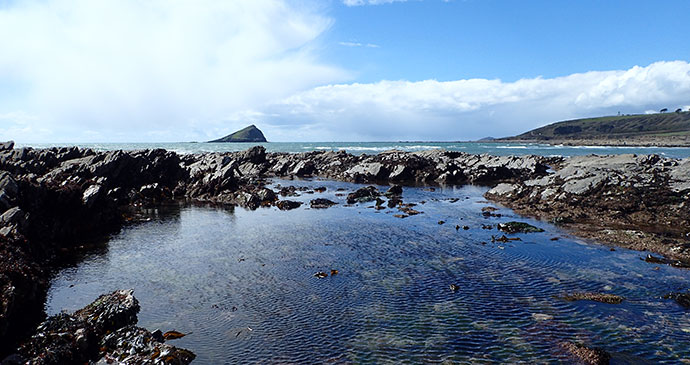 Wembury has many rock pools to explore © Devon Wildlife Trust
What is your favourite beach in the UK? Send us photos via Twitter and Instagram, using the hashtag #BradtBritain, or leave your suggestions below.
---
Fancy getting your bucket and spade out? Find out more about these beaches in our Slow Travel guides: