Darts Farm, East Devon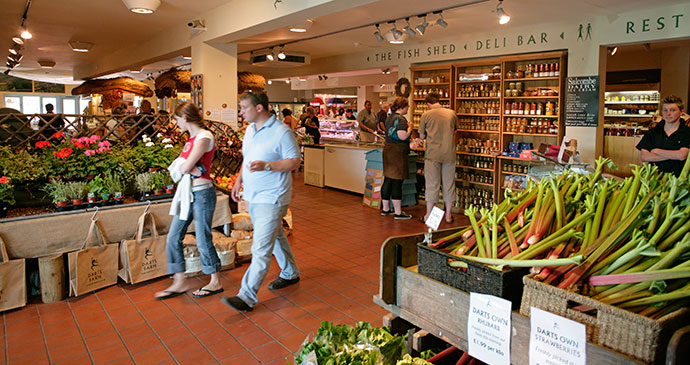 © Heart of Devon Images
The Guardian described Darts Farm as 'finding Selfridges' food store dumped in the middle of a field'. It comprises a farm shop, delicatessen, butchers, fishmongers, specialist cider and ale house (they make their own cider), and various other retailers, all as organic as they come and top quality. Look outside and you'll see the fields where they are grown: food miles – zero. There's a good, spacious restaurant for snacks and main meals, and The Fish Shed selling fish and other seafood that's either fresh, grilled or battered with crunchy chips and comes from Lyme Bay, so it's freshly caught and local. There's also an RSPB shop here, which organises regular nature walks, generally on Saturdays from April to December, and has details of birdwatching cruises from Topsham.
Apley Farm Shop, Shropshire
It's always good to see clued-up landowners opening their estates to families and fun. Lord and Lady Hamilton of the Apley Estate are a case in point, lovingly developing Apley Farm Shop in a huge diversification and restoration project that included a renewable energy programme. The Hamilton family has owned the 8,500-acre estate since 1868 – and we should feel very glad they still do. It's easily one of the nicest farm shops anywhere, with a deli stocked with local cheeses and a butchery selling meat directly from the estate. But the site is much more than a farm shop now. For fair weather there is Scotty's Animal Park, offering close encounters of the alpaca, chicken, goose, horse, pig and sheep kind. The mile-long Skylark Nature Trail, beginning and ending at the car park, has periodic benches and seven information boards. And, when you need indoor activities, try Pigg's Playbarn, a soft-play centre big enough for little legs to burn up energy and small enough for adults to be able to recline on the sofas, worry-free, with coffee and homemade cake.
Udder Farm Shop, Dorset
It was 2005 when Brian Dixon, like so many dairy farmers, came to the realisation that diversification was the only way forward. The East Stour village shop had closed, leaving a significant gap in the local community, and they came up with the idea of a farm shop. They were determined the project should benefit the community as much as possible, employing local labour as well as providing a service. It seems apt that the company they used to build the frame of the Udder Farm Shop barn was the same rural firm that built Brian's milking parlour in 1994. They have created a hugely successful enterprise selling a tempting array of locally made products. There is an on-site butcher, a delicatessen and a large selection of gifts with a local flavour. The café has become the definitive place in the area to meet up with friends. It serves excellent light lunches and delicious cakes, has views of Duncliffe Hill, an outdoor children's play area and wheelchair access.
Greendale Farm Shop, East Devon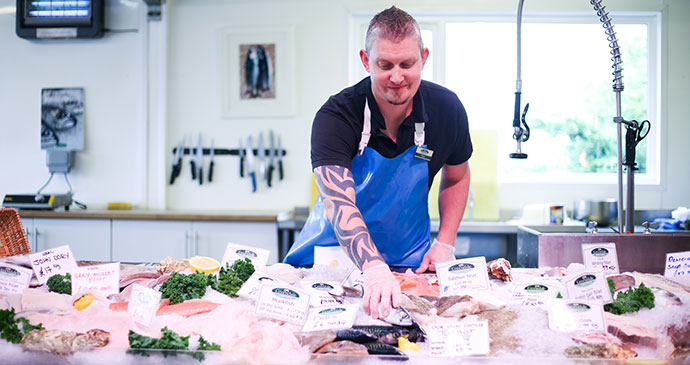 Greendale's fish counter is a real treat © Greendale Farm Shop
The sign for Greendale Farm Shop is definitely a place not to miss. It's quite exceptional, perhaps the best of its kind in the region and – who knows – beyond. First, its pedigree. As if it weren't enough to farm 1,500 acres, the family also own ten fishing boats. They do eat-in or take-out fish and chips, and have a range of other seafood dishes. The fish counter is a marvel: you can see how fresh it is and there's a huge variety to choose from including local lobsters (alive in a tank) and crabs. The farm raises cattle, sheep and pigs and has its own butcher, so again you know that the meat is not only as local as you can get, but outdoor reared in the best possible conditions. We're sure the fruit and vegetables, also grown on the farm, are happy too, and wouldn't be surprised if the bees that provide the local honey had smiles on their faces. This place defines 'locally sourced food' and we defy you to come out empty handed. It's child-friendly too, with two tractors for kids to play on, free-range chickens scuffling around and some contented-looking geese.
Daylesford, the Cotswolds
Situated just a few miles from Stow-on-the-Wold, Daylesford is far more than your average farm shop. There's a cookery school on site, foodie and lifestyle events almost daily, farm visits, a café and restaurant serving first-class meals with local produce and even an organic spa. Food from the estate, however, remains the core focus, and it is sublime. The farm shop is renowned countrywide for its excellent produce, most of which comes from the estate, including fruit and veg from their market garden, cheese made in their creamery, breads, pastries and cakes from their bakery, and meat and poultry from the farm.
---