Written by Angela Bird and Murray Stewart
You can eat very well in the Vendée, there's little doubt about that. Traditional local specialities include the hearty white haricot beans known as mogettes and brioche – a delicious sweet treat. With a long coastline and active fishing industry, fish and shellfish can also be found throughout the region. Here are ten local specialities to look out for and suggestions of where to find them at their best.
Oysters (huîtres)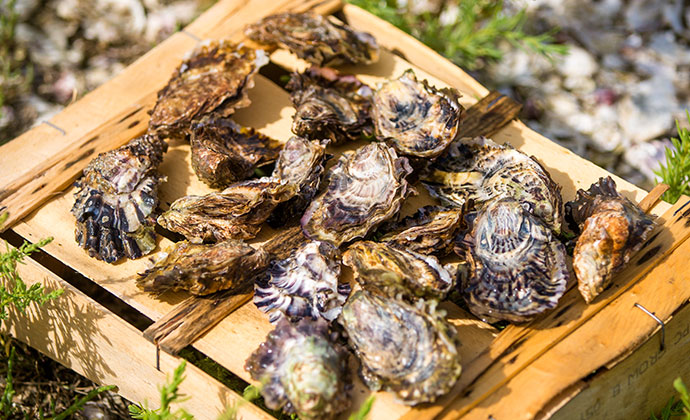 Oysters from the Bay of Bourgneuf are particularly popular © Simon Bourcier, Vendée Expansion Pôle Tourisme
Available all along the Atlantic coast, but those from the Bay of Bourgneuf in the north part of the Vendée enjoy a particularly strong reputation. Noirmoutier island is another 'hotspot' and it was there that saw the appearance of the first oyster parks in the early 19th century. Usually of the long, knobbly portugaise variety, they are in season all year and are, to British minds, incredibly inexpensive. To open, attack the hinged end of the creature using one of the cheap, stubby blades with a special shield around the handle (available in supermarkets).
The Noirmoutier potato (la bonnotte)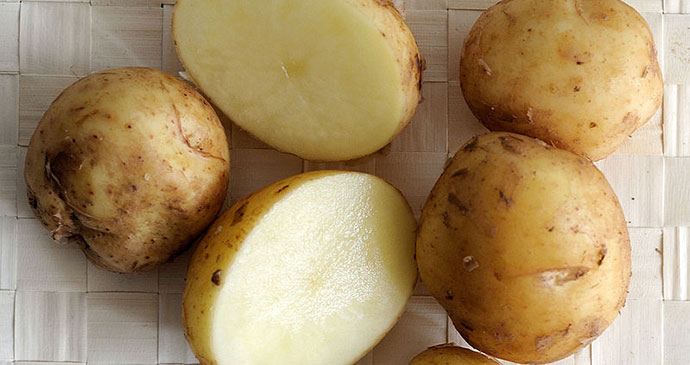 The island of Noirmoutier produces the first French new potatoes of the year © BastienM, Wikimedia Commons
The island of Noirmoutier enjoys a microclimate that enables it to produce the first French new potatoes of the year – rather like Jersey Royals for the British market – as early as February. The sweet, fresh taste in early spring compensates for the slightly sorry sight of the island's fields shrouded in plastic wraps through the winter. Their arrival on the restaurants' menus is much anticipated.
Beans (mogettes)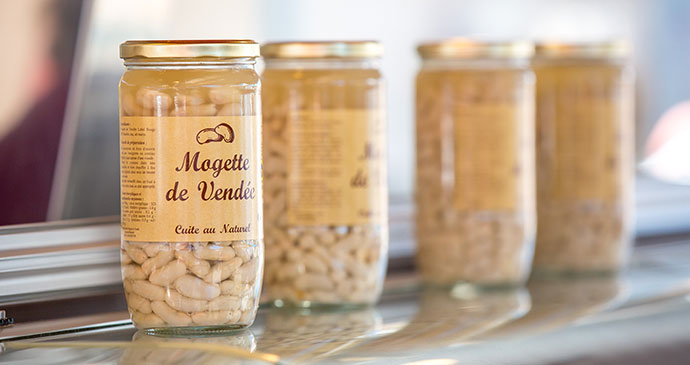 These haricot beans were once a staple of the local diet © Simon Bourcier, Vendée Expansion Pôle Tourisme
The humble haricot bean finds an ideal environment for its cultivation in the Vendée. Introduced to the area by monks in the 16th century and in times gone by a staple of the local diet, it is still revered as an accompaniment to lamb – and even more so to the jambon Vendéen. To enjoy them at their best, they need to be soaked overnight, then simmered for an hour or two in water with no salt, just bouquet garni. Salt them only after they are cooked. You can stir in some crème fraiche after draining them. If this sounds too much trouble, there are some excellent, home-cooked versions bottled in glass jars, either plain or 'à l'ancienne' (with tasty bits of bacon and carrot included), available in supermarkets. In late summer you sometimes see the new season's beans, called demi-secs, on sale still in their withered pods; these need no pre-soaking, and are supposed to be more digestible.
Ham (jambon Vendéen)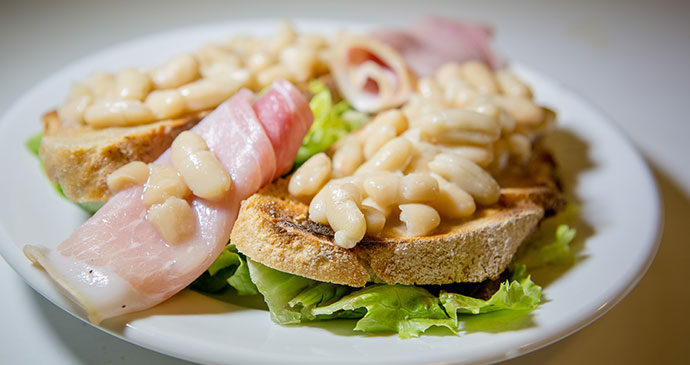 Ham is classically served with mogettes © Simon Bourcier, Vendée Expansion Pôle Tourisme
After a long struggle, the ham of the region finally gained its spurs in 2014, being awarded the right to carry the IGP (indication géographique protégée) label, the equivalent in some senses to the AOC awarded to fine wines. The region's sea salt and various spices are involved in the manufacturing process, which demands around three months of ageing before the ham can be eaten. Classically, it is served with mogettes.
Mussels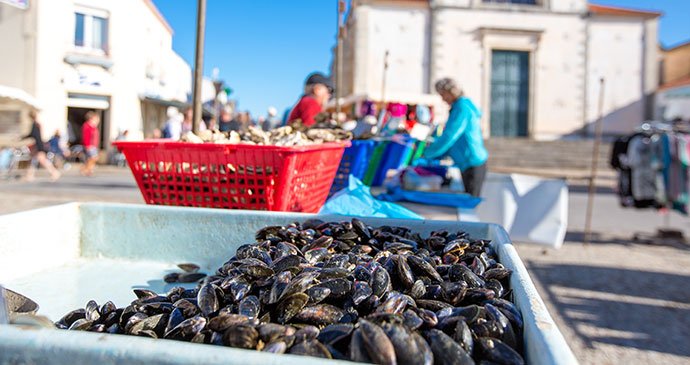 The region produces more than 5,000 tonnes of mussels each year © Simon Bourcier, Vendée Expansion Pôle Tourisme
You will not have to look hard to find mussels on the menus of the Vendée's coastal restaurants, usually served with a variety of delicious sauces. No surprise, as more than 5,000 tonnes are produced here each year, in an industry which has been going strong since a shipwrecked Irishman pioneered their cultivation on ropes, way back in the 13th century. L'Aiguillon-sur-Mer in particular is a renowned centre for these molluscs. If you are self-catering, note that they are always sold alive, and need to be well scrubbed and scraped, using a sharp knife to remove barnacles and any whiskery bits of 'beard'. Discard any that are not tightly closed. You can sometimes buy ready-scraped mussels (moules grattées) which saves a bit of work, but you should still look them over carefully. To cook a kilo of mussels, heat 125ml of Muscadet, Gros-Plant or other dry white wine with a chopped onion, a chopped clove of garlic, two teaspoons of chopped parsley, and some seasoning. When it is boiling, add the mussels, cover, and steam for 5 to 10 minutes until they open (throw out any that remain closed). Remove the mussels, and stir a little butter or cream into the juice before pouring it over them – or concoct your own delicious sauce.
Brioche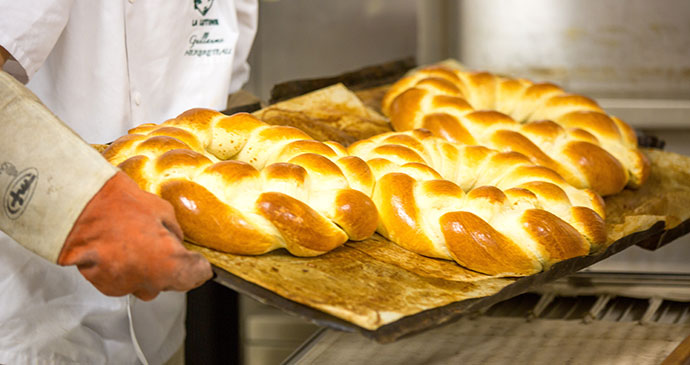 Every baker has their own version of brioche © Simon Bourcier, Vendée Expansion Pôle Tourisme
Most people will be familiar with the soft, chewy, sweetish bread that appears on many a breakfast table and can be found all across France and beyond. But it is the Vendée that is best known for these loaves, impossibly light and fluffy and made from eggs, flour, sugar, yeast, salt, butter and milk, plus a dash of rum, vanilla or orange-flower water. Though traditionally an Easter speciality, at local weddings brioche is always served at midnight, with coffee. Every baker has their own version, though its origin is said to be in Vendrennes, near Les Herbiers. A variant is la gâche, denser but less sweet than its better-known brioche brother.
Garlic bread (préfou)
The Vendée's own garlic bread, or préfou, was originally used by the region's bakers to test the temperature of their ovens before baking the daily loaves. You can find it in boulangeries and supermarkets around the area, but Fontenay-le-Comte is the focal point for this simple delicacy which is often served hot before the main meal.
Salt (sel)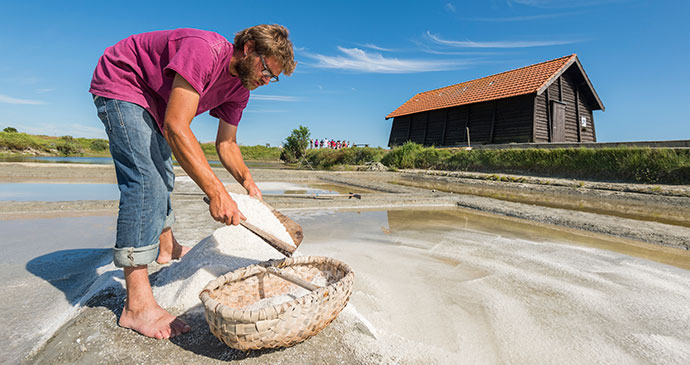 Salt is harvested in the salt marshes of St-Hilaire-de-Riez © Julien Gazeau, Vendée Expansion Pôle Tourisme
The simplest of the simple, perhaps, yet many visitors dazzled by the saltpans along the coast, or on Noirmoutier island, will happily take home as a souvenir or present a bag of the 'white gold'. Sea salt – grey and chunky, known as sel de mer or gros-sel, and the finer, white fleur de sel that forms the first sparkling crystals on the surface of the saltpans – made the fortunes of the monasteries in the Middle Ages. In those days, salt was in constant demand everywhere for the preservation of food. At the time of Richard III, the Bay of Bourgneuf supplied 80% of the salt used in London. Today it is harvested, albeit on a smaller scale, with the same techniques in the salt marshes of Guérande, Bouin, Noirmoutier, St-Hilaire-de-Riez, Olonne and Talmont. Also grown in the same marshes – though looked on by the salt-makers as a weed – is the red, fleshy-leaved samphire (salicorne) that turns green when cooked and is sold, pickled, as a condiment, or fresh for brief cooking and use as a vegetable or in a salad.
Sardines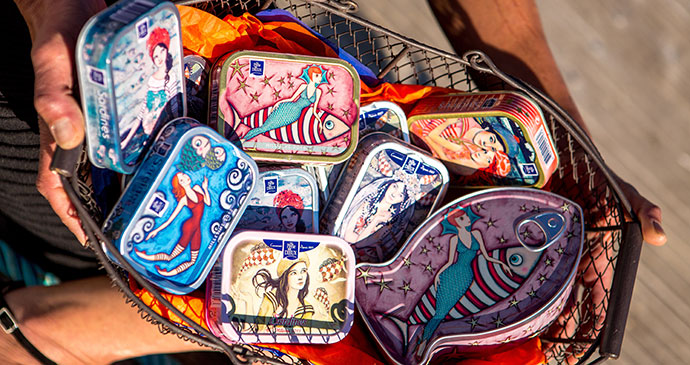 Look out for tins of premium 'vintage' sardines in St-Gilles-Croix-de-Vie © Simon Bourcier, Vendée Expansion Pôle Tourisme
Fresh sardines are a real, yet inexpensive, treat. Sardine fishing may have declined on the Atlantic coast, but the industry based out of St-Gilles-Croix-de-Vie is still important to that town. Its conservation is also big business here; look out for tins of premium 'vintage' sardines called millésimées, available around the town. For the preparation of the fresh fish, gut and wash them well. For barbecuing it is easiest to cook them in the bespoke metal contraption resembling a double tennis racquet, if you can lay your hands on one. Sprinkle them with olive oil and some coarse Noirmoutier sea-salt and grill for about 3 minutes each side (depending on thickness), then eat with something plain, like boiled potatoes or crusty bread, and butter.
Challans chickens (volailles de Challans)
Once the town was famous for its ducks, but now it's the chicken which is the culinary emblem of Challans. The region's farmers rear all manner of poultry – quail, turkey, goose, chicken and guinea-fowl – but it is the poulet noir or black chicken feathered which is the standout bird nowadays. Take a trip to town on market day and try some.
---
Want to learn more about the Vendée's local delicacies? Our new guide to the region is out now: