Written by Steven Crook
Fireworks and firecrackers are part of the Taiwan soundtrack, but just after each Lunar New Year the citizens of Yanshui takethings to an extreme. If you have a taste for huge crowds, mild danger and sensory overload, the Beehive Fireworks Festival is a not-to-be-missed experience. It isn't a fireworks display in the conventional sense, although there are plenty of colourful explosions high in the sky. It's an audience participation event, and it's every bit as dangerous as running with the bulls at Pamplona. Those who aren't prepared risk serious injury, and each year dozens of people suffer burns, eye injuries or temporary deafness. Don't go anywhere near the front line without a full-face motorcycle helmet, gloves, multiple layers of clothing and a towel or scarf to prevent stray rockets from getting under your visor. Don't worry if you're travelling light; you can buy everything you need in Yanshui on the night.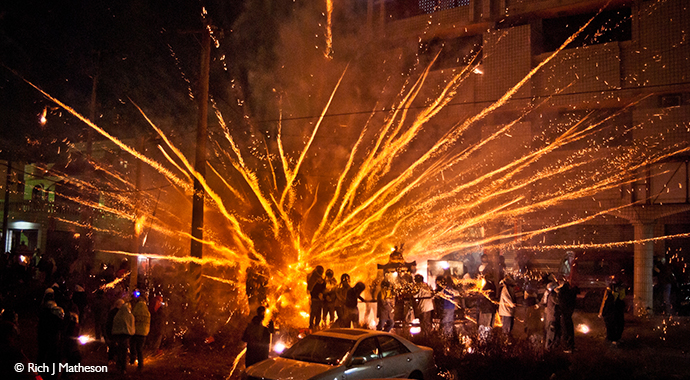 Being on the front line at the festival is a thrilling if terrifying experience © Rich Matheson
The festival has its origins in a cholera outbreak. Around 1885, a seemingly unstoppable epidemic had the townsfolk panic-stricken. They besought Guan Gong, the deified general regarded as the god of brotherhood and righteousness, to expel the evil spirits they blamed for the pestilence. They carried an effigy of the god through the town, burning piles of spirit money and igniting firecrackers at every turn. This exorcism by fire and noise worked and the epidemic soon receded and now each year, coinciding with the Lantern Festival, there's a re-enactment of this plague-expulsion parade. The event is sponsored by businesses and temples; participation is free. Residents cash in by selling snacks, soft drinks and protective attire.
The festival now includes folk arts performances and other activities spread over two or more days. The fireworks parade begins around dusk on the 15th day of the first lunar month, and continues until dawn the following day. It features a series of 'beehives' – freight container-sized arsenals that fire tens of thousands of rockets over and into the crowd. Like angry bees, the fireworks scream in every direction, ricocheting off the tarmac and houses. When they hit, they hurt – even through two or three layers of clothing. The experience isn't quite the same as being in combat, perhaps, but those caught on the front line may feel they've been pelted with stones by an angry mob.
For some participants, the parade continues to be a demonstration of religious devotion and gratitude. Most of those who attend, however, are thrill-seekers 'pursuing experience and sensation', to use the words of a former culture minister.
---
Want to find out more about the festivals and traditions of Taiwan? Check out our comprehensive guide: