Written by Rudolf Abraham
There's an enormous amount of scope for other outdoor activities along the AAT, aside from walking, any of which you can easily enjoy if you're stopping for an extra night and taking a break from walking for a day or two.
Cycling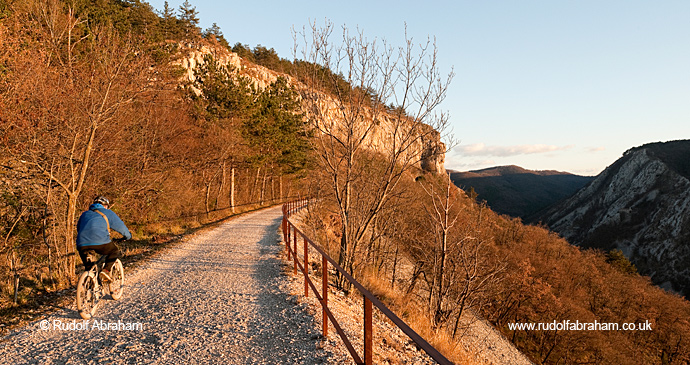 The former Trieste–Hrpelje railway line is now a cycle trail © Rudolf Abraham
While cycling is prohibited in national parks, and the various paths of the AAT are officially not cycling routes (unless they share the route with an existing cycle trail), there is still opportunity to explore on two wheels along or near the AAT. Designated cycle trails which the AAT follows or crosses at some point include the following:
Pontebbana Narrow-Gauge Railway
Cycle track developed along a section of the former route of this railway line, which operated from the 1870s to the 1960s between Tarvisio and Ljubljana. Circular Route Stages C4 & C5.
Alpe-Adria Radweg
An epic 410km cycle route from Salzburg in Austria to Grado on the Adriatic, which shares some sections with the AAT (lower Möll Valley, Tarvisio) but stays west of Slovenia. Stages 7, 8 & 9; near Stage 11; Circular Route Stage C4.
Trieste–Hrpelje Railway
Former standard gauge railway line between Trieste and Hrpelje, opened in 1887 and dismantled in 1958, and converted into an excellent cycle route in 2010. Stage 36.
The Parenzana
Former 123km-long narrow-gauge railway line between Trieste and Poreč, running through what is now Italy, Slovenia and Croatia. The line ran from 1902 to 1935 and was converted into a superb cycle route in 2002. Stage 37.
Rafting and kayaing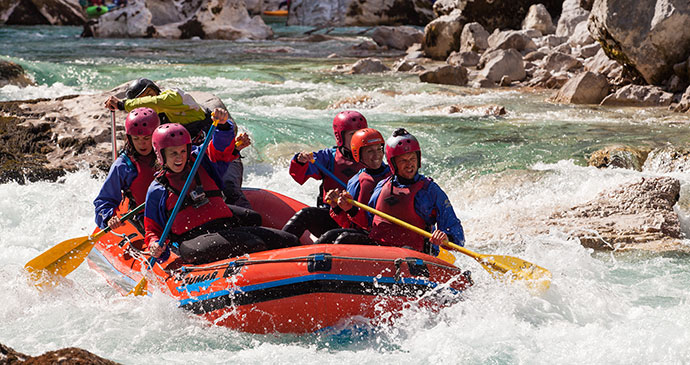 © Slovenia Tourist Board Archive
The River Soča is the kayaking white-water rafting Mecca of Slovenia, and of anywhere else near the AAT come to that. Local tour operators offering rafting on the Soča include Aktivni Planet in Bovec. Carinthia's lakes are another good spot for kayaking, including the south shore of Lake Millstätter See, and on nearby Lake Feldsee – contact Krainer in Feld am See.
Climbing
Along the AAT you'll pass several good rock-climbing areas, including:
Jungfernsprung
Just northwest of Döbriach, with rock faces rising straight out of Lake Millstätter See and routes graded 3a–7a. Stage 13.
Palestra delle Ponze
Near Rifugio Zacchi, with several routes about 25m high, graded between 5a and 6a. Circular Route C5.
Soča Valley
Various crags, with gear hire (and tuition) offered by Aktivni Planet in Bovec. Stage 24.
Horseriding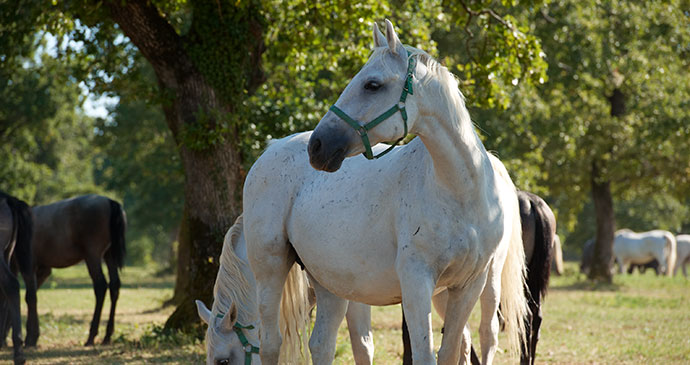 © Slovenia Tourist Board Archive
Carinthia boasts some 1,500km of designated bridlepaths, and various farms and guesthouses with stables offer horseriding tours. Familiengut-Hotel Burgstaller offers horseriding in the Nockberge from a base on the shores of Lake Millstätter See, including courses for children. In Slovenia, Pristava Lepena offers horseriding in the Soča and Lepenjica valleys.