Written by Caroline Mills
There are three naturally hot springs in Bath; one is the King's Spring, upon which the Roman Baths and the temple to Sulis Minerva were built. The other two are the Cross Spring and the Hetling Spring, close to one another in Hot Bath Street. Although Bath is principally known as a Roman and Georgian city, many people came in the intervening centuries to make use of the natural waters.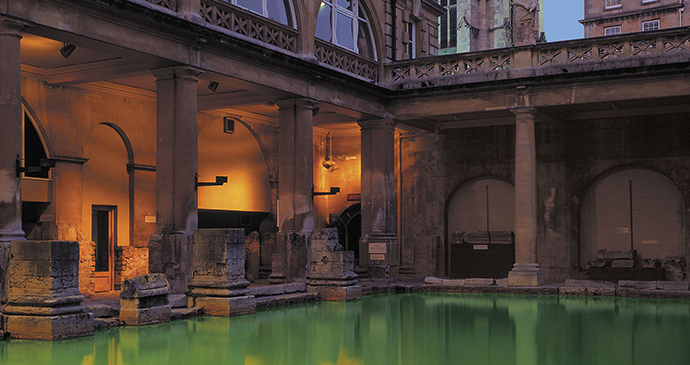 Bath's history as a bathing destination is very visible today © visitbath.co.uk, Bath Tourism Plus
While the Georgians made 'taking the water' and bathing particularly fashionable, it was previous generations who paved the way, creating greater interest in Bath and its springs. Charles II, desperate for an heir and unable to produce a legitimate son, came to Bath to take the waters in the hope that their mystical powers would do something. He may have been suffering from syphilis, as was his brother James II, many of whose children conceived with his second wife, Mary of Modena, did not survive. Desperate for a male heir, James and Mary both came to Bath and soon after produced a son, which caused many conspiracy theories about the paternity of the offspring. Regardless, the 'miracle' created something of a boom in tourism for Bath and once Queen Anne had paid a visit in 1702, sealing it as the place to be, Georgian Britain came to the city.
Following the Georgian period the spas in Bath continued to wave in and out of fashion for more than 150 years until they closed completely. The new Thermae Bath Spa, which opened in 2006, incorporates modern architecture over the ancient spring, now the New Royal Bath.
---
Want to dive deeper into Bath and the Cotswolds? Here's 10% off the guide: