Written by Caroline Mills
As a teenager Ralph Allen was a post office clerk and postmaster in Bath, but over his lifetime he totally reformed the British postal system and earned himself large sums of money. With his wealth he bought quarries at Combe Down and Bathampton Down, providing much of the Bath stone that was used to create Georgian Bath. He worked closely with John Wood the Elder, who built Prior Park on the edge of the city in 1742 for him. You can see Allen's town house and office, with its ornate columns and parapet above, in North Parade Passage. Mayor of Bath as well as a philanthropist, he donated the money and stone to build the Mineral Water Hospital and is still revered in the city.
An ardent follower of the designs of the 16th-century Italian architect Andrea Palladio, John Wood the Elder ensured that Georgian architecture in Bath is essentially Palladian in style. He was responsible for requesting that Ralph Allen quarry the stone in smooth, giant blocks rather than rough rubble; hence Wood could achieve the clean lines necessary to create the architectural effects he had in mind. On his death in 1754, his son, John Wood the Younger, took on his architectural projects. The Woods' legacy to town planning is huge, as their ideas in Bath became the model for towns and cities worldwide.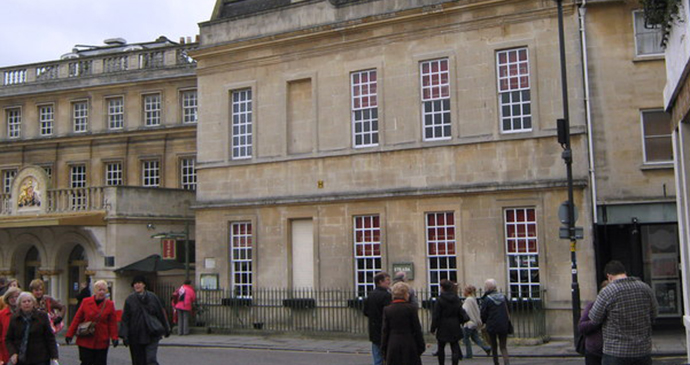 Beau Nash's house, next to the Theatre Royal © Roy Hughes
While John Wood the Elder created the buildings, Richard 'Beau' Nash filled them with parties, dances, concerts and gamblers (he was a prolific gambler himself) and turned Bath into the most fashionable place to be seen. A dandy and a fashion icon, Nash's ideas on fashion and how the social classes were expected to behave were followed closely; he even drew up a set of 'Rules to be observ'd at Bath' on etiquette and behaviour. As master of ceremonies he was at the centre of society life and, like Allen, is very much a hallowed name in Bath. He lived in a house where the sumptuous Theatre Royal now stands, at the west end of Upper Borough Walls.
---
Do you want to learn more about the people who shaped the Cotswolds? Here's 10% off the guide: