Written by Bradt Travel Guides
If you're visiting Dominica, one thing is undeniable: nobody is better placed to give you an insider's perspective on the island and reveal the secrets that slip others by than Paul Crask, author of all three editions of Bradt's Dominica guidebook. A frequent visitor since the mid 1990s, Paul has called Dominica home since 2005 – who better to pick out the highlights of the magnificent Wai'tukubuli National Trail?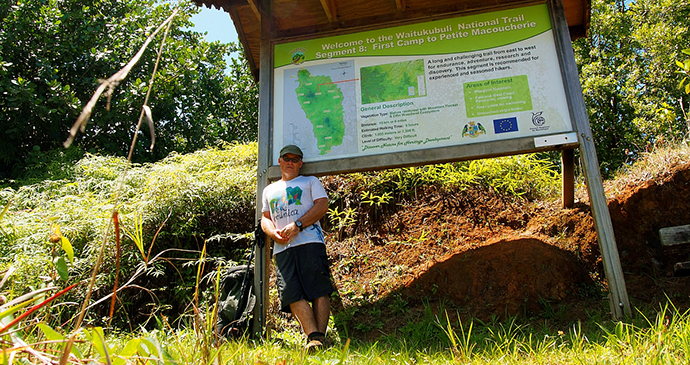 Paul Crask at the start of Segment 8 of the Wai'tukubuli National Trail © Paul Crask
What is the Wai'tukubukli National Trail?
The Wai'tukubukli National Trail is a 200km-long hiking route that traverses Dominica from south to northwest much like one of the island's boa constrictor which is split into 14 segments.
Segment 4: Wotten Waven to Pont Cassé
Aside from a couple of steep sections, most of this segment is gently undulating. As such there are fewer jaw-dropping views, but the forest itself is quite magical if you take the time to appreciate your surroundings. The undergrowth is less dense here so you might catch sight of an agouti or hear mountain whistlers. If you notice seeds dropping beneath gommier trees then it's a sign that parrots are feeding in the canopy above. Both Trafalgar and Middleham Falls are worth the short detours off the route.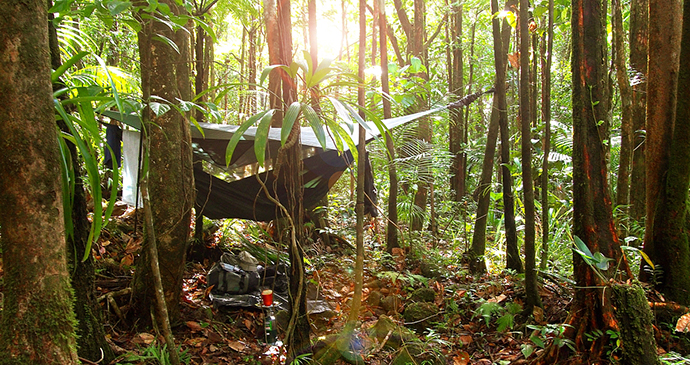 Camping on Segment 4 of the Wai'tukubuli National Trail © Paul Crask
Segment 7: Hatton Garden to First Camp
The names of the places interspersed along this segment, such as Captain Bruce, La Guerre and First Camp, are a testament to the region's history of exploration and battles. The trail is a combination of old hunting tracks and farm feeder roads, and so (apart from numerous jaco parrots) you'll also meet local farmers who will be happy to stop for a chat as you head towards the volcanoes of the interior. Once you're back in the forest, keep an eye out for torch ginger, Dominica's now notorious 'natural viagra' bwa bandé, and savonette, the roots of which were once used to stun river fish before catching them. Cool down by having a soak in Coffee River before continuing to First Camp.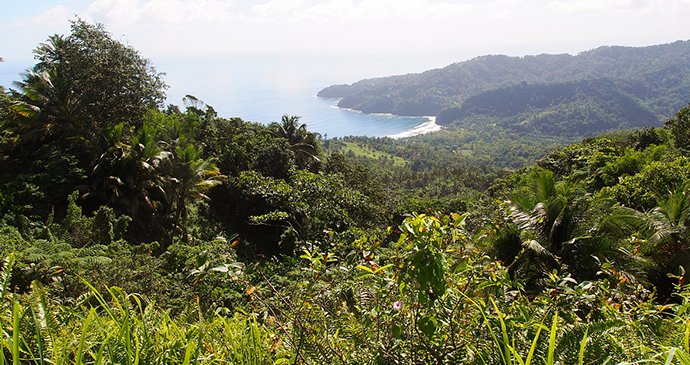 A view of Pagua Bay from Segment 7 of the Wai'tukubuli National Trail © Paul Crask
Segment 8: First Camp to Petite Macoucherie
This segment is as remote and unspoilt as it gets. The rainforest is beautiful with magnificent specimens of gommier, chatanier and karapit, and the canopy sometimes seems alive with jaco and sisserou parrots. You may see evidence of the presence of wild pigs, be that the former pits used by hunters to capture them or trees where moss and lichen has been rubbed off by the animals. The trail reaches its highest point at Mosquito Mountain, where rainforest is replaced by mountain thicket. After 4–5 hours hiking the ascent is severe but there is a cabin before it where you can hole up for the night if you so wish.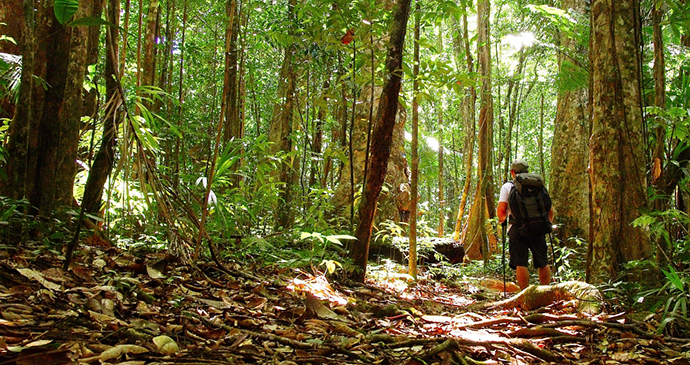 Paul Crask hiking Segment 8 of the Wai'tukubuli National Trail © Paul Crask
Segment 11: Syndicate to Bornes
This is an extremely long segment with some very taxing terrain and even a slippery swing bridge that certainly isn't for the faint hearted. Initially you'll follow an abandoned logging road before passing through semi-deciduous, rainforest and coastal woodland habitats. Keep an eye out near the start of the route for the rusting skeleton of a logging vehicle that is slowly being enveloped by nature, ironically becoming part of the environment that it was once brought here to destroy. Despite the difficulty of this segment, you will eventually be rewarded by a panorama of Prince Rupert Bay, Portsmouth, Morne Aux Diables and, on a clear day, even Guadeloupe. After descending, you'll come across a swampy habitat that plays home to the contorted roots of the red mangrove Rhizophora.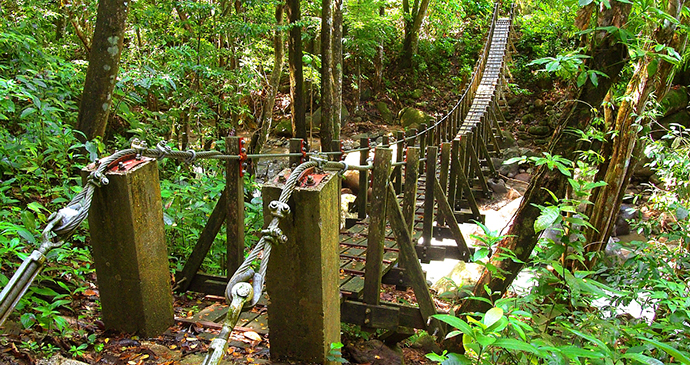 Swing bridge on Segment 11 of the Wai'tukubuli National Trail © Paul Crask