Written by Bradt Travel Guides
Grenada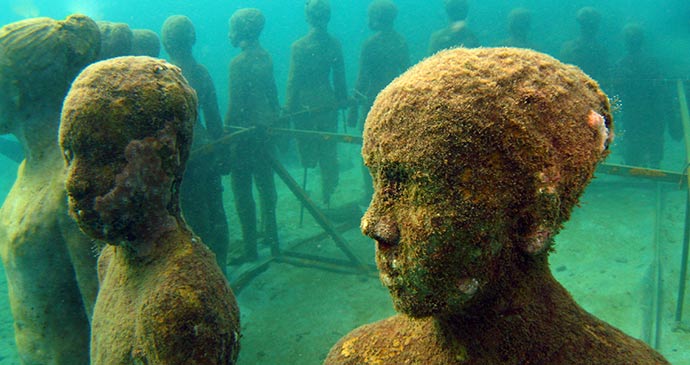 © R Gombarik, Shutterstock
Grenada is the self-proclaimed 'wreck-diving capital of the Caribbean'. There are indeed numerous sites within recreational dive limits, including the largest shipwreck in the Caribbean, the Bianca C. There are lots of marine creatures, colourful reef fish, and hard and soft corals, as well as interesting underwater topography including drop-offs and flat reefs. On some sites, usually those in more exposed waters, you can also expect to see larger creatures such as eagle rays and reef sharks.
Sudan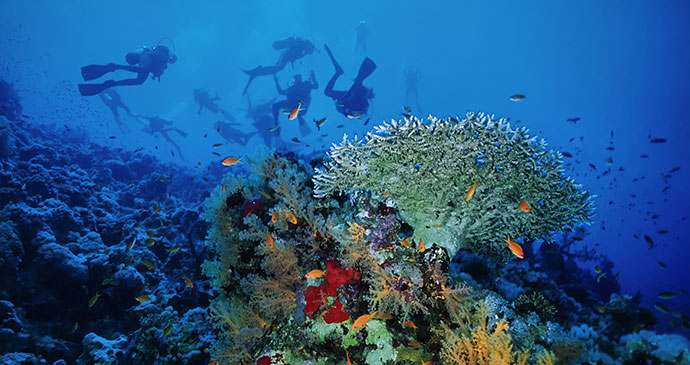 © Angelo Glampiccolo, Shutterstock
As a dive destination, the Sudanese Red Sea is virtually untouched. At a popular dive site in Egypt you can find yourself sharing the water with up to 100 other divers; in Sudan, numbers barely reach that along the entire coast. There are two big draws for divers. The first is the chance to follow in the footsteps (or fins) of diving's pioneers. Hans Hass made his name here in the 1950s, and a decade later Jacques Cousteau led his maiden voyage of the Calypso here, and carried out his experiments in undersea living near Port Sudan. The second major attraction is the fish. Nowhere else in the Red Sea can offer the range of big species or fish in such large schools. The numbers are staggering – schools of up to a dozen manta rays, 50 barracuda or over 100 hammerhead sharks are not uncommon.
Ascension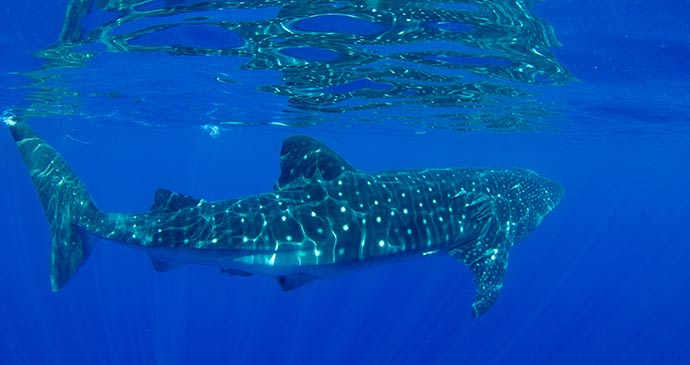 Whale sharks are common in the South Atlantic © Marine society, EMD
Ascension boasts clear, warm, unpolluted waters averaging 79–84°F (26–29°C) all year, which is great for diving and snorkelling. The fish life may not be quite as varied here as on St Helena, but it's certainly big on quantity. Take a look into the waters of any bay and you can't miss the hundreds of black triggerfish (Melichthys niger), or durgon, milling around in the shallows. Smartly striped sergeant-major fish vie for attention with squirrelfish, wrasse and resplendent angelfish, while rocky crevices hide moray eels and spiny lobster, and the occasional exquisite fireworm adds a touch of the exotic.
Colombia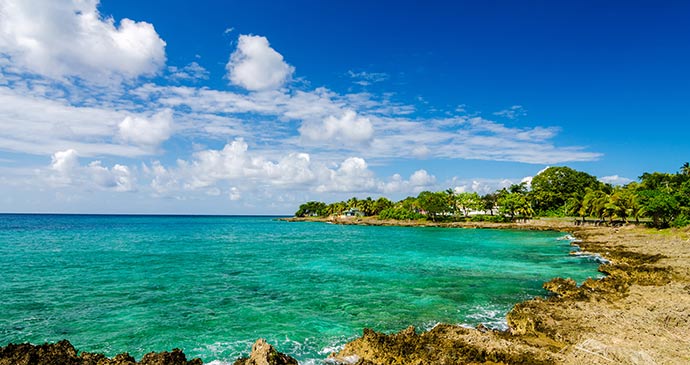 © pipojackman, Shutterstock
As the home to one of the largest barrier reefs in the Americas, the San Andrés Archipelago is a true diver's paradise. Dozens of operators offer scuba and snorkelling in a destination still relatively unknown in diving circles, despite being accessible. Underwater visibility is remarkable at an average of 30m year-round and as much as 60m in some spots. Conditions are calm with minimal currents and water temperatures of around 27°C.
Taiwan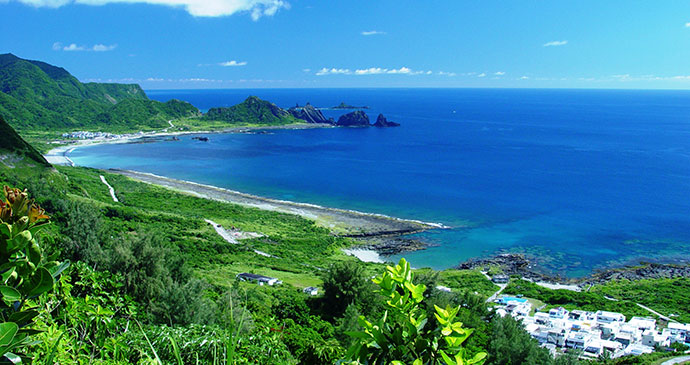 © Taiwan Tourist Board
Taiwan is one of Asia's best-kept secrets in the diving community. Its soft-coral sites are among the best in the world and there are healthy hard-coral sites in abundance. Whether on a shallow dive or a deep dive, a boat dive or a shore dive, you'll be able to find what every diver craves – the undersea world's natural beauty.
Azores
For a long time few people thought of the Azores as a diving destination, but this has changed, with operators in most of the islands taking advantage of a unique underwater environment and excellent marine life. The seabed, being of volcanic origin, offers large areas of lava and various volcanic debris, tunnels, arches, vertical cliffs, small caves and rock needles, while the Gulf Stream brings together both Atlantic and tropical fish. Large schools may often be seen – barracuda, mackerel, trigger fish – and very large stingrays as well as occasional giant mantas, curious octopuses and a diversity of other marine organisms. Giant whale sharks have also been spotted. With a visibility range of up to 20m, the great joy of diving off the Azores is that you never know what you are going to see.
---
Discover more unique things to do in these countries with our guides: