Written by Corinne Homer for TravelLocal
TravelLocal are the company behind the fantastic Uganda prize we offered as part of our New Travel Writer of the Year competition in 2016. Corinne Homer has put together this list of the company's top five adventure experiences you can enjoy in Uganda.
Deemed the 'Pearl of Africa' by Churchill in 1907, Uganda stands firm as one of Africa's wildest, most culturally dense and historically compelling destinations. Here, our primate cousins nest in misty rainforests, hippos and crocs lurk in the waters of the Nile and carpets of alien-like shrubs sprout from the rocky mountains. Throughout any trip to this multifaceted country, the landscape and surroundings change by the day. In honour of this diverse and vibrant country, here are TravelLocal's top five adventure experiences to enjoy in Uganda.
Gorilla tracking in Bwindi Impenetrable National Park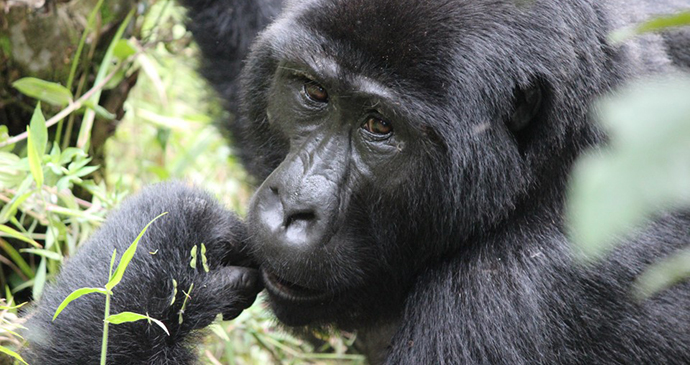 Gorilla in Bwindi Impenetrable National Park © Kombi Nation Tours
It's almost a prerequisite for any Uganda-based article to mention these stunning, silver-backed giants – but it's entirely justified. This vast, UNESCO-protected rainforest is home to over half of the world's remaining wild mountain gorillas and spotting them in their natural habitat is simply incomparable. Coming face to face with our evolutionary ancestors is sure to endure, not only as a highlight of your Uganda trip, but one of your top life experiences.
A trip on the Nile at Murchison Falls National Park
Uganda holds a significant portion of the epic Lake Victoria – the largest lake in Africa and enigmatic source of the River Nile. In the northwest, the roaring Nile reaches a point of condensed rage at Murchison Falls. Here, its entire volume tips over a 7m-wide gap in the rocks and falls 43m in an impressive natural spectacle.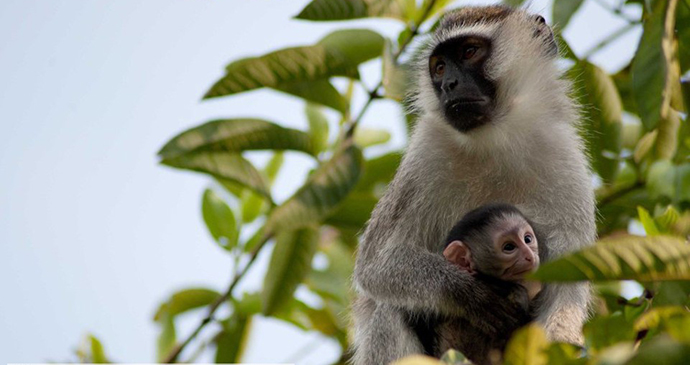 Vervet monkey and baby at Murchison Falls National Park © Kombi Nation Tours
The national park of the same name is the biggest in the country with a high density of elephants, giraffes and lions to be spotted when trekking the forest and plains. Hippos and other water-dwellers can be observed by boat.
Hiking the Rwenzori Mountains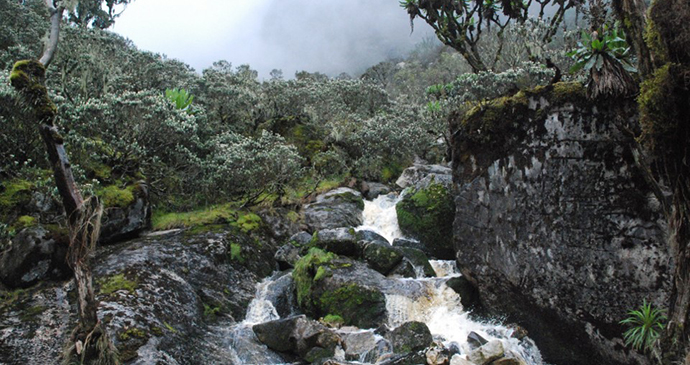 Waterfall at Rwenzori Mountains National Park © Kombi Nation Tours
For more adventurous types with a penchant for chasing summits, the Rwenzori peaks – known as 'The Mountains of the Moon' – are a dream destination. Less visited than other mountains in Africa, the isolation gives an awe-inspiring sense of embarking on untouched terrain. L'Hoest's monkeys, three-horned chameleons and hyraxes inhabit the jungle at the mid-levels. The ice-capped mountain tops, unusual botany and mist-covered alpine lakes that appear higher up means this trek will stand out as the most sublime and other-worldly you've ever experienced. Margherita is the highest of Rwenzori's six peaks at 5,109m, and it can be challenging – be sure to have good physical fitness, the right equipment and allow 7–9 days to summit completely.
Game drives at Queen Elizabeth National Park
If you didn't come across any chimpanzees at Bwindi, you might have the pleasure at Queen Elizabeth. This visually stunning park covers 1,978km2of diverse landscape and is one of the densest in Uganda. Home to good numbers of antelope, hyena, buffalo and elephant, its borders are teeming with life.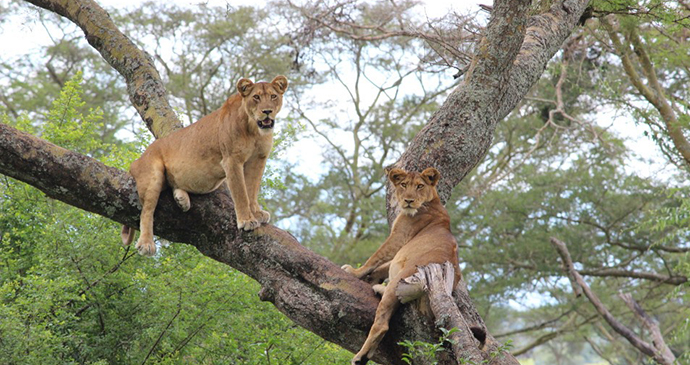 Tree-climbing lions at Ishasha in Queen Elizabeth National Park © Kombi Nation Tours
Of particular interest to visitors here are the tree-climbing lions who drape sleepily across branches, limbs dangling –spot them in the southern end of the park in the dry season. A boat trip on the Kazinga River provides further chances for encounters with hippos, crocs and more elephants.
A walking tour of Kampala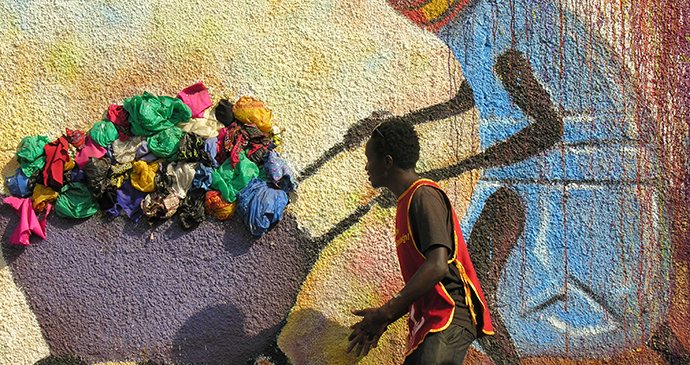 Uganda's walking tours come highly recommended © Kombi Nation Tours
Uganda's capital has developed a young, metropolitan spirit; unsurprising when 78% of the country's population is under 30. From the chaotic traffic jams and bustling street traders in the centre to the pleasant gardenscapes of the northern sector, Kampala is a dynamic slice of urban Uganda with an exciting new art scene. Having a local guide give you a walking tour of its cultural hotspots is well worth it, and often lauded by visitors as a trip highlight. Be sure to try a 'rolex' – a famous Kampala street-snack consisting of a salad-stuffed omelette wrapped in bread. Finally, chat to everyone you can; you'll find the open-hearted, genuine spirit of the Ugandan people to be wonderfully infectious.
Make it happen
Start planning your Uganda trip by visiting TravelLocal's destination pages,or enquire with Kombi Tours.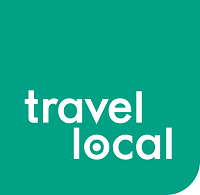 ---
For more on Uganda, pick up a copy of the latest edition of our guidebook: