Written by Ash Dykes
In an extract from our new anthology, Beastly Journeys, Ash Dykes tells of hiking through Madagascar with a white cockerel called Gertrude.
---
The streetlights and the Malagasy music gave Bealanana a party atmosphere. Along with an extra guide, Liva, my friend Suzanna was joining us for the final stage of the expedition. We all sat outside at a barbecue place, eating and getting on well. Max and I told them about the previous day's walking and they laughed and said it sounded hideous.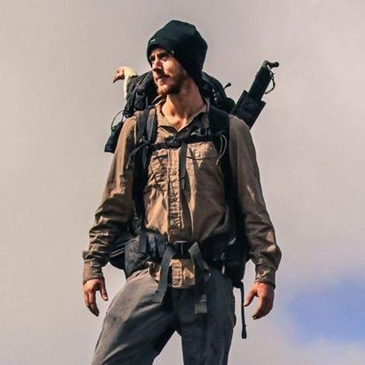 Over four months earlier, I had stood at the southernmost tip of Madagascar, where the Indian Ocean meets the Mozambique Channel, about to set off on a journey that had never been completed before: to walk the entire length of the island, some sixteen hundred miles. My goal was to take on the eight highest mountain summits, as well as the densest jungles. Now I'd reached the final stage, three more mountains to go to the northern point.
(Photo: Ash and his unlikely companion, Gertude © Ash Dykes)
The first hiccup came the next day at Mangindrano, the last settlement where we'd have the chance to stock up on food. The trouble came with the national park's permit that we'd need to access the final peak, Maromokotro. The officials told us that this entrance to the national park was for research and science purposes only, and that we'd have to go back to Antananarivo and get a stamp and letter of invitation. There were no roads around here and it had taken me and Max a month to walk from there. We weren't going to walk back. We tried everything and then, with no-one able to help, we decided to go for it anyway, and told the officials we wouldn't be entering the national park. I wasn't risking the expedition for a permit.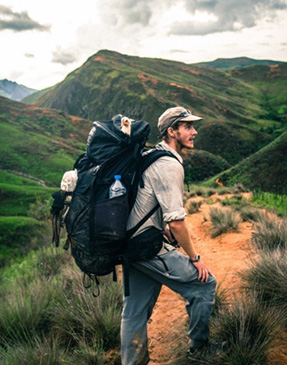 Before we left, we had one more thing to arrange. The locals said we must take a white cockerel with us to the peak of Maromokotro, to keep the bad spirits away from us in the forest. So we got one, a shy little guy, the only white cockerel available. I like choosing unsuitable names for things on my expeditions, and so I named him 'Gertrude'. It made me laugh just saying it. Gertrude would have to come with us for the next two or three weeks and we'd release him alive on the peak of Maromokotro as a sacrifice. We also had to buy a small bottle of rum and a tub of honey; we would mix the two together on the peak and take a shot, so the bad spirits would allow us back down safely.
(Photo: Ash climbing Maromokotro mountain with Gertude © Ash Dykes)
I kept Gertrude in my hands – it was too hot for him to go in the top pouch of my rucksack. He was snowy white, about a foot tall when standing straight, but slender and light with very long legs. I knew he'd won three cockfights previously, so he had to be tough, and maybe he'd bring us luck.
---
Ash Dykes was born in Wales. By the age of twenty-five he had become the first person to walk solo and unsupported across Mongolia, and the first to traverse Madagascar via its eight highest peaks. The story above was adapted from his first book, Mission Possible: A Decade of Living Dangerously.
Want to read the rest of Ash's tale? Get 10% off Beastly Journeys here: