Written by Hugh Collins
To celebrate the publication of three new titles in our Slow Travel series, we chat to Shane Holland, CEO of Slow Food UK, an organisation that links the pleasure of food with a commitment to the community and environment.
How did you become involved in the Slow Food movement?
I have always shared Slow Food's values – I just didn't know they were called Slow Food! I then read an article about an organisation which was connecting food with it's locality, how that impacted producers, the wider landscape, and how food had a sense of terroir. That was Slow Food, and about a decade ago.
The UK has experienced something of a food revolution in the past decade, with attendance at farmers' markets at an all-time high and greater interest in eating local, sustainable food. How much further do you think we have to go?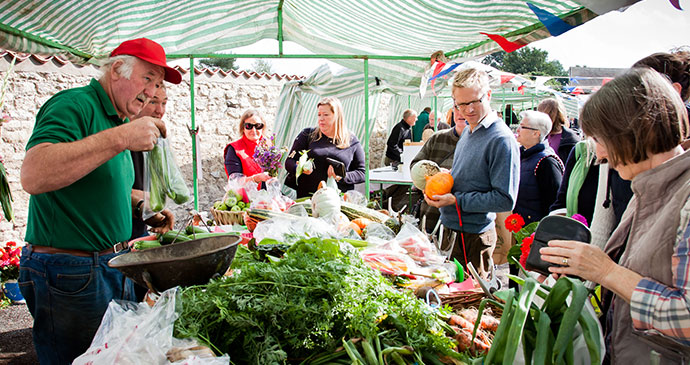 Farmers' markets have become increasingly popular in the UK over recent years, such as here at Hovingham, North Yorkshire © Chris J Parker, North York Moors National Park Authority
I think food is polarising; I think for a segment of people, they are looking for ever cheaper, ever more processed food – the totally deskilled dinner. Equally (and thankfully) there is another group that realises that having foods with different flavours is more interesting, that the impact on our climate really matters (and food production is a significant player in greenhouse gases), and question why they should pay a premium in a supermarket for a tomato that actually tastes of tomato.

Where I think we will see even more change is in pubs and cafés, where local food will become the norm, and we will see even more regional foods on menus.
Could you explain a little more about Slow Food's Ark of Taste initiative?
The Ark of Taste seeks to preserve our culinary heritage – that could be a breed of livestock, a variety of vegetable, or a traditional dish. For example, over 80% of apples eaten in the UK are from five varieties, despite the fact that we have over 2,000 varities available here. We lose diversity at our peril – it's not only about the flavours and textures, but perhaps one or two types of apple will have genes that can with stand a disease or the effects of climate change. We won't know if they are gone.
Do you think that the UK could go further to promote itself as a culinary-tourism destination?
Absolutely! People think of France and Italy when it comes to food, but we have incredible produce here, everything from amazing cheeses and beef to dishes such as Stargazy Pie or Fidgit Pies – we just need to recognise it! They all tell a story, and keep our countryside looking as healthy and beautiful as it does.
As a publisher we are renowned for our coverage of African destinations. Could you tell us more about Slow Food UK's project to create 1,000 gardens on the continent?
It was 1,000 gardens until last year. It's now 10,000 and we have 1,600 more in place. The project seeks to place gardens in communities that have been beset by famine, climate change or war. The garden is owned by the community, and uses local varieties of crop that are much more likely to drought and pest resistant rather than those from elsewhere. We saw the benefit of this in the recent Ebola outbreak – in Sierra Leone there is a culture of going to the market daily, but during the crisis the markets were closed to prevent people congregating, so the Slow Food Garden became a lifeline, providing a source of food where there was none elsewhere.
What are your favourite places to visit (and eat!) around the UK?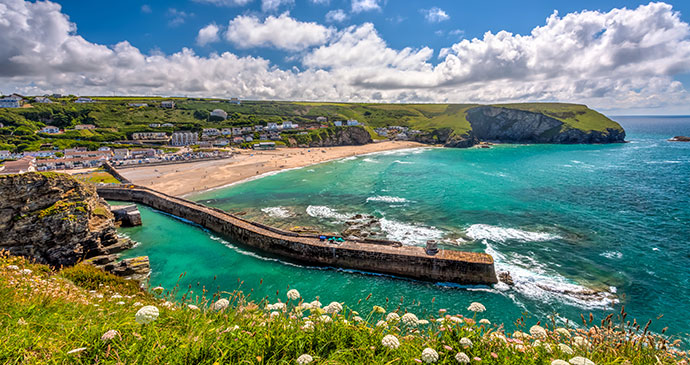 Cornwall's coastline is one of the most beautiful parts of Britain, says Shane © ian woolcock, Shutterstock
That's so very difficult… from the imense beauty of the west Cornwall Atlantic Coastline to the majesty of the Highlands, from waterfalls and lush valleys of Wales to our cities… I can't think of anywhere that doesn't have beauty and amazing food. I guess in some places, it is just a little more obvious than others.
What's planned for Slow Food UK in 2016?
We will be taking our message of how what's on our plates keeps our countryside looking green to as many places as possible. We will have demonstrations and pop-ups, events, dinners, and be at many of the major food shows. Come and find us!
For your final meal, you are allowed only produce from the UK – what would you eat?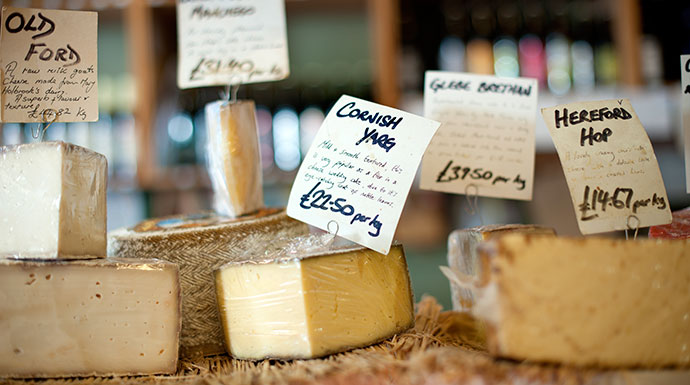 Cornish yarg cheese – one of the UK's finest cheeses © Shropshire Town Council
I'd start with purple sprouting broccoli (we are the only people who seem to eat this), dipped into very soft boiled duck eggs, after that I'd have a Cornish crab, with nothing more than salted Cornish butter and some soda bread. Next, I'd have a rib roast of Longhorn beef: something I so rarely cook, which is a shame as we perhaps have the best beef in the world! There would be lots of Yorkshire puddings, and parnsips – something the French bizarrely feed to animals, but I eat greedily roasted in dripping. To finish (and if it's my last meal, yes, I will eat and eat!) I'll have steamed treacle pudding anointed with clotted cream. Obviously, there should be cheese too – Stilton, Tunworth, and a nod to my Cornish roots, some Cornish Yarg. Enough to finish me off, no?
Click here to explore our Slow Travel series