Written by Bradt Travel Guides
Tanzania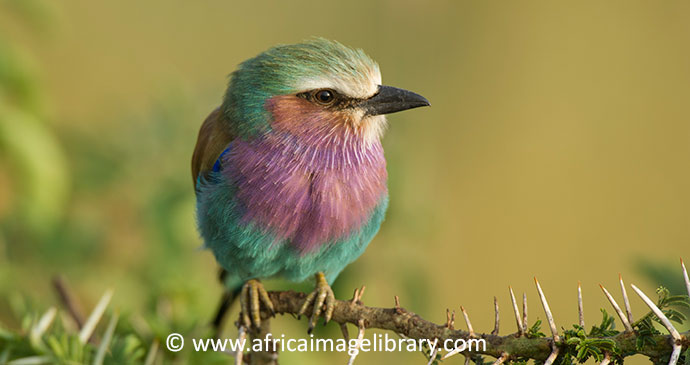 The colourful lilac-breasted roller is one of Tanzania's most impressive birds © Ariadne Van Zandbergen, Africa Image Library
Tanzania is one of the world's most bird-rich destinations. Indeed, the national checklist, which stood at below 1,000 species in 1980, now stands at more than 1,100 species. Casual visitors will be stunned at the abundance and visibility of birds in the national parks: brilliantly coloured lilac-breasted rollers and superb starlings, numerous birds of prey, the giant ostrich – the list goes on. The forests of the Eastern Arc Mountains must rank as the country's most important bird habitat, with the Amani Nature Reserve and Udzungwa Mountains National Park being among the most accessible sites for seeing some of the Eastern Arc specials. But virtually anywhere in Tanzania will offer rewarding birding: in many areas a reasonably competent novice to East African birds could hope to see up to 100 species in a day.
Uganda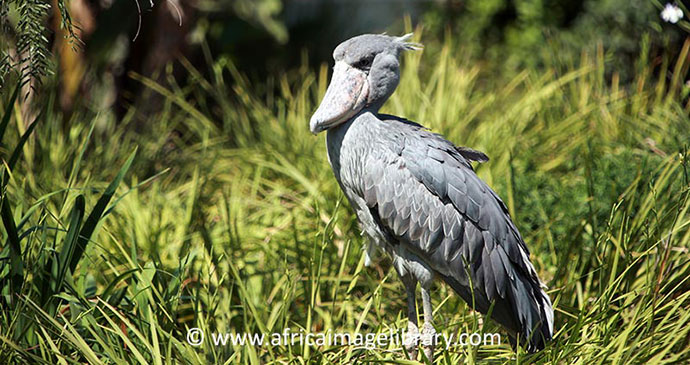 The shoebill is perhaps Uganda's most iconic birds © Ariadne Van Zandbergen, Africa Image Library
Uganda is by far the smallest of the four African countries in which more than 1,000 bird species have been recorded, and it is particularly rich in western rainforest specialists – a feat that has earned it the title of the best birdwatching country in the world in many birding circles. Few visitors to Uganda will depart totally unmoved by its avian wealth, but different people arrive in the country with a wide variety of expectations. Those European visitors for whom birdwatching ranks as a pursuit on a perversity level with stamp collecting might well revise that opinion when first confronted by a majestic fish eagle calling high from a riverine perch, or a flock of Abyssinian ground hornbills marching with comic intent through the savannah. First-time African visitors with a stated interest in birds are more likely to be blown away by their first sighting of a lilac-breasted roller or Goliath heron than by most of the country's long list of western forest specials. Regardless of your birding goals, the best places in the country for birdwatching include Queen Elizabeth and Kidepo Valley national parks.
The Gambia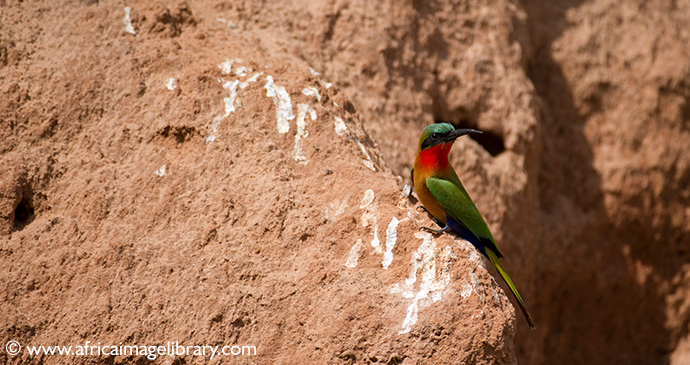 Colourful rainbow bee-eaters are an avian highlight in The Gambia © Ariadne Van Zandbergen, Africa Image Library
Birds are a major and vital part of every habitat in The Gambia and can be seen just about everywhere, with a phenomenal 600 species recorded in the country. Unlike many of the 'little brown jobs' that can be found in Europe and North America, Gambian birds tend to be more colourful and confiding, therefore making a birdwatching trip to the country a visit to remember. It can also be a great introduction to many species that can be found elsewhere in Africa. Although thousands of birdwatchers visit The Gambia each year, many of them concentrate on the best-known and most easily accessible sites, such as Kotu Stream and the Kartong Bird Observatory. This means that for the more adventurous there is still a real chance of adding a new species to the country list, as we ourselves have done on several occasions.
Zambia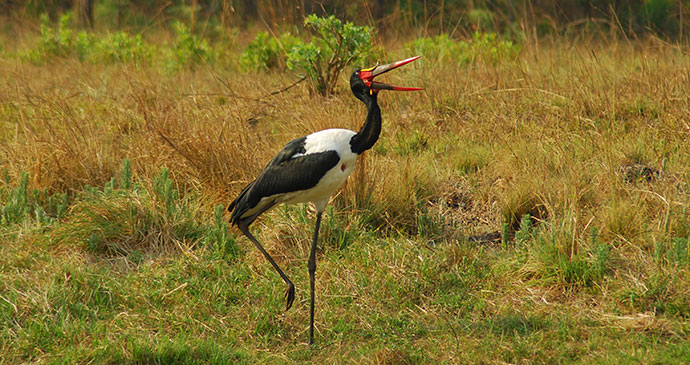 Saddle-billed storks are often seen at Kafue National Park © Tricia Hayne
Much of Zambia is still covered by original, undisturbed natural vegetation, so with a range of verdant and natural habitats, it is a superb birding destination, with 757 different species recorded by 2010. The birdlife in Zambia is certainly best when the foliage is most dense, and the insects are thriving: in the wet season, when many resident birds are nesting and in their bright, breeding plumage. Colourful highlights include fire-crowned bishop birds, yellow-billed storks, paradise whydahs and carmine bee-eaters. Undoubtedly one of the best places in the country for birding is Victoria Falls, where even the casual visitor with little interest will often see fish eagles, Egyptian geese, lots of kingfishers, numerous different bee-eaters, Hadeda and sacred ibis, and various other storks, egrets and herons.
The Pantanal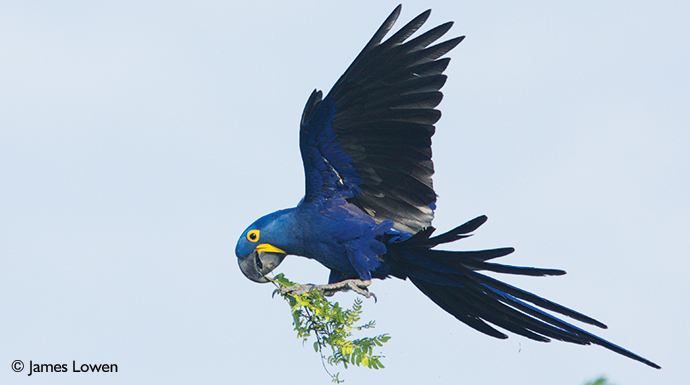 The hyacinth macaw is one of the Pantanal's poster birds © James Lowen
Even if birds have not previously been your thing, they certainly will be after a trip to the Pantanal. The place is heaving with them – and many are large, colourful, entertaining and confiding. Each habitat holds a different bird community, so you should keep an eye out and an ear open wherever you are. At least 470 species have been recorded (an oft-cited figure of 650 refers to a wider area), and birders easily rack up 130 in a day. The experts' 24-hour record is 196, but this is roughly the total that mere mortals might see in a typical four-night stay.
The Galapagos
The Galápagos Islands have become a very popular destination not only for lovers of general wildlife, but also for hard-core birdwatchers – people who leave footprints on your back when a new bird is spotted. Many of the bird species in the archipelago can be seen nowhere else in the world. Of these endemic species, 22 are land birds, six are seabirds and one, the lava heron, may be described as coastal. Nearly all are readily seen. The attractiveness of the birds that are present lies mostly in their tameness. It is quite remarkable that visitors are able to approach, to within a metre, birds sitting on eggs or involved in elaborate courtship rituals, without altering their behaviour. Because of the tropical setting of the Galápagos there is generally very reduced seasonality of breeding, so visitors can see various species breeding during any month of the year.