Written by Rosie Whitehouse
The seabed is over 35m deep just off the coast of Noli and it is rich in marine life, so it is not surprising that fishing has been a way of life here for hundreds of years. Every night fisherman set out in their little engine-powered boats. They fish all year round, alternating the catch depending on the season. Every morning you can buy fresh fish on the sea front from 08.00–noon. Up until the 1960s, women would fry the early morning catch and would then take the afternoon train to Turin or Mondovi where they would sell them.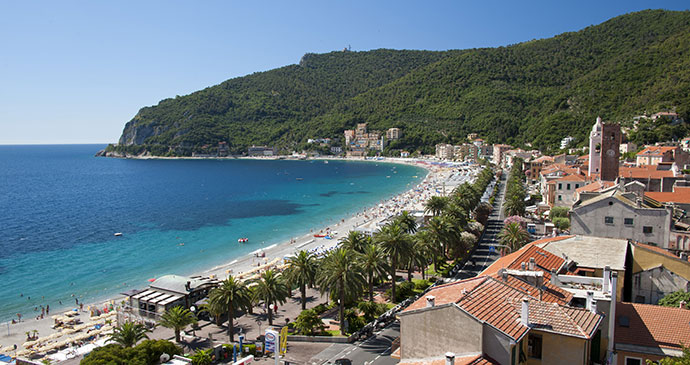 Fisherman have been working off the coast of Noli for centuries © Fabio Lotti, Shutterstock
The fisherman's cooperative is working hard to keep the traditional ways going with the help of the Slow Food Movement. They fish squid and mullet in winter, hake, sea bream, octopus and tuna in the summer, and in autumn, mackerel and skipjack. They use different types of nets at different times of year.
A special net known as a sciabica, which is hand pulled, has come under a 2010 EU ban on drag nets and cannot be used in summer, although the local fishermen claim the net is not the same as the nets that are used in more large-scale fishing operations, as it does not touch the seabed. It means that local fishermen cannot catch the tiny cicciarelli that are typical of the local catch when they are traditionally caught in early summer. The University of Genoa is working with the cooperative to prove to the EU that the fishermen of Noli should be exempt from the ban and to show that use of the sciabica net, as well as a trammel net, is actually better for the marine environment, as alternating the nets allows the fish to reproduce better.
In the meantime the ban has made the fisherman's life harder and the cooperative say it has put the future of fishing in danger here and may change the nature of fishing completely. Trammel nets can be used by one man and fishermen using trammels must dock in a port. What makes Noli unique is that the boats here are pulled up onto the beach and the nets dragged behind are gathered in by groups of fishermen.
---
For more on Ligurian industry, take a look at our award-winning Liguria guide, the only standalone guide to the region.