Written by Bradt Travel Guides
From outdoor exploration to sampling local delicacies, the Vendée and its surrounding area offers visitors everything they could want from a holiday. Tucked cosily into the top of the Bay of Biscay, the region is often missed by those travelling to France, here are seven reasons why this should change.
Sample the local cuisine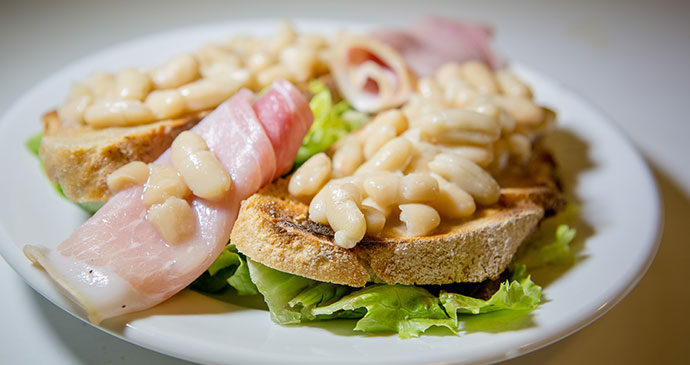 Jambon Vendéen is classically served with mogettes © Simon Bourcier, Vendée Expansion Pôle Tourisme
If you want to sample of variety of local cuisine, the Vendée is a great region to visit. With such a long coastline and active fishing industry, fish and shellfish are an important part of the culinary repertoire. Tuna (thon) is a regional speciality, especially on the Île d'Yeu, usually cooked lightly to leave it pink in the middle. In the Marais Poitevin, keep an eye open for eels (anguilles) on the menu, either to enjoy or avoid, depending on your taste. Other unmissable delicacies include mogette – a haricot bean that was once a staple part of the local diet and is often served with jambon Vendéen (the region's ham) – and brioche.
Visit the nearby cities …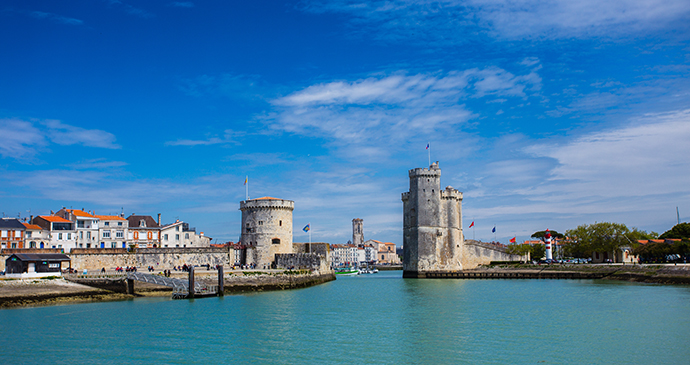 La Rochelle deserves a place near the top of every visitor's list © Oleg Bakhirev, Shutterstock
The Vendée lies between the major cities of Nantes and La Rochelle, both of which are well worth visiting during your time in the region. On the banks of the Loire, Nantes is an energising, creative and dynamic city, epitomised by an oversized elephant which serves as a reminder of its industrial past. While in La Rochelle, visitors are welcomed by quirky museums, restaurants, historical buildings and elegantly arcaded shopping streets. The vibrant city deserves a place near the top of every Francophile's list.
… or relax on one of the region's islands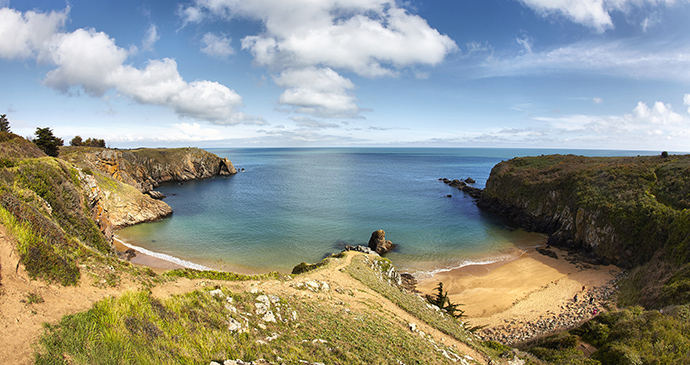 The Île d'Yeu's northern coast is sprinkled with beaches © A. Lamoureux, Vendée Expansion Pôle Tourisme
Two main islands belong to the Vendée. Barely a kilometre off the coast, Noirmoutier is a massive draw for summer. Accessible from the mainland by a bridge and at low tide by the Passage du Gois, this popular holiday island shares characteristics with the nearest mainland geography. Saltpans spread across its northwest, and its fine sandy beaches mirror those across the water. Its capital, Noirmoutier-en-l'Île, is a trim, pretty place with smart shops and restaurants along its quayside and surrounding the stalwart 12th-century castle. The street on the south side of St Philbert's church leads into the Banzeau district, one of the most attractive parts of town, full of narrow lanes and whitewashed fishermen's houses that are now chic retreats for Parisians. The Île d'Yeu is more insular, being 18km off the coast and an hour away by boat. Half the size of Noirmoutier, its northern coast is calmer, sprinkled with beaches and forest, and home to the main town, pretty Port-Joinville. Wild and rocky, the graveyard of many ships over the decades, the southern coast hosts fewer beaches.
Learn about the region's history … at a theme park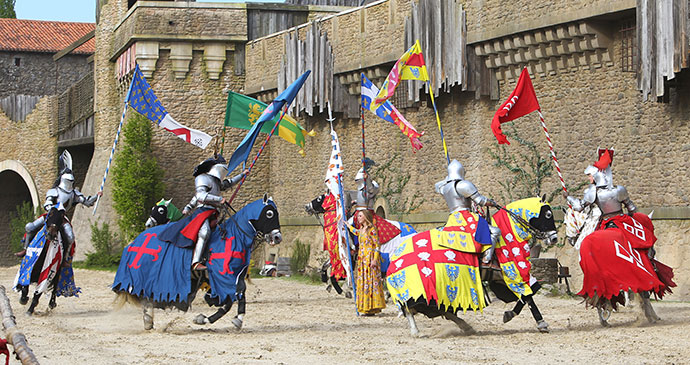 A visit to the theme park is an exciting way to learn about the region's history © Puy du Fou, Vendée Expansion Pôle Tourisme
If you like theme parks, you will love the incredible Grand Parc at Puy du Fou. And if you don't like them, two days here may be the aversion therapy needed to change your mind. A stunning combination of Vendean history, jawdropping special effects, extraordinary creativity and innovation. Everyone to their own taste, but some of the most spectacular events are the breathtaking falconry display ('Le Bal des Oiseaux Fantômes'); the story of Joan of Arc and the Hundred Years War ('Le Secret de la Lance'), the emotionally charged dramatisation of the Vendée Wars ('Le Dernier Panache') and the attack by Vikings ('Le Drakkar').
Explore the region by boat …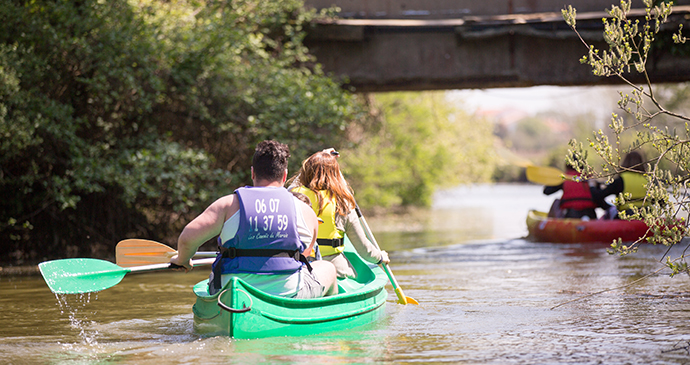 Canoes can be rented on many of the Vendée's rivers, canals and lakes © Simon Bourcier, Vendée Expansion Pôle Tourisme
As you would imagine, more than 200km of coastline provides many opportunities to take to the sea, with opportunities for boat trips, including to the Île d'Yeu. Sailing, surfing, kayaking, windsurfing, kitesurfing, bodyboarding or balancing on a stand-up paddleboard are all possibilities. The water-borne fun continues inland where guided canoe or traditional craft tours are available through open marshland in many locations such as Sallertaine and Maillezais. Canoes may also be rented on many of the Vendée's rivers, canals and lakes. Other inland opportunities can be found at Le Perrier, where you can be taken out on a punt-like yole, in the Marais Poitevin where you can paddle your own flat-bottomed plate along tree-lined waterways in the 'Venise Verte'; or enjoy guided tours by traditional chaland in the Grande Brière national park, north of St-Nazaire.
… or by bike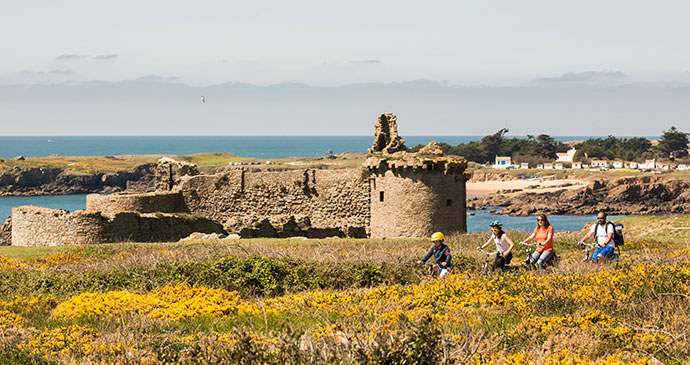 Cycling is another way to explore the region at your own pace © Simon Bourcier, Vendée Expansion Pôle Tourisme
For those wanting to stick to land-based exploration, the Vendée claims to have the most cycleways of any French département. It is possible to cycle around its whole perimeter via almost 1,000km of linked circuits – though expect those on the east of the département to be a lot more hilly than the trails of the coast and marshes. Hundreds of local cycle trails (pistes cyclables) and green ways (voies vertes) are signposted; tourist offices have details of them, as well as of bike hire (location de vélos) which can be found in nearly all coastal resorts. One most unusual form of cycling is unquestionably the vélo draisine, a flat-bed wagon that runs along a disused railway line from Commequiers to Coëx, carrying four or five people, two pedalling and three resting (or perhaps shirking?).
Experience some of France's richest birdwatching
Birdwatchers will not be disappointed in the Vendée © Mike Prince, Wikimedia Commons
Birds are probably the Vendée's greatest wildlife draw-card and at certain seasons this region offers some of the richest birdwatching in France. The coast is especially productive, with its extensive wetlands providing vital pit stops for spring and autumn migrants travelling to and from Africa, as well as wintering quarters for others. In spring, after the big flocks have departed, the marshes and salt meadows host breeding wading birds such as avocet, little egret, black-winged stilt and spoonbill. Further inland, freshwater marshes host such reed-bed skulkers as bittern and purple heron, while kingfishers zip along waterways and great reed warblers fill the air with their relentless, mechanical song. Birdwatchers will find numerous observatories around the region. These include Les Landes-Genusson, St-Denis-du-Payré, Le Poiré-sur-Velluire, Réserve biologique de Nalliers Mouzeuil/-St-Martin and Île-d'Olonne.
---
Inspired to visit the Vendée? Get 10% off our new guide: