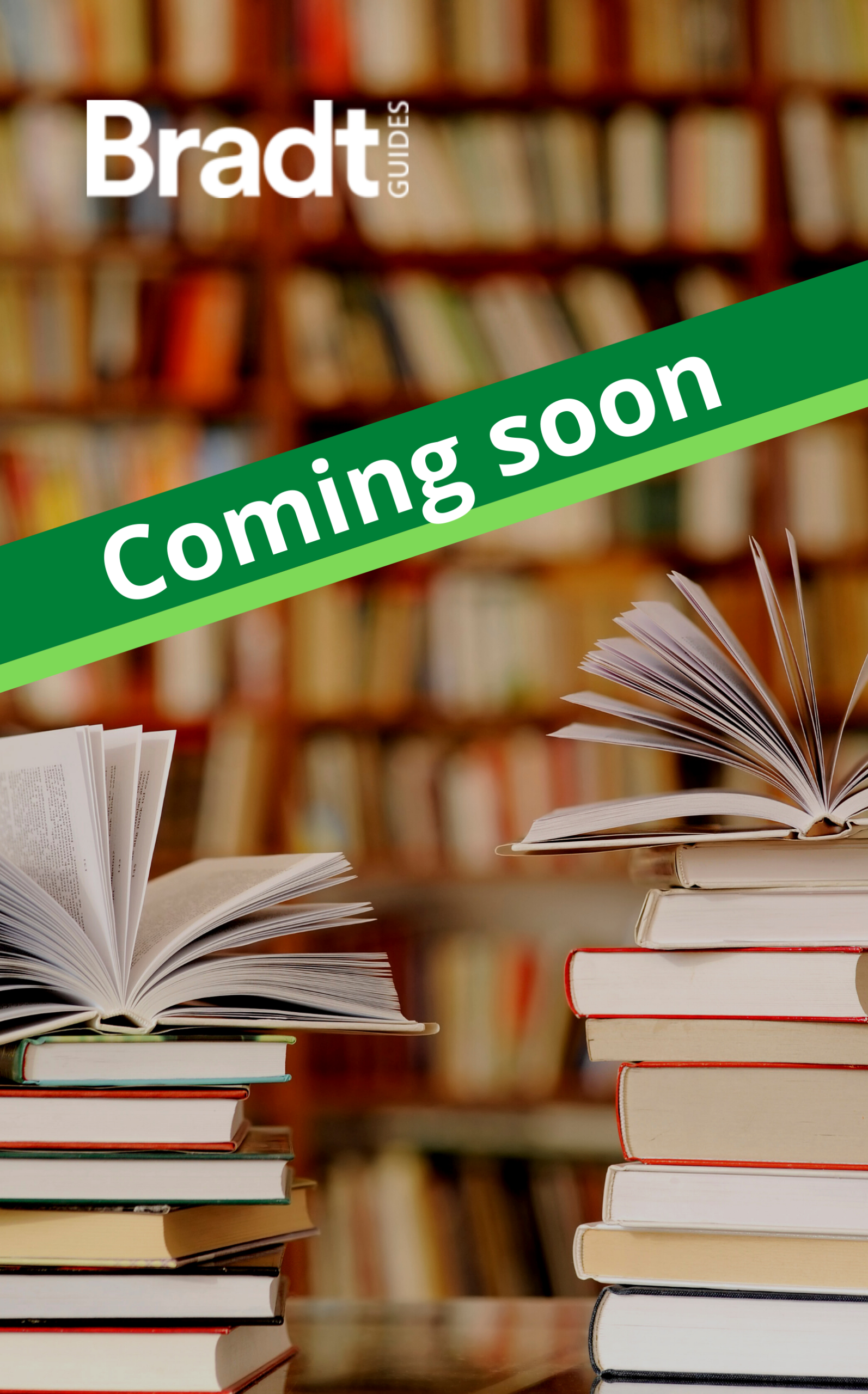 Taking the Risk
Adventures in travel and publishing
Taking the Risk – engaging memoir about serendipitous adventures in travel and publishing from a travel industry trail-blazer. Hilary Bradt looks back on 50 years of escapades, surprises, mishaps, disasters. and success. Contains stories from six decades of hitchhiking, tour leading and living in the USA, South America, the Falklands and Africa.
Published: 01st May 2024
Size: 156 X 234 mm
Edition: 1
Number of pages: 272

About this book
Taking the Risk is Hilary Bradt's engaging, insightful, amusing and sometimes alarming memoir about serendipitous adventures in travel and publishing. A travel industry trail-blazer who co-founded Bradt Guides, Hilary looks back on 50 years of escapades, surprises, mishaps, disasters. and success. From her first solo trip aged three (on a British beach), she revisits six decades of hitchhiking, feeding the travel habit by working abroad, and starting a successful travel publishing company where knowing nothing proved a surprising asset.
Barely into her twenties, Hilary Bradt thumbed lifts around the Middle East for three months before spending four years working and travelling in the US. Between 1973 and 1976 Hilary explored, and worked in, South America and Africa with her then husband George, often journeying through literally uncharted territory in their quest to find new hiking routes. The discovery of an ancient trail to Machu Picchu unexpectedly inspired their first guidebook.
From 1977 the pair wrote several backpacking guides, and set up Bradt Guides. This was just as well, because Hilary's career in occupational therapy ended when potential employers noticed that time taken off for travel exceeded periods of employment. During the 1980s, Bradt Guides grew and became successful – but that didn't stop Hilary travelling, including as a tour leader.
Join Hilary as she relives in detail the rigours of travel before the days of the internet or mobile phones, including smuggling her husband across an international border and frequently getting arrested despite efforts to be responsible tourists. Learn how Hilary's lack of experience made the early days of publishing quite unlike those of any other successful publisher. Laugh (or cry) at Hilary's ability to court media disasters while seeking the limelight, including waving around condoms on BBC TV.
Taking the Risk comprises the collected stories of an inveterate, intrepid traveller whose joyous exploration of the world has transformed the lives of hundreds of thousands of people – anyone who has owned a Bradt Guide. A unique book from a unique individual, it will delight anyone who has ever travelled or ever wondered what goes into making the books we read.
About the Author
Hilary Bradt's career as an occupational therapist ended when potential employers noticed that the time taken off for travel exceeded the periods of employment. In 1963, she hitch-hiked to and around the Middle East. In 1969, she spent six months travelling from San Francisco to Rio de Janeiro. With her former husband George, she self-published her first guidebook in 1974 during an extended journey throughout South America, thus founding Bradt Travel Guides. Travels in Africa in 1974-77 resulted in a backpacking guide to Africa, followed by four more to South America. By 1980, she was established as a publisher, winning IPG/Sunday Times Small Publisher of the Year that decade. For the first 25 years she combined writing guide books and running the company with leading adventure and natural history tours to South America, Africa and Madagascar. Her contributions to tourism have resulted in an MBE among other major awards.
Additional Information
Table of Contents
1. Early days
Interlude: my first solo trip
2. America
Interlude: hitchhiking
3. South America with George
Interlude 3: The Little Yellow Book
4. The Falkland Islands
Interlude: my wicked, wicked ways
5. Cape Town
Interlude: Joseph
6. Travels in Africa and Madagacasar
Interlude: meeting the locals
7. Becoming a publisher
8. Going it alone
Interlude: the oxygen of publicity
9. Mixed fortunes
Interlude: tales of a tour leader