Written by Jonathan and Angela Scott
Jonathan and Angie Scott, the only couple to have ever individually won the prestigious award of 'Wildlife Photographer of the Year' award, share their tips for photographing wildlife, to celebrate Jonathan's new autobiography, The Big Cat Man.
---
Though my first clumsy attempts at being a wildlife photographer proved disastrous I did at least get one thing right – I chose a Canon camera. I've been using them ever since and it's because of that that Angie and I were so delighted to be chosen as Canon Ambassadors. What I failed to understand back in the 1970s was that lenses are the eyes of your camera and your most important purchase. Wildlife photography demands long telephotos: photographing from our safari vehicle, I predominantly use the EF200-400mm f/4L IS USM telephoto zoom. With the flick of a switch you can engage the built-in x1.4 Extender without taking the lens off the camera and getting dust on the sensor. Angie's workhorse is the EF600mm f/4L IS II USM telephoto. In addition to this, we love the razor-sharp EF800mm f/5.6L IS USM for extreme close-ups.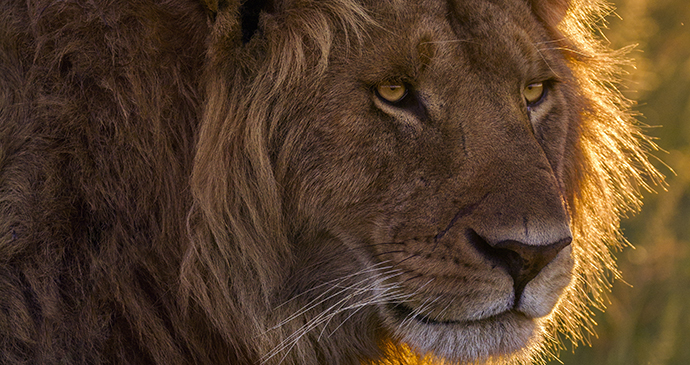 A lion on Paradise Plain, Kenya © Jonathan and Angela Scott
Today most pros travel with high-quality zoom lenses. For all-round wildlife and travel photography our favourite is the EF100-400mm f/4.5/5.6L IS II USM: an amazingly versatile lens at a very reasonable price. Add a wideangle to your kit bag – a EF24-105mm f/4L (we might be tempted to tuck the EF16-35mm f2.8L in our pocket too!) – and you are ready to travel anywhere in the world in pursuit of great images. If you add the 1.4x extender Series III to the EF100-400mm it becomes a 140-560mm lens on a full-frame sensor camera such as the brilliant EOS-1D X Mk2; or, with the EOS 7D Mk II body with its cropped 1.6x [APS-C] sensor, the same zoom becomes an impressive 160-640mm.
Here are Jonathan and Angie's top tips for great photography:
Shooting from the hip. Buy a point-and-shoot camera such as the Canon Powershot and carry it with you everywhere.
Seeing the light. Shoot with the sun coming from the side of your subject (side lit) or from behind it (back-lit) for more emotive and powerful images. Early morning and late evening are best for rich colours.
Stepping up. Take control of your camera by reading the manual. Be inspired by the work of other photographers. Discover what makes their work different, then develop your own style.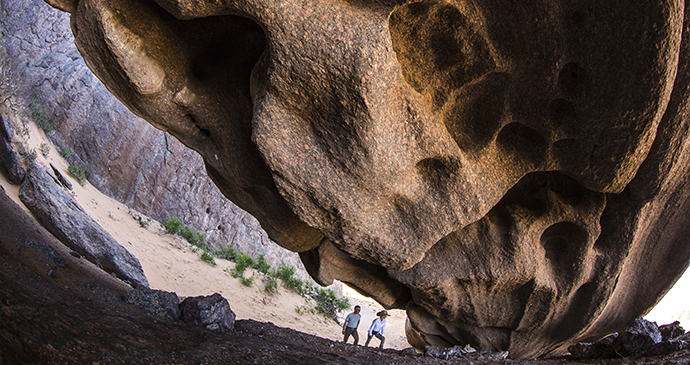 Hartmann Valley, Namibia © Jonathan and Angela Scott
Understanding exposure and histograms. Your camera doesn't always expose your photographs they way you see them. Learn about under- and over-exposure and how to interpret your camera's histogram (which analyses tone and brightness) for the best results.
De-mystifying depth of field. By adjusting the aperture of your lens you can vary how much of the image is in focus. This is called depth of field and is important for great portraits (shallow depth of field) and pin-sharp landscapes (maximum depth of field).
Out of the roof hatch or down low. Lions feasting on a kill may look best taken from the roof hatch, with the whole pride in focus. But for really imposing portraits of big game, get down low in your vehicle.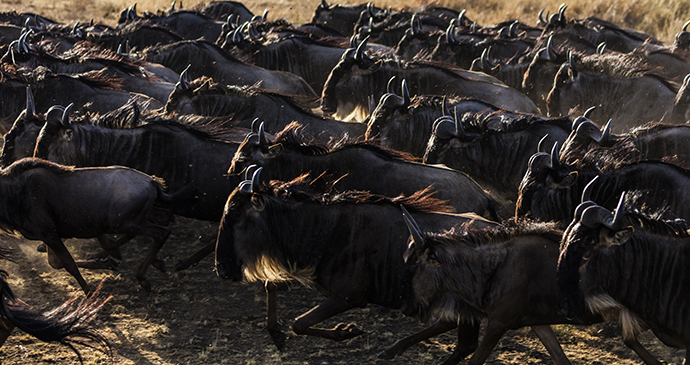 Wildebeest stampeding away from a lioness on Paradise Plain, Kenya © Jonathan and Angela Scott
Field craft. Knowing your subject and researching the best destinations to photograph them are the keys to great images. The internet is a rich source of information.
Getting creative. Slow shutter speeds of 1/15th to 1/100th second and panning (moving the camera to follow your subject as you press the shutter button) will create a partially blurred effect, ideal for conveying speed and motion. Fast shutter speeds of 1/1000th second or more will give you pinsharp images of birds in flight or animals running. Experiment with different lenses too.
Fill-in flash. Use fill-in flash to add light to subjects in shadow, but be careful not to disturb your subject.
Putting in the hard yards. Processing and cataloguing your images are the final steps. We use Lightroom and, for fine tuning, Photoshop CC. Always back up your best images on separate hard drives.
---
Buy The Big Cat Man in Bradt's online shop and receive a 10% discount off RRP.