If any single book has immortalised the Thames in literature, it's Three Men in a Boat (1889). Its author Jerome Klapka Jerome (1859–1927) worked as an actor, journalist, clerk and schoolmaster before finding his vocation. Jerome penned many articles, books and plays and was also editor of a new monthly magazine The Idler, but Three Men is his masterpiece, written after honeymooning on the Thames. The book recounts the comic misadventures of the narrator J, his friends George and Harris (based on real-life friends George Wingrave and Carl Hentschel) and the dog Montmorency (though Jerome did not, at this point, have a dog), as they travel from Kingston to Pangbourne. The following extracts capture the spirit of Three Men in a Boat:
From Picnic Point to Old Windsor lock: 'A shady road, dotted here and there with dainty little cottages, runs by the bank up to the 'Bells of Ouseley', a picturesque inn, as most up-river inns are, and a place where a very good glass of ale may be drunk – so Harris says; and on a matter of this kind you can take Harris's word.'
On Maidenhead: 'Maidenhead itself is too snobby to be pleasant. It is the haunt of the river swell and his overdressed female companion. It is the town of showy hotels, patronised chiefly by dudes and ballet girls.'
From Marlow to Cookham: 'Dear old Quarry Woods! with your narrow, climbing paths, and little winding glades, how scented to this hour you seem with memories of sunny summer days!'
On sculling and steering: 'It always does seem to me that I am doing more work than I should do. It is not that I object to the work, mind you; I like work; it fascinates me. I can sit and look at it for hours.'
On Streatley and Goring: 'It is an ancient place, Streatley, dating back, like most riverside towns and villages, to British and Saxon times. Goring is not nearly so pretty a little spot to stop at as Streatley, if you have your choice; but it is passing fair enough in its way, and is nearer the railway in case you want to slip off without paying your hotel bill.'
On locks: 'They are picturesque little places… You meet other boats there, and river gossip is exchanged. The Thames would not be the fairyland it is without its flower-decked locks.'
The end of the adventure, catching a train back to Paddington in pouring rain at Pangbourne: 'Twenty minutes later, three figures, followed by a shamed-looking dog, might have been seen creeping stealthily from the boathouse at the 'Swan', towards the railway station, dressed in the following neither neat nor gaudy costume: black leather shoes, dirty; suit of boating flannels, very dirty; brown felt hat, much battered; mackintosh, very wet; umbrella.'
---
For more on Jerome K Jerome and the Thames Valley, see our comprehensive guide to the area: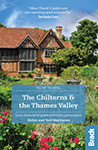 Bradt Guides Collections
Enjoy huge discounts on a series of our books – up to 40% off!