Written by Bradt Travel Guides
Experience Ghana first-hand with photographer Dave Coles as he takes over our Instagram to share some of his photos and stories from his time in the country.
---
Want to delve deeper? Order your copy of our 2019 guide to Ghana, now with a 10% discount: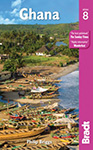 Bradt Guides Collections
Enjoy huge discounts on a series of our books – up to 40% off!