Written by Hugh Collins
Slow Travel Shropshire author Marie Kreft believes, as maybe you do, that a perfect Sunday involves a long walk followed by lunch and a pint in a country pub. The combination of leg-stretching exercise, an amble through Britain's countryside and a traditional meal, can't be beaten. Can it?
That's what I thought too, at least before visiting Ludlow for its annual Magnalonga event. An idea copied from Ludlow's twinned city – and Slow Food capital – San Pietro, the Magnalonga is an annual walk through the Shropshire countryside where, at a number of refreshment stops en route, you are treated to food and drink from local producers. Rather than simply the welcome nourishment at the end of a country walk, the Magnalonga integrates local food so that it becomes part of the journey too.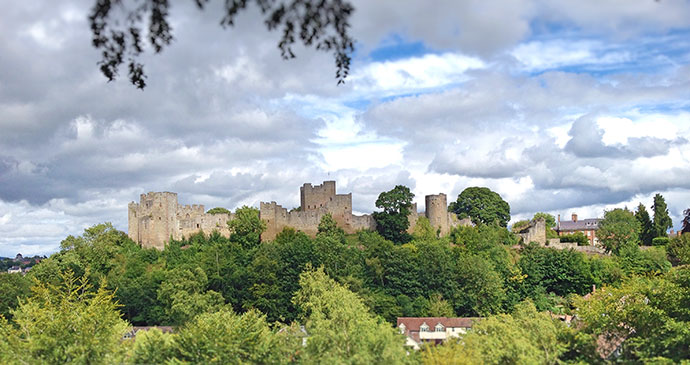 Ludlow Castle – where the walk begins © Hugh Collins
Beginning in the shadow of Ludlow Castle with a bottle of water and crumbly chocolate biscuit, the eight-mile route wound slowly up from the town into the Shropshire Hills. At the first stop, perched on hay bales with chickens pecking at my feet, I tucked into a soft Scotch egg from The Handmade Scotch Egg Company and fortified myself for the miles ahead with half a pint of ale from the town's Ludlow Brewing Co.
Three miles or so later, after a lung-bursting climb and regrets over eating my Scotch egg quite so quickly, the walk's 'main course' was a delicious pork, cider and turnip stew accompanied by local cider. Sitting on the grassy lawn and shaded by one of the many apple trees, it made for the perfect pastoral picnic, connecting you and your food to the landscape in which it was produced.
As the walk continued so did the food and drink, and at a rather staggering rate. A raspberry and chocolate brownie, salted caramel ice cream, a cheese board and, with a nod to Shropshire's westerly border, a Welsh cake, followed in quick succession.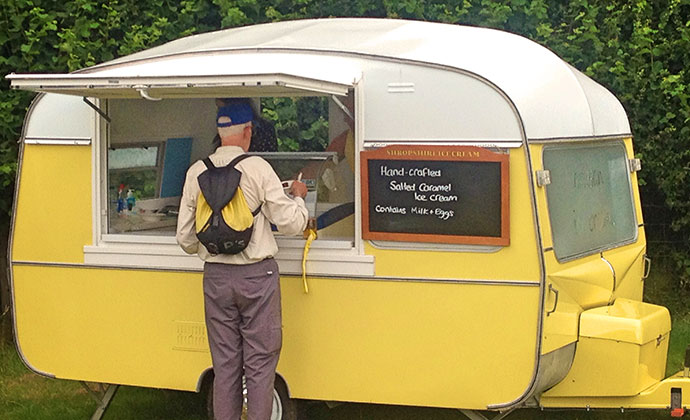 Queuing up for some salted caramel ice cream © Hugh Collins
Refreshed with an elderflower liqueur cocktail and a perry from Oliver's in Herefordshire, I became glad that the final stretch to the finish was all downhill. I was full enough that I could have rolled down it.
Ludlow is lucky to have so many people committed to promoting the region's local, seasonal and traditional food, including the Slow Food Ludlow group. The terrific and unusual Magnalonga gives you the chance to support the area's local producers, and I guarantee by the end, you'll certainly be Slow too.
---
Ready to visit Shropshire? Here's 10% off our guide!