Written by Laura Pidgley
'The only thing we grow in the Faroes is grass.' That was what our guide, Ingigerð, told us on a windy Friday afternoon as she took us on a tour of Tórshavn, the Faroese capital. As I explored the islands over the next 24 hours, I started to think she was right – everywhere I turned was a blanket of rich turf-green grassland, punctuated only by shaggy sheep, deep-cut ravines and the occasional smattering of pastel-coloured houses. On the Saturday evening, however, that opinion changed – after dining at KOKS, my eyes were opened to a whole world of home-grown Faroese ingredients.
The brainchild of head chef Poul Andrias Ziska, this pioneering Nordic restaurant 'distils taste and smell from the Faroese landscape' in its unique food. The mantra here is simple: with produce sourced only on the islands (or their Nordic neighbours), the avant-garde chefs create dishes using age-old Faroese practices such as drying, fermenting, salting and smoking with the aim of 'transforming ancient culinary tradition into modern delicacies'. The whole ambiance is one of championing Faroese culture – even the waitresses join in, kitted out in woollen skirts and patent shoes especially designed by Faroese knitwear company, Guðrun & Guðrun. After relocating from its Tórshavn home of Hotel Føroyar to the little hamlet of Kirkjubøur, the restaurant must have one of the most spectacular dining settings in Europe, with floor-to-ceiling windows that allow you to marvel at the dramatic landscape that is being replicated on your plate.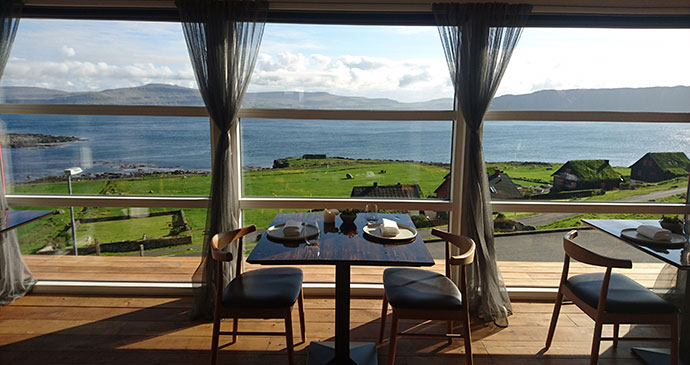 The view from the dining room is quite spectacular – especially when the sun shines! © Laura Pidgley
There is no à la carte menu at KOKS – instead you are treated to a seemingly never-ending buffet of dishes picked by the chefs depending on what's in season. Almost all ingredients, bar the wine, are grown, cultivated, shot or fished on the archipelago. Our 16-course extravaganza kicked off with an eclectic array of appetisers, ranging from bite-sized amuse-bouches to more complex starters: toasted porridge oats with cheese; mahogany clam with kelp gel and dill foam; skerpikjøt (wind-dried mutton) on a bed of lichen; and a single leek dressed in pungent ransom. The sixth appetiser saw their take on the Faroese national dish of fermented cod, served with lamb tallow cream and góðarað (a traditional Scandinavian cracker). My favourite of the bunch – shaved horsemussel on a dried cod skin cracker – was nothing more than a mouthful (but what a mouthful it was!)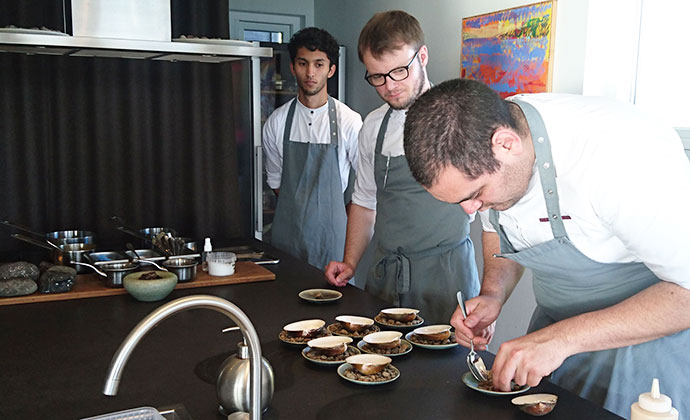 The chefs carefully craft the second appetiser of mahogany clam © Laura Pidgley
After a quick refresher of rhubarb compote, we swiftly moved on to the mains. The first of these was my favourite (and best-looking) dish of the entire night – rich, salty raw codfish served with a peppery watercress salad and fresh cheese. Next came capelin roe with poached basket crab, elderflower and a caramelised onion sauce – a special dish, our waitress informed us, as capelin are so small it takes 12 to produce just one serving. We continued on our seafood journey with a pan-fried langoustine smoked in pine, before tucking in to grilled skate alongside white asparagus and pesto, and porbeagle shark on a bed of nettles.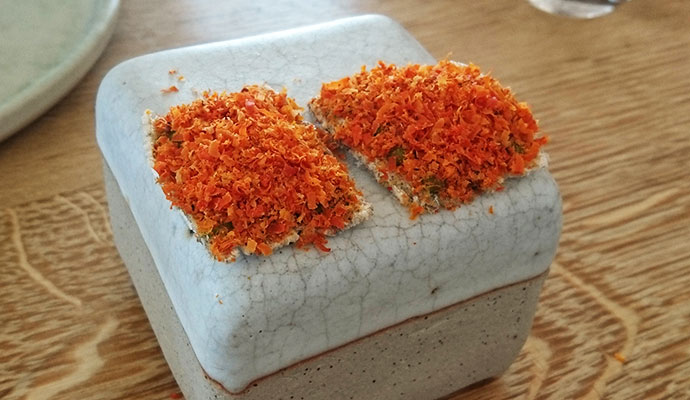 Shaved horsemussel on dried cod skin © Laura Pidgley
It was Course 13, though, that proved to be unlucky for some – ræst mutton. Years ago, with few trees on the islands and no salt production due to the adverse weather conditions, the Faroese could not smoke or salt meat to preserve it, and had to leave it to ferment in the sea air. It's still a popular method of preservation today, and produces a flavour adored by the Faroese, but often abhorred by foreigners. Washed down with a traditional Ræst beer (our only Faroese drink of the night, made with baking powder rather than yeast), I actually found the ræst lamb quite enjoyable – chewy, but undeniably rich. I was on my own in that opinion however, as majority of my fellow diners turned green after just one mouthful.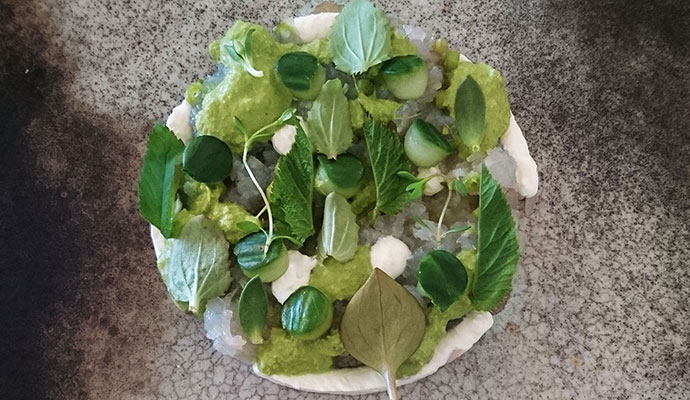 The fairest of them all – raw codfish on a watercress and fresh cheese salad © Laura Pidgley
Following a quick cup of tea (served cold, with lemon verbena and thyme), we were treated to dessert. 'The first comes from things grown in the back garden, and the second with things from the front', our waitress told us. It was at this point that our guide's words resonated true, as we were served frozen grass with sorrel ice cream. Another crowd divider, although this time I was on the side of those unconvinced – it really did just taste like grass. After 15 extremely savoury dishes, the second dessert provided that much-needed sweet kick – dulse and blueberry with a speckling of chocolate chips.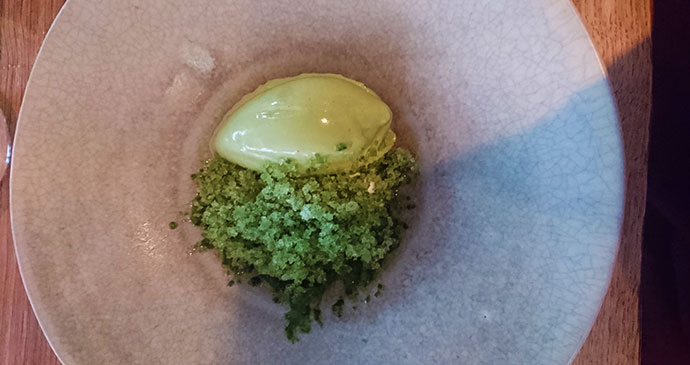 The grass is always greener with sorrel ice cream © Laura Pidgley
Although you might not enjoy every dish put in front of you, that doesn't matter. At KOKS, dinner is so much more than just a meal – it's a culinary adventure through unknown ingredients, methods and flavour combinations, and one that you're unlikely to experience anywhere else. Long dominated by the likes of Copenhagen's Noma, Nordic cuisine has a new star, and it's proving that the grass – and all other ingredients – might just be greener on the Faroe Islands.
The menu at KOKS starts at 1.085DKK, plus 985/4885DKK for the wine/juice pairing, including tea/coffee and sweets. Flights from Edinburgh to Vágar are run by Atlantic Airways.