I've spent so long pretending that I'm fine about travelling alone that I've almost forgotten that I'm not. I'd much prefer a like-minded companion. But then I look back on all those trips where I had to roam alone, back to the sheer exhilaration of the best moments, and I think what an added richness it's given my travel memories and how fortunate I am to have been forced to do it when my chosen companions dropped out.
Because this is how it usually happens. As you'll see from the stories in this book, the reluctant solo traveller generally doesn't plan to travel alone, it's just that the desire to travel is stronger than the fear. Thank God.
I'm having to wrench my mind back 50 years (goodness, it really is 50 years!) when I steeled myself to go to America on my own to start a job as an occupational therapist in Boston. I hadn't planned to go by myself but my best friend decided to get married instead of seeking our fortunes together. I was terrified. I mean really terrified, but I did it. No one's allowed to be lonely in the USA for long, so I adjusted, became more self confident, and began cautiously to explore the USA with my new friends. The following year I added Iceland to my travel-alone list, joining a group once I got to Reykjavik to share the enjoyment of pony trekking.
The big test was after a year in San Francisco, when I was preparing to do The Big Trip through South America with my roommate. It was why I had come to America in the first place. I'd seen the play The Royal Hunt of the Sun and wanted to see the land of the Incas, but needed to work in the USA to save enough money. I inspired Linda with my enthusiasm and we threw ourselves into planning the journey through Mexico and Central America, then to Colombia, Ecuador and Peru. Machu Picchu, of course, and then down the Amazon. At the last minute she couldn't go – I can't remember why.
This time I didn't have the courage to set out alone so when a doctor that I'd worked with said he wanted to travel with me for the first month, I agreed. What a disaster! I wrote to my sister: 'It's hard enough travelling with someone you don't know well, but a neurotic, middle-aged American wasn't a good choice.
Every morning I had to listen to a list of the pills he'd taken the night before to try to get some sleep, and the pills he'd taken this morning to wake up. He couldn't eat anything partly because he'd put himself on a low cholesterol diet and wouldn't eat eggs, butter or animal fat (and in Mexico if you don't eat eggs you don't eat), and partly because unless he could wash his hands first he couldn't touch food which on buses meant he didn't eat. Really, why can't Americans be like ordinary people and eat everything and to hell if they die a year earlier or get a stomach upset?' Poor Peter! I was young and smug and I must have made his life hell.
So it was with genuine relief that I said goodbye at the Mexican border and caught my first bus down the Pan American Highway. And you know what? It turned out to be one of the most heart-warming, heart-lurching, immersive experiences of my whole life. For the first time I learned how to be an effective solo traveller. I learned when to trust people, when it was safe to accept hospitality and when to say 'no thank you'. I learned to disengage with people without causing offence, and I adjusted to eating on my own and planning my own day. And it was much cheaper than when I'd needed to indulge Peter.
Another letter to Kate: 'At 21 or 22 I couldn't possibly have done this trip alone but now I'm old [I was 28!] you'd be amazed at how easy it is. Apart from occasional loneliness, which is inevitable, the only real problem is walking about cities alone at night, which is definitely unpleasant. But otherwise people fall over themselves to be nice. Drinks appear like magic whenever I'm thirsty, and at bus and train stations people always cope with my luggage, find a taxi, and usually pay the fare. And of course you get invited to peoples' homes…' And that is probably the trump card that solo travellers have up their sleeves, especially women. People open their hearts and homes to lone travellers.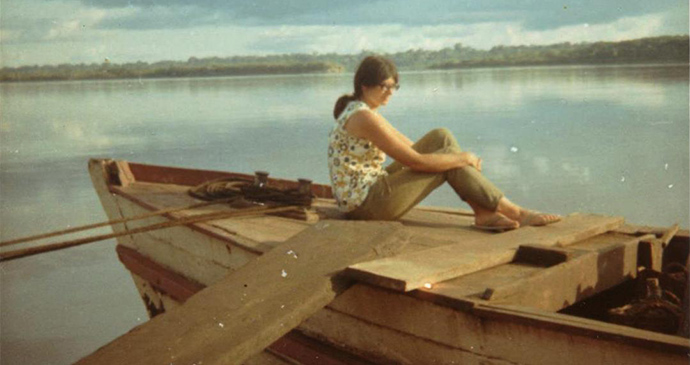 In Colombia I got talking to a disabled teenager who was swinging his way up and down the railway carriage, chatting to all the passengers. His legs were in callipers (polio, I learned later). He was fascinated by this gringa who was travelling alone and spoke almost no Spanish. He knew some English and we managed a conversation of sorts. By the time we got to Bogota he was insisting that I stay with his family. So I did, for three days.
They were the most wonderful, funny, warm and giving people I met on the whole trip. Carlos had three older siblings, who all slept together in one room (in one bed, I rather think) so I could have a room to myself. Mama was a widow, and money was obviously scarce. We ate potatoes three times a day, but each day they devised interesting things for us to do. Their biggest delight was to teach me swear words in Spanish and then encourage me to repeat them. I still remember the most offensive one. And the laughter that followed.
I stayed with several other families, some very rich, during my journey but this is the one that makes me smile whenever I recall it. It was the first, and it set the standard for the rest of the trip. And, perhaps, the rest of my life.
---
Interested in reading more experiences of solo travel? Get Roam Alone: Inspiring Tales By Reluctant Solo Travellers here.