At a special event at the House of Commons, our founder Hilary Bradt was inducted into the Latin American Travel Association (LATA) Hall of Fame. This honour is awarded to key figures who have contributed significantly to the image of Latin America in the United Kingdom.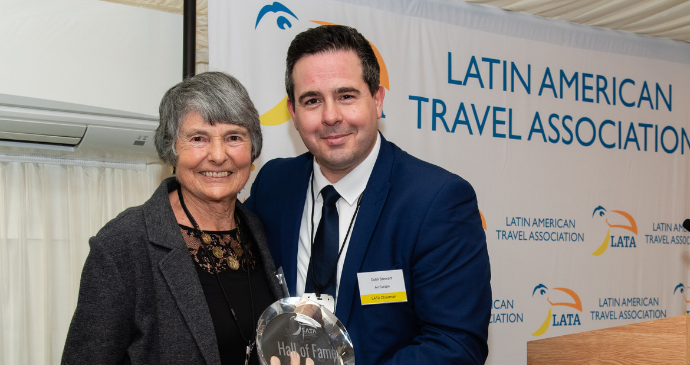 Chairman of LATA Colin Stewart presented Hilary with her award at the association's Hall of Fame induction. © LATA
"A pioneer in her field and founder of Bradt Travel Guides, Hilary Bradt can be said to have put parts of South America on the tourist map." LATA said in a press release. "Many of Bradt's subsequent guidebooks to South American countries were the first to be published and some remain the only standalone guides available – such as the Bradt guides to Guyana and Suriname, therefore making a valuable contribution to endorsing and enabling tourism to the region."
Bradt's MD Adrian Phillips, who accompanied Hilary to the event, says: "We are so proud to see Hilary inducted into LATA's Hall of Fame. Latin America has always had a special place in her heart, and few people can claim to have done so much to promote tourism to the region. Backpacking Along Ancient Ways in Peru and Bolivia was not only the first guide she ever wrote, but the first description by anyone of the Inca Trail. Things have moved on a fair bit since then, of course, but that stitch-bound little yellow book remains a symbol of Hilary's pioneering spirit."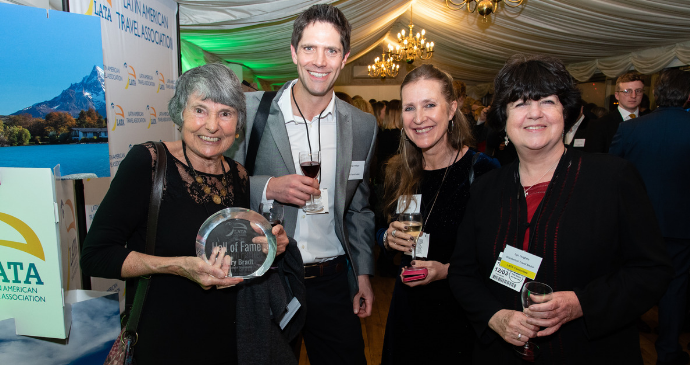 Hilary celebrating her award with Adrian Phillips, Lyn Hughes (Editor-in-Chief of Wanderlust) and Claire Antell (author of Bradt's guide to Guyana) © LATA
The Latin American Travel Association is a membership organisation that promotes sustainable travel to the region. The membership is made up of tourist boards, airlines, hoteliers, tour operators, local tour companies, lodges & other travel and tourism related entities that operate to and around Latin America.
Congratulations to Hilary – a true pioneer!