Written by Philip Briggs & Janice Booth
Over two decades after the civil war and genocide, Rwanda has not only recovered but is thriving. Here are five very good reasons to put this beautiful, welcoming country on your bucket list.
Volcanoes National Park – gorilla tracking and more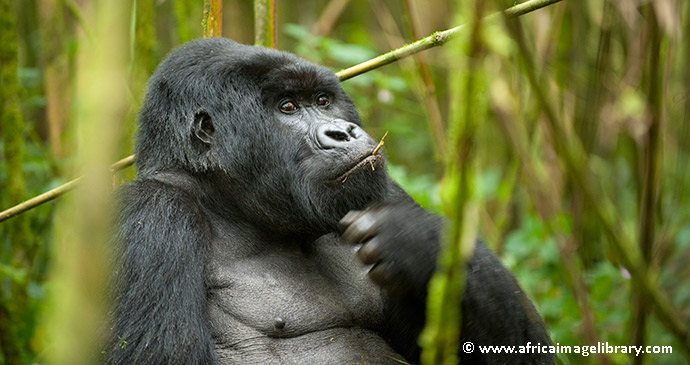 Despite their fearsome size and appearance, gorillas are remarkably peaceable creatures, and unfathomably tolerant to human visitors © Ariadne Van Zandbergen, Africa Image Library
Tracking mountain gorillas in the Virungas is a peerless wildlife experience, and one of Africa's indisputable travel highlights. It is difficult to describe the simple exhilaration attached to first setting eyes on a wild mountain gorilla – anthropomorphic as it might sound, almost everybody who visits the gorillas experiences an almost mystical sense of recognition. But there's more to Volcanoes National Park than just gorillas: visit a habituated troop of the rare golden monkey, an Albertine Rift endemic whose range is more-or-less restricted to the Virungas, hike to Dian Fossey's former camp and grave on the forested slopes of Karisoke or take a day trek to the summit of Bisoke (famed for its beautiful crater lake). Volcanoes National Park is an immensely scenic and ecologically diverse destination.
Akagera National Park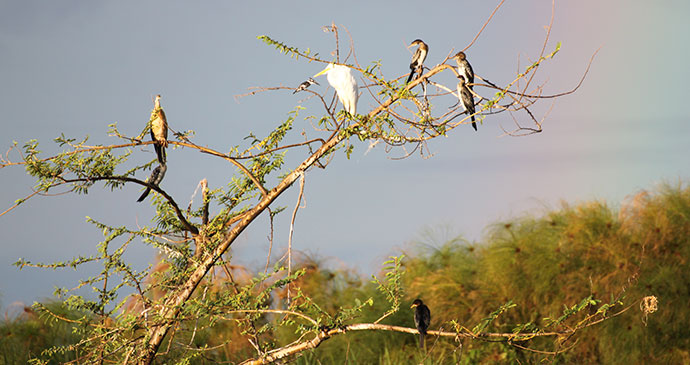 Birds roosting at Lake Ihema, Akagera National Park © Anna Moores
Rwanda's counterpart to the famous savannah reserves of East Africa, Akagera still retains a genuinely off-the-beaten-track character: this is one African game reserve where you can still drive for hours without passing another vehicle, never knowing what wildlife encounter might lie around the next corner. Take a sunset boat trip on Lake Ihema to see roosting water birds and wallowing hippos or seek out the newly reintroduced lions and rhinos on a game drive. Akagera National Park is emphatically worth visiting.
Nyungwe Forest National Park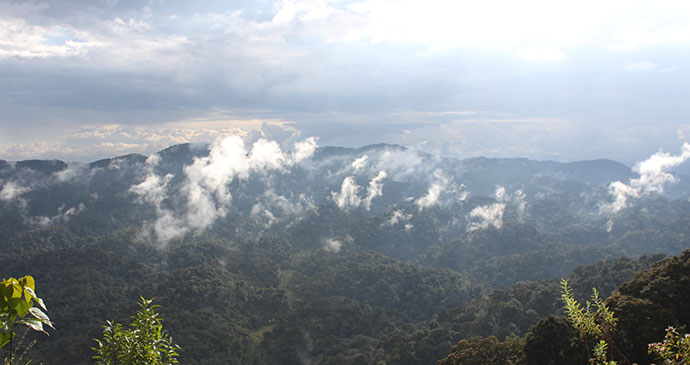 Nyungwe Forest National Park has a 130km network of trails © Anna Moores
Nyungwe is simply magnificent. The forest takes on a liberatingly primal presence even before you enter it. One moment the road is winding through a characteristic rural Rwandan landscape of rolling tea plantations and artificially terraced hills, the next a dense tangle of trees rises imperiously from the fringing cultivation. Track chimpanzees or Ruwenzori colobus monkeys, go birding or hike the 130km network of trails that criss-cross this spectacular montane rainforest – the largest in East Africa.
Joining in local activities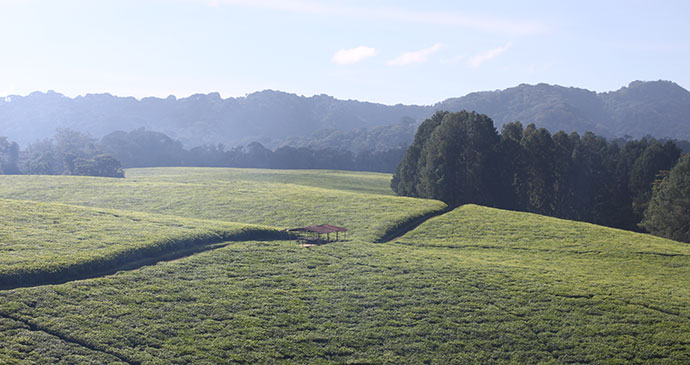 Gisakura Tea Estate is situated outside Nyungwe Forest National Park © Anna Moores
There are many possibilities. Visit handicrafts workshops and try your hand at basket-weaving or pottery-making, learn to cook traditional food, or join enthusiastic players at a local cricket or football club for a game. Participate in Umuganda on the last Saturday of the month, when everyone turns out for communal jobs such as clearing vegetation, repairing roads and fences, building homes for the elderly, tree-planting and other general improvements. Attend a performance of lively traditional dance, or flex your muscles in the Peace Marathon, half-Marathon and Fun Run held annually in May. Visit tea and coffee plantations around the country, where you can experience at first hand the harvesting and processing of the leaves and coffee cherries; and join spectators at the colourful and internationally popular Kwita Izina or 'gorilla naming' ceremony.
Lake Kivu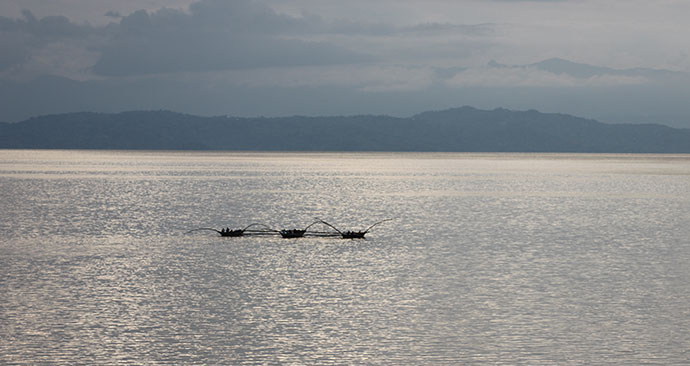 Watch fishermen heading out on the lake at sunset © Anna Moores
The perfect weekend retreat for locals and tourists alike, tranquilly beautiful Lake Kivu is hemmed in by steeply terraced escarpments containing several peaks of 2,800m or higher, including the smoking outline of volcanic Nyiragongo in the far north. Take a boat trip to Napoleon's Island for birdlife and a colony of thousands of fruit bats, sample the catch of the day in a lakeside restaurant, watch singing fishermen head out for a night's work as the sun sets or simply relax by the shore and enjoy the view – Lake Kivu is an ideal place to unwind.
---
For many more reasons to visit Rwanda, treat yourself to Rwanda: the Bradt Guide: