Archaeologists and anthropologists believe Grenada's original settlers would have survived on a diet of local seafood and animals they brought with them in their canoes as they moved north along the Lesser Antillean island chain from South America.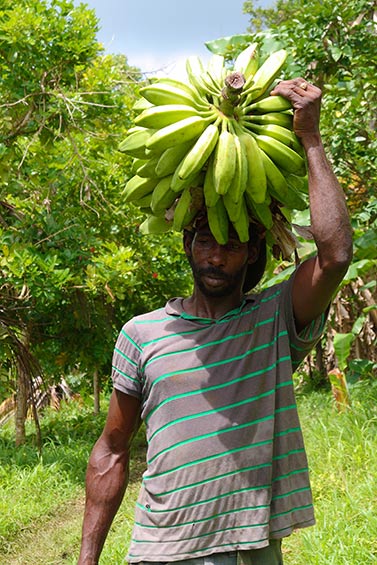 As time passed they would have cultivated crops such as sweet potatoes, yams and cassava. European settlers brought bananas, breadfruit, mangoes, plantain, cocoa, sugar and spices, and their west African slaves would have combined all these ingredients to make simple one-pot soups or stews that were heavily seasoned and cooked over open fires.
Caribbean Creole is a culinary style that emerged from the heritage of the islands during European occupation and the slave trade. Those islands that continued to have a strong French influence after emancipation would have developed French Creole cuisine.
Other islands, such as Grenada, where stronger influences came from indentured East Indian immigrants, Trinidad and Tobago, and the British plantocracy, would have taken a slightly different path and developed their own unique style of Caribbean Creole cooking.
Today, traditional Grenadian cuisine still includes many customary ingredients and is often cooked outside, over an open fire, and in a single pot. You will find authentic, great tasting and very reasonably priced local dishes in many of the islands' smaller and sometimes more remote eateries and roadside snackettes.
Caribbean Creole is a culinary style that emerged from the heritage of the islands during European occupation and the slave trade.
World-class international dining has become a by-product of Grenada's burgeoning tourism industry, with its luxury resorts, hotels and sailing regattas. Visitors will find a good selection of restaurants offering various culinary styles and fine-dining experiences that suit all pockets and tastes, including, of course, traditional Grenadian.
Local dishes
Grenada's national dish is called oil-down. It is a simple, one-pot dish that is often cooked over an open fire or on a traditional coal pot. Typically its ingredients include a combination of provisions such as breadfruit, yams, tannia, green bananas and dasheen, flavoured with meat such as pork or beef, and then cooked in coconut milk and spices until the liquid boils right down to leave only an oily residue remaining.
Both international and local restaurants offer oil-down occasionally on the menu, though it is usually eaten as a picnic or festival dish outdoors. Another very traditional dish with coconut as a key ingredient is coucou. This dish is thought to have its roots in west Africa and is made from cornmeal flour, seasonings and coconut milk. The ingredients are mixed in a large pot over a stove or open fire and continuously stirred, or 'turned', until the mixture thickens. It is often eaten with fish and in Carriacou traditionally blended with pigeon peas.
Given Grenada's strong fishing heritage, seafood features prominently in local cuisine.
Calalou is frequently used to describe dasheen, a ground provision whose young leaves are cooked as a vegetable similar to spinach, or alternatively as the basis of calalou soup, a very common Caribbean Creole dish. Calalou soup is often served with crab and is a seasonal speciality. Land crabs are also used in the preparation of another favourite dish, crab backs. The crab's flesh is mixed with a combination of spices and seasonings and then stuffed back into the shell, sprinkled with breadcrumbs and baked in a hot oven.
Given Grenada's strong fishing heritage, seafood features prominently in local cuisine. Lambie is the queen conch (Strombus gigas) and has been eaten in Grenada ever since the first settlers landed there. It is a seasonal dish and is usually served stewed, fried, curried, or in a Creole sauce. The discarded, cleaned and polished conch shell is often sold in souvenir and gift shops and is also traditionally blown by fish vendors to let people know their catch is for sale.
Conch is found in shallow waters with sandy beds and caught by free divers. According to conservationists, conch is the victim of overfishing throughout the Caribbean. Titiwi is a juvenile goby that is caught in nets at the mouths of rivers at certain times of the year. The fish are eaten whole, usually in a seasoned fritter, often known as a titiwi cake or titiwi ackra.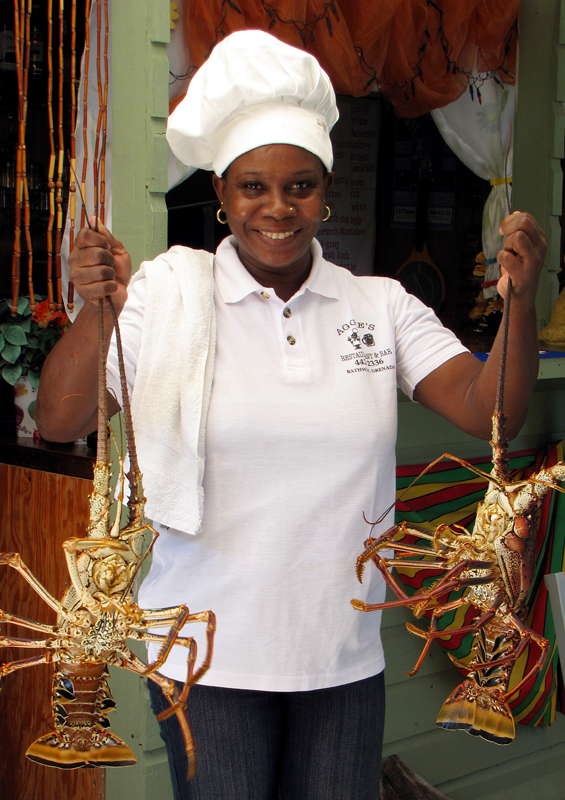 Fish caught by local fishermen and also common in local cuisine are tuna, bonito, marlin (known locally as ocean gar), flying fish, jacks, and dorado, also known by many as mahi-mahi or dolphin fish, and by locals simply as dolphin. Lobster is a seasonal catch and many restaurants will offer it on their menus. A great place to try out some lobster or other delicious local fish dishes is at Gouyave's Fish Friday which is held every Friday evening from around 19.00 in the heart of the town.
The influence of East India is evident in curried food, such as curried goat, as well as the very popular roti. The latter is a dish made of a flat bread that is stuffed with a mixture of curried vegetables, chicken or fish. It is an inexpensive and tasty dish that is very filling. Roti connoisseurs should note that quite a number of local eateries in Grenada may serve chicken rotis with bones. You may therefore wish to ask before you order.
Vegetarians should have few problems finding good food to eat in Grenada. As well as a number of vegetarian eateries, many restaurants will have vegetarian options on the menu. Rice and peas, fried plantain, roasted breadfruit, boiled or stewed provisions, grilled corn, pumpkin soup and calalou are all common local dishes.
Local drinks
Non-alcoholic
Tap water is safe to drink on all three islands though most supermarkets, convenience stores and hotels will sell bottled water. Glenelg Natural Spring Water is Grenada's local product, and is available island-wide. Mauby is the name of a drink that is made from the bark of the mauby tree (Colubrina elliptica). The bark is boiled with spices and sweetened with sugar to produce a concentrated syrup that is diluted with cold water. T
he drink is an acquired taste and can be a little bitter. Freshly made fruit juices are widely available in Grenada and your choice is usually based on what is in season. Golden apple, mango, pineapple, guava, passionfruit, orange and grapefruit are all common juices and are very refreshing
Alcoholic
The signature drinks of the Caribbean are rum and rum punch, and Grenada is no exception. With three distilleries producing a range of high-quality rums, connoisseurs are quite spoiled for choice. Clarke's Court Estate produces a great range of blended rums and rum punches including the very popular Old Grog. Westerhall Estate also has a nice selection of blended rums, including its fabled Jack Iron.
The River Antoine Estate is an amazing place. One of the oldest distilleries in the Caribbean, it claims to have been working non-stop since the 18th century and is still using the same machinery and processes. Pure cane rum is produced from the sugarcane that is cultivated on its own estate. Its Rivers rums are also a very popular range. Carib is Grenada's local lager beer and is brewed in the southwest, near Grand Anse.