Climate
When to visit
Highlights and suggested itineraries
Climate
Oman has a hot desert climate, with precipitation far below the upper limit of desert classification. Within this overall climate, it is possible to distinguish climatic variations: the northern coastal regions, the interior plain, the northern mountains and the southern coastal mountains and coastal plain, as well as the two Omani seasons of winter and summer.
During the winter months, which fall between October and March, the northern coastal areas are warm and moderately humid with a daytime temperature of 20–30°C in Muscat. In winter, the interior plain is warm and dry. The northern mountain heights are relatively cool and dry with occasional sharp drops in night-time temperature that may cause frost and, on rare occasions, snow. The southern mountains and coastal plain are warm and moderately humid, with Salalah enjoying a daytime temperature of 18–30°C.
In the south, the crescent of mountains behind Salalah traps the southwesterly monsoon cloud – locally called the khareef – which occurs from June to September. This brings dense mist and precipitation, giving rise to a lush, green landscape.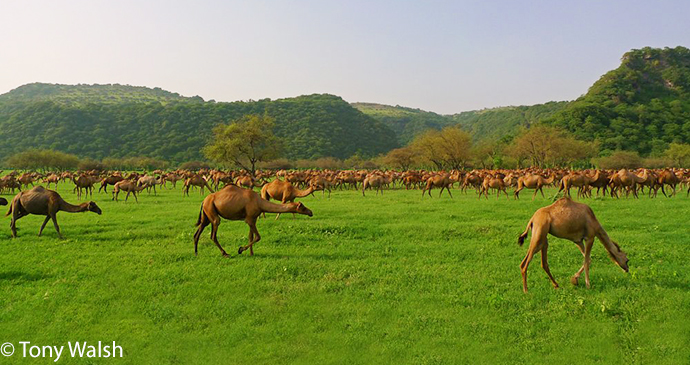 Camels graze the post-monsoon grass in Wadi Darbat © Tony Walsh
During summer, which runs from April to September, the northern coastal regions are very hot with Muscat ranging between 30°C and 48°C during the day. The interior plain is very hot and dry, the northern mountains heights warm and dry, and the southern mountains and coastal plain warm and humid, with temperatures in Salalah between 25°C and 30°C. In the south, the crescent of mountains behind Salalah traps the southwesterly monsoon cloud – locally called the khareef – which occurs from June to September. This brings dense mist and precipitation, giving rise to a lush, green landscape. The Dhofar region is at its most beautiful after the cloud has lifted in mid-September, until mid-October. The astounding transformation is created by the monsoon clouds, which create a 'cloud forest' on the sea-facing slopes of Dhofar's mountains. Luxuriant vegetation of grass, flowering plants dominated by Impatiens balsamina, and trees spring into leaf from late June and are best seen after the cloud lifts from mid-September; indeed, the period from mid- September to mid-October is the best time to visit the Salalah region. Visitors from other GCC (Gulf Co-operation Council) countries and Omanis from the north take advantage of this Dhofar spectacle during school holidays in July and August and the population of Salalah may double during this period. By November the greenery has vanished in all but the most fortunate valleys and sea cliffs.
When to visit
The winter season (October to March) is the peak time to visit Oman as the temperature is broadly on a par with summer in the Mediterranean. The summer season (April to September) is the cheaper option, as it is generally deemed too hot for most visitors – inland temperatures can reach 48°C. However, by choosing to visit the cooler mountainous areas, the coast, Dhofar or simply sightseeing in the early morning or late evening, a visit during this time is still possible with some careful planning. Hotel prices differ depending on the season.
During the winter season the Muscat Festival is an annual month-long event running from late January until late February, when replicas of traditional Omani villages are erected at a few specific locations in the city and artisans demonstrate Oman's array of traditional crafts. Funfairs, rides and fireworks all add to the festivities of this time, when Oman promotes its culture and heritage. It is an interesting time to visit as you get a taste of Oman condensed into one area, although, inevitably, early-evening traffic gets extremely busy and congested, especially going towards Al Amrat Park and Al Athaiba Beach.
During the weeks of Ramadhan, no alcohol is served in restaurants, bars or private clubs, and minibars in hotel rooms tend to be emptied. You are permitted to order alcohol to your room through room service, but this must be consumed within the privacy of your room. No independent restaurants are open in the day at all, and hotel restaurants that are open have their windows draped over and obscured for discretion and in order not to offend local sensibilities. Ramadhan, then, may or may not affect your choice of time to visit the country.
Highlights and suggested itineraries
Highlights
Mutrah Suq and corniche Meander through the narrow alleyways of an old Arabian/Indian suq just behind the attractive corniche, still very much in use by local people.
The Rustaq Loop Take in three of Oman's greatest forts, Al Hazm, Nakhal and Ar Rustaq, against their fabulous mountain backdrop and nearby hot springs.
Musandam Enjoy a boat trip through the mountainous fjords accompanied by leaping dolphins, then picnic on Telegraph Island.
Bahla Fort Oman's oldest and largest fort, a UNESCO World Heritage Site, with a largely abandoned adjacent mud brick village and the traditional suq close to it.
Wadi A'Nakhr (Grand Canyon Rim) Trek along waymarked paths to the abandoned mountain village of As Sab.
Sayq Plateau Drink in the clear, cool spring air while walking among the blossoms and fragrant roses of the mountain terraces and villages.
Sur Get a feel for the country's maritime links with Zanzibar while strolling in the last working shipbuilding yard for wooden dhows.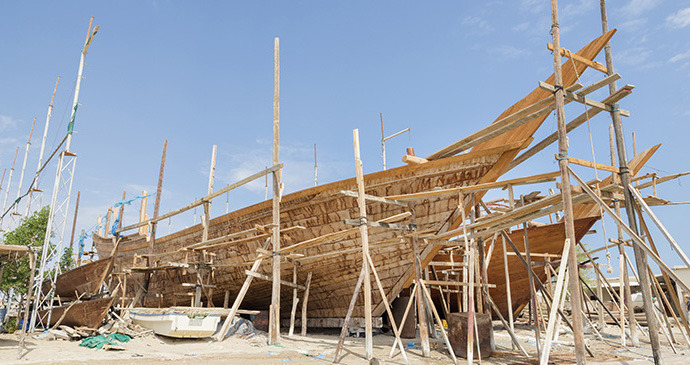 Shipbuilding in Sur © Zwawol, Dreamstime
Ras Al Jinz Spend the sunrise with baby turtles as they hatch out in their protected reserve and scurry across the sand towards the sea.
Desert Experience Camp out in the remote Wihibah Sands in a Bedouin tent among the silent dunes with camels for companions.
Ubar/Ash Shisr Marvel at the haunting remains of Oman's largest frankincense city, linked with the legendary 'Atlantis of the Sands'.
Suggested itineraries
Short visit
If your time in the country is limited, here are some recommendations for sites relatively close to Muscat. If you have time for only one old town, make it Nizwa. Located in the interior, it is truly evocative of the Oman of old. If you have time for only one wadi trip, make it Wadi Bani Awf, where you can climb in your 4×4 up the mountainside, taking in spectacular gorges and ravines, and finally witness the amazing, thriving village of Bald Sayt, which clings to the side of the mountain. If you can do one short trek along a ravine, go to Wadi Ash Shab (on the coastal road to Sur), and let the boys guide you along and show you the cavernous mountain pool at the end – the peace and the colours of nature here are outstanding. If you can fit in a suq, make it the historical suq at Mutrah, where you can also take in the ambience of the harbour. If you can, visit Al Bustan Palace Hotel, one of the best hotels in the world, with its awe-inspiring atrium. For a unique culinary experience, try Al Angham adjacent to the Royal Opera House for excellent Omani food served in a truly opulent setting. If time allows, catch a performance at the Royal Opera House, one of the world's outstanding opera venues.
One week
Day 1 The Grand Mosque; Muscat 'Old Town'; Al Alam Palace; Al Jalali and Al Mirani forts; Bait Al Zubair; Mutrah corniche and suq; dhow cruise; overnight Muscat.
Day 2 Birkat Al Mawz; Nizwa Fort and suq; Bin Ateeq for traditional Omani food; Tanuf ruins; overnight Nizwa.
Day 3 Al Hamra old town; Misfat Al Abriyeen (usually Misfah) mountain village; Wadi Ghul, the 'Grand Canyon'; Bahla town, fort and suq; overnight Nizwa.
Day 4 Ibra Suq and Al Minzifah ruins; Wihibah Sands (with suitable safety precautions); overnight desert camp.
Day 5 Wadi Bani Khalid; Al Kamil Old Castle; Bani Bu Ali; coast from Asilah; evening and dawn turtle watching; Ras Al Jinz.
Day 6 Sur dhow yards; Wadi Ash Shab; Tiwi village; Hawiyat Najm sinkhole; overnight Muscat.
Day 7 Rest and relax in Muscat.
Two weeks
With an additional week you can add on a flight to Salalah to enjoy the different atmosphere in the frankincense town.
Day 8 Fly to Salalah.
Day 9 Drive over the mountains to Thumrayt and on to Ash Shisr (Ubar), the legendary town discovered by Sir Ranulph Fiennes. Continue to the mega sand dunes after Al Hashman (with suitable safety precautions) and search for geodes. Camp overnight.
Day 10 Return to Salalah, visit Bithnah where black camels may be herded; visit Muday with its enigmatic triliths, ancient rows of stones; overnight Salalah.
Day 11 Visit Mirbat with the Yemeni-style Bin Ali Tomb; Mirbat harbour; Tawi Atayr; Wadi Darbat; Khawr Rawri; Samharam; overnight Salalah.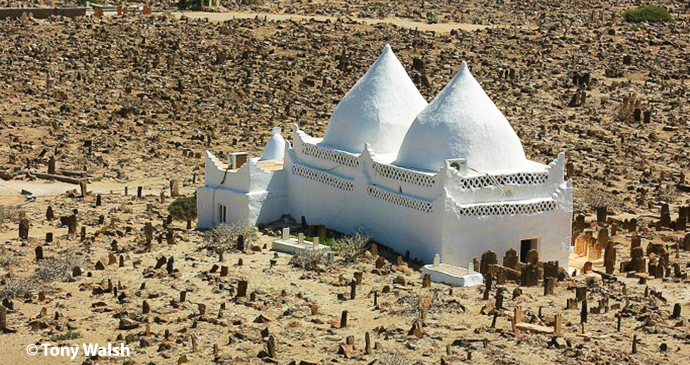 Bin Ali Tomb is surrounded by an extensive cemetery © Tony Walsh
Day 12 Visit the coconut plantations; Al Balid; Job's Tomb; Mughsayl Beach; Shaat cliffs; return to Salalah; frankincense suq at Haffa; overnight Salalah.
Day 13 Game fishing in the Arabian Sea.
Day 14 Flight home.