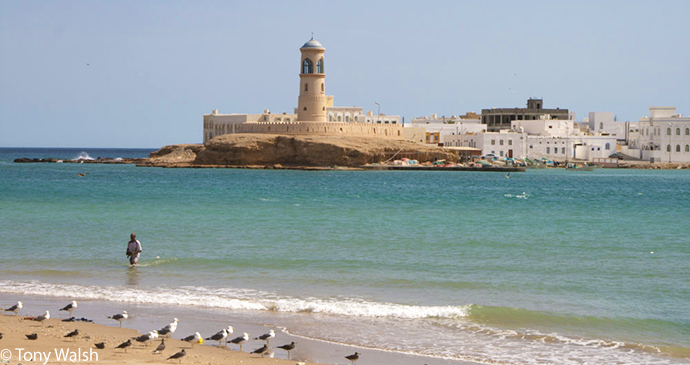 Al Ayjah's lighthouse at the entrance to Sur's harbour © Tony Walsh
Sur is a quiet coastal town that played a central role in overseas trade with East Africa. It occupies a position on a large lagoon that is still an anchorage today, although at low tide areas of it become football pitches. Like Suhar, Sur is another Omani town that lays claim to being the fictional Sindbad's birthplace. It shares its name with the coastal port of Sur in Lebanon, known to Westerners as Tyre, and one attractive theory, based on Herodotus's account that the Phoenicians came from the Gulf area, is that the Phoenicians originally hailed from here, then moved on to Lebanon, reusing the same name as their home town. Archaeological evidence to prove this theory is lacking, but the origins of the Phoenicians are still disputed by experts.
Like Suhar, Sur is another Omani town that lays claim to being the fictional Sindbad's birthplace.
To this day Sur's inhabitants have a reputation for being independent-minded, and many of the largest businesses in Oman are owned by people from here. The coastal town itself never had fresh water, but Bilad Sur, the large village amid the date palms a few kilometres inland, supplied all the necessary water from its wells, and water is still piped in today from the same source. When Zanzibar and Oman split into two separate sultanates in 1861, Sur had over 100 ocean-going dhows in fleet for trading with the island. Trade declined after the split, hastened by the arrival in the Gulf of the British India Steamer Navigation Company, which also took trade away from Sur. Shipbuilding gradually declined as Sur became a less prosperous port.
The modern town of Sur has a sprawl that extends many kilometres inland and it is difficult to establish when you have reached the centre of town. It is renowned for its horses, hence the model horse statues that flank the road. The passion for pure Arab thoroughbreds survives here in the form of a few trainers who are masters in their field.
Travel inspiration from booking.com