Eating and drinking
Accommodation
Eating and drinking
Typical Omani cuisine is quite simple, with rice eaten as the main accompaniment to beef, mutton, chicken or fish. Spices are used to flavour the meat and fish, not hot and spicy ones but rather subtler and more aromatic seasonings like cardamom, cinnamon, cumin, ginger, turmeric and saffron. Salads are simply lettuce, cucumber and tomato, with a slice of lime for dressing. A few local dishes to look out for are maqbous, a saffron-coloured rice dish cooked over spicy meat; harees, a wheat-based dish with chicken, tomato, onion and seasoning; rabees, boiled baby shark fried with liver (a Dhofari speciality); shuwa, marinated meat (goat, mutton, calf or camel) cooked for 24 hours in an earth oven with date juices and spices, wrapped in banana leaves and served on a giant communal tray called a fadhl; and mashuai, a whole spit-roasted kingfish with lemon rice.The sweet, sticky halwa is a popular dessert similar in concept to Turkish delight, and is made by men, with the recipe handed down from generation to generation. The main meal is eaten at midday, while the evening meal is lighter. If cutlery is not provided, only the right hand is used for eating.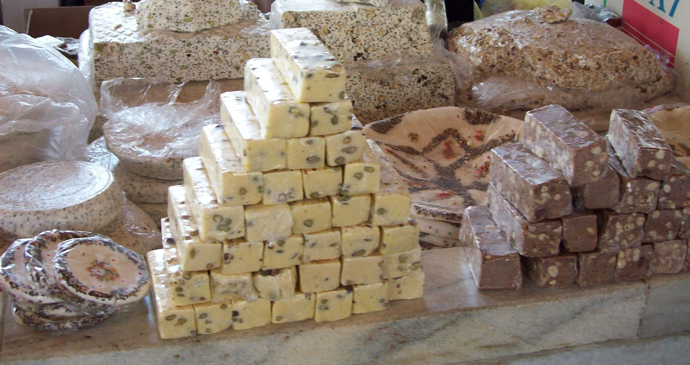 A popular sweet, halwa is made from ghee, semolina and sugar mixed for several hours over the fire with a copper spoon, then flavoured with almond and cardamom © Shuhrenataxmedov, Wikipedia
Travelling around the country you will find plenty of local café-type restaurants. Although these are very basic, they offer a good, cheap way to eat when you are on the road. Chicken, mutton and fish are frequently on the menu. Vegetarians are also well catered for as large numbers of Indian expatriates are also vegetarian for religious reasons, so many Indian restaurants offer a range of vegetarian dishes, with fried vegetables and dhal available in most local restaurants. A big range of vegetarian mezze or starters based around tomatoes, onions and aubergines are on offer in all Arabic restaurants.
Each of the resthouses on the main highways has a restaurant, and although these are basic and unlicensed, the curries tend to be very good. Snacks can be bought at the food stores found beside most petrol stations, and within the shops of the petrol stations themselves. Supermarkets sell a good range of food and soft drinks suitable for picnics, and the Omanis themselves have a strong picnicking tradition.
Higher-end restaurants can be found in hotels in major towns. The star rating of the hotel is indicative of the price range of the restaurant. The capital has many excellent mid- to high-end restaurants both in and out of hotels. For information on tipping etiquette, see Tips on Tipping.
Favourite local drinks are laban, heavy salty buttermilk and yoghurt flavoured with cardamom and ground pistachios. Fresh juices are also popular, made from fruits like mango, banana, pineapple and pomegranate, and are very cheap by Western standards. After the meal bitter cardamom coffee is traditionally served from brass long-spouted coffee pots into tiny china cup-like bowls.
The Omani government's attitude to alcohol is much more relaxed than in other parts of the Arabian Peninsula. It is widely available at hotels and some higher-end restaurants (both within and outside hotels) throughout the country.
Accommodation
Muscat is home to some excellent four- and five-star hotels such as Al Bustan Palace, the Grand Hyatt, the Radisson Blu, the Chedi, and the Shangri-La Barr Al Jissah Resort (which comprises three hotels designed to appeal to different types of client). There are many mid- and budget-range hotels too, which offer good, clean accommodation, so it is a misconception that the country can be visited only by the more affluent traveller.
Hotel apartments are a cheaper way of staying in one place for longer periods, and a growing number of these can be found in Muscat. As tourism increases, the facilities and services available are likely to improve and become more competitive. In the off-season summer months many hotels advertise attractive discounts, while in the high seasons of autumn and spring, especially at festival times, there is a lot of pressure on availability of rooms. Resthouses offer good value for money and can be found along the main highways throughout the country.
Wild camping is permitted anywhere well away from habitation or on undeveloped beaches.