Climate
The Vendée and its surroundings are gloriously sunny, particularly on the coast which experiences over 2,000 hours of sunshine annually. Temperatures in high summer can be hot, winters are generally mild, and somewhat humid but colder in the areas away from the ocean.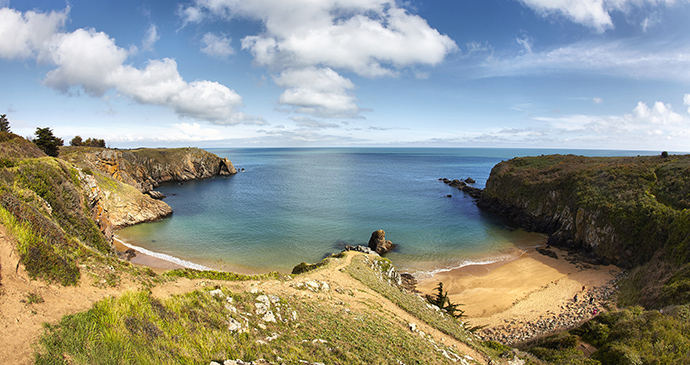 There's little in the way of snow and even the interior claims only a modest number of frosty days. November to January are the rainiest months, and the coast generally experiences less precipitation than the interior of the département. Wind is often a feature here, a welcome provider of cooling in summer. Occasional storms can brew in autumn or winter, with the islands being particularly susceptible. Only very rarely can these be serious.
When to visit
The Vendée generally enjoys considerably warmer weather than that of southern England, an oceanic climate with hot summers and mild, damp winters. Wind is a feature much of the time, providing welcome natural cooling in high summer and attracting watersports fanatics. Inland, incidences of extreme weather increase can occur, with occasional intense heatwaves (canicules) in summer and some frosty days in winter.
But weather is not the only factor determining the best time to come to the Vendée. Like many tourist hotspots in Europe, the region shows a huge spike in visitor numbers in July and August, with a peak during the French school holidays – particularly from around 14 July to 15 August. Visiting at this time has some 'pros', as all visitor attractions, tourist offices and restaurants will be open on most days. The 'cons' are that everywhere will be busy, with heavy traffic, a squeeze on parking (especially on the coast) and the challenge of finding a spot on the beaches.
Accommodation prices during this time will also be at the top of the curve and advanced booking becomes essential. Easter, the month of May with its large number of public holidays, and the half-term weeks leading up to Toussaint (at the start of November) are other busy holiday times. Outside the peak periods, it can be surprisingly quiet, even in warm, sunny months such as June and September. Hiring a gîte, or a mobile home on a campsite, during these times can be less than half the cost of peak-time rental.
Many accommodation options and visitor attractions will close for up to a month at some period between November and February, as their owners take a well-earned rest or carry out maintenance. These closures may vary from year to year, so visiting during this time requires careful checking or your choices can be limited. Apart from seaside and purely child-orientated activities, there is still plenty to visit between May and October, but if you are coming for a specific attraction, do check the relevant website in advance to ensure that it will be operating: opening hours may change from one year to another. Main museums and cultural sites are open – at weekends at least – almost all year.
January
Vendée Globe
It may only happen every four years, but do take your chance to welcome home the intrepid round-the-world solo sailors in this world-famous race; winners should be arriving at Les Sables-d'Olonne before the month end.
February
Elephant safari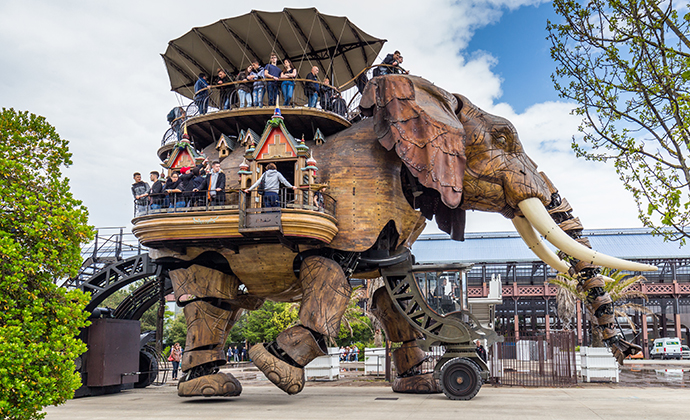 Ride Nantes's gigantic mechanical elephant, a testament to the city's industrial past and proof of its extraordinary creative heartbeat. Safari season starts again this month so climb on board!
March
Brace yourself
Put on your walking boots for some scenic coastal strolls on the island of Noirmoutier. If the weather is kind, you could even cross the Passage du Gois – at low tide, of course.
April
Vélodyssée Vendée
Take to two wheels to enjoy the coastal section of this long-distance cycle route. Start at Bouin and finish at L'Aiguillon, taking in the best of the region's seaside delights. Flat terrain, bracing sea air – what more could you want?
May
Buried treasure
Early May is the time for the first Bonnotte potatoes – one of the finest delicacies around – to be dug up in Noirmoutier's sandy soil, a perfect off-season time to cross the Passage du Gois and visit this delightful island.
June
History at its most dramatic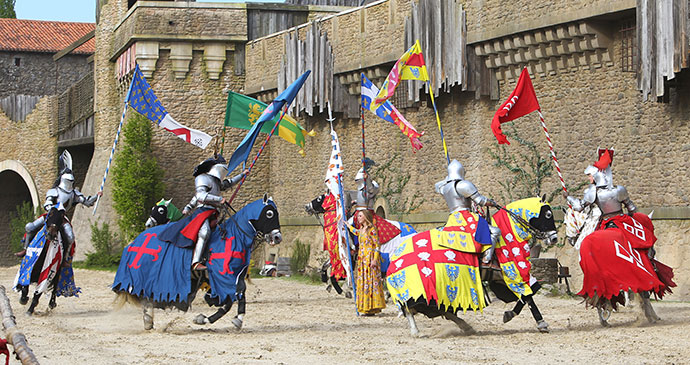 The Grand Parc du Puy du Fou is open daily from now till early September. Book early for a performance of the dazzling, night-time Cinescenie show, which is performed every weekend.
July
Turn the clock back
See the market town of Autrefois Challans revert to 1910, with stalls and traditional entertainment filling the streets. For two Thursdays in July and two in August, there is fun for all ages!
August
Fireworks by the sea
Don't miss the Vendée's biggest and best annual firework display, created by master pyrotechnician Jacques Couturier, which takes place over the harbour at St-Gilles-Croix-de-Vie in the middle of the month.
September
Cool it in the Venise Verte
This is an ideal time to rent a boat and paddle lazily through beautiful tree-lined canals of the romantic 'Green Venice' area.
October
Birdwatching at Pointe de l'Aiguillon
There may be fewer tourists at this time of year but, during the autumn months, around 250,000 birds pass this way en route to warmer winter climes. From September to the end of October, volunteers from the LPO (the 'French RSPB') greet visitors at weekends, 15.00–18.00.
November
A winter's hideaway
Hole up in the beguiling Île d'Yeu, and paint, write or walk the empty beaches. Far from the madding crowds, this is a great place for a true winter retreat.
December
Christmas shopping?
Treat yourself to a pre-Christmas weekend break in La Rochelle, and browse through the arcades before settling down in one of the many waterfront restaurants.