When to visit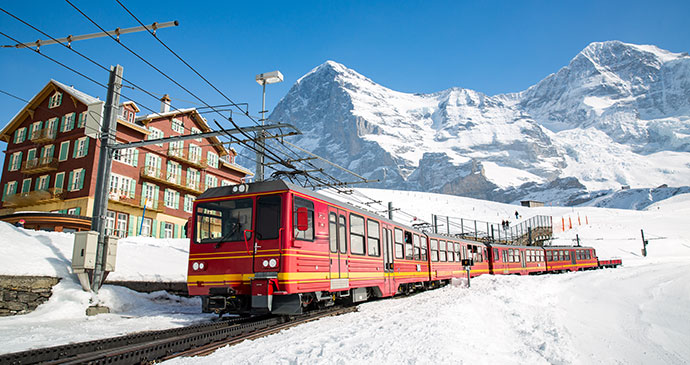 Kleine Scheidegg station is dramatically situated between the Lauberhorn and the Jungfrau, with magnificent views down the valley © Victor Maschek, Shutterstock
There is almost no time in the year when a visit to Switzerland is inadvisable. Even in the unpopular month of November, one can be lucky and have glorious sunshine – and benefit from low-season prices. Much depends on the area and altitude. May in the mountains, for example, is often not a good time to visit: many of the major hotels, mountain cableways and funiculars will be closed because it is too late for skiing and too early for walking or spring flowers. June and even July are the best months to see the mass of colour on unsprayed mountain slopes.
It is wrong to think of Swiss alpine resorts in winter as being devoted solely to the needs of skiers: about 40% of winter visitors are non-skiers, though most participate in other outdoor activities such as hiking, snowshoe trekking, paragliding or sledging. Skiing at the higher resorts can be good right into April, and even year-round at the very highest slopes near Saas-Fee and Zermatt. Rainfall in spring and autumn is generally higher than during the winter or summer, but rain often serves to clear the air, producing a clarity that is rare in summer when haze can obstruct views. The Jura region, in particular, is noted for its high spring rainfall. Although some hotels close for a couple of months in late September or October, the autumn can be a delightful time: the summer crowds are gone, the colours of the trees are glorious and the views can be much clearer than during the summer. Most mountain cable cars and chairlifts close at the end of October to allow maintenance before the winter sports season begins.
The mountain ranges that criss-cross the country often act as a dividing line between two very different sets of weather conditions: the passage of the Gotthard Tunnel can mark a transition from grey skies to bright sunshine. South of the Alps, the number of hours of sunshine is higher and precipitation lower, so those wanting a warm holiday at the margins of the summer may want to consider a few days in Ticino.
Highlights and itineraries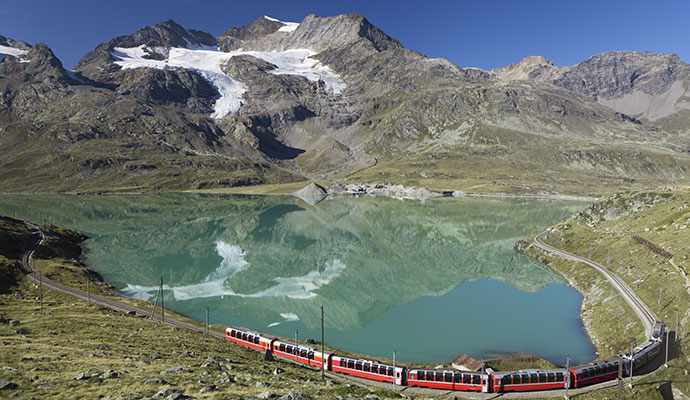 Making the final part of the Glacier Express route, the Bernina Express goes over the highest rail crossing of the Alps © Sculpies, Shutterstock
In terms of Switzerland's great railway journeys, it is easy to recommend something of a hierarchy. The popularity of the Glacier Express between Zermatt and St Moritz is wholly deserved, and this is probably the journey not to be missed.
Other outstanding and well-known scenic journeys are:
• Montreux–Zweisimmen
• Luzern–Interlaken
• Interlaken–Jungfraujoch
• St Moritz– Tirano
• Locarno–Domodóssola
But there is a host of other lines, some mainly used by local people, that would merit description as great railway journeys in other countries:
• St Gallen–Gais–Altstätten
• Gais–Appenzell–Wasserauen
• Luzern–Bern
• Luzern–Engelberg
• Luzern–Andermatt–Lugano
• St Moritz–Scuol-Tarasp
• Martigny–Vallorcine
• Bex–Villars
• Aigle–Les Diablerets
• Yverdon-les-Bains–Ste-Croix
• Neuchâtel–Buttes
• La Chaux-de-Fonds–Glovelier
That said, there are very few lines in Switzerland that are actually dull, blessed as the country is with a profusion of picturesque landscapes.