Eating and drinking
Accommodation
Eating and drinking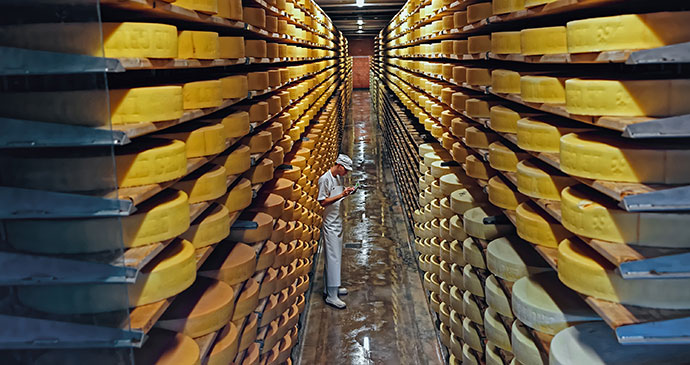 Cheese lovers should head to Maison du Gruyère dairy and restaurant, opposite the station in Gruyères © Roman Babakin, Shutterstock
The perception of Swiss cuisine as being all about chocolate and cheese, fondue and rösti is as old hat as suggesting that fish and chips exemplify British cuisine. Fondue and rösti still feature as national dishes, but food and wine in Switzerland have undergone a revolution in the past three decades. As with so many aspects of Switzerland, there has been an emphasis on quality, helped by consumer demand for produce that is organic – or bio as it's usually termed. Switzerland was the second country, after Italy, to establish a Slow Food movement, strongly supported by the Coop from the early 1990s, which prompted the other major food retailer, Migros, to follow suit in stocking more organic, regional and local products.
Growing interest in what we eat has helped to raise consumer expectations when they visit a restaurant, driving higher standards of ingredients and cooking. This has complemented one of Switzerland's strongest culinary attractions: its three national cuisines drawn from France, Germany and Italy. Within the first two, comprising a number of cantons, there are also numerous regional and local specialities. As a consequence, Switzerland has a culinary richness matched by few other countries. Its range is extreme: from simple hearty peasant dishes such as the unfortunately named cholera (vegetable pie) and Kartoffel-Käsekuchen (potato and cheese pie) to the most refined cooking worthy of three Michelin stars or 19 GaultMillau points.
In common with nearly all Western countries, the Swiss beer scene has been revolutionised by the establishment of micro-breweries to challenge the four main big breweries of Calanda (Chur), Eichhof (Luzern), Feldschlösschen (Rheinfelden) and Rugenbräu (Interlaken). In fact, Switzerland has the highest concentration of breweries per capita in the world, though over 80 per cent of beer consumed in the country is still German lager style, and it is a challenge for craft breweries to broaden consumers' tastes.
Wine production, too, has undergone a transformation. Until recently many Swiss wines were a disappointment, not helped by Swiss wine merchants being allowed to mix imported and Swiss wines, a practice banned in 2006. Today the quality has improved so much that there is no need to order imported wine, but most visitors' knowledge of Swiss wines is minimal since the Swiss drink it all: less than 2% is exported and most of that goes to Germany, so it takes time, or a sommelier's advice, to develop personal choices.
Accommodation
Swiss hotels reflect the high standards which characterise most aspects of Swiss public services. Whether a five-star hotel or a simple country inn, standards seldom disappoint. Swiss hotels are given the customary ranking of up to five stars, but a small number of hotels are deemed to have 'unique' qualities that make conventional star ranking inappropriate. Equally, inns or small hotels without even a single star should not be considered in any way substandard; they will have fewer facilities and simpler furnishings, but may well have a homely quality that will appeal to anyone whose holiday won't be ruined by the absence of a trouser press.
For those in search of character and atmosphere, the number of large, grand hotels put up for the huge influx of Victorian visitors has diminished steadily since World War I; hotels like the Schreiber on Mount Rigi, the Axenfels in Morschach and the Bristol in Lugano have succumbed to a sea-change in tourist requirements. Nonetheless there are still some magnificent hotels redolent of the days when the Gotthard Express was steam-hauled and guests often stayed for months.