Climate
When to visit
Highlights and itineraries
Climate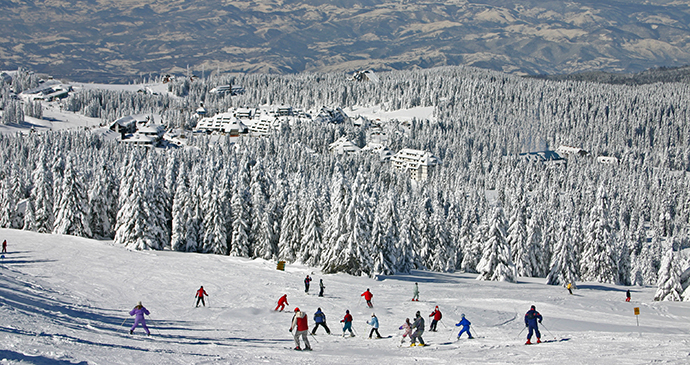 Skiing in the Zlatibor region is possible between November and March © D. Bosnic, Archive National Tourism Organisation Serbia
A characteristic wind of the region, known as the košava, sometimes blows from the southeast in autumn and winter bringing fair and dry weather.
The climate is moderate continental, with four distinct seasons. The average air temperature in Belgrade is 11.9°C. Autumn is longer than spring, often with extended periods of warm, sunny, anti-cyclonic weather; in contrast, spring is often short and rainy. Winter is not especially harsh by eastern European standards, with only an average of 21 days annually below 0°C. The average temperature in January is 0.4°C making it the coldest month of the year. Summers generally begin abruptly, with July and August being the hottest months overall, having average temperatures of 21.7°C and 21.3°C respectively. A characteristic wind of the region, known as the košava, sometimes blows from the southeast in autumn and winter bringing fair and dry weather. Usually this occurs when there is high pressure to the northeast over Ukraine in combination with low pressure over the Adriatic. Belgrade has an average 139 days of precipitation per annum (including 27 days of snow), which is most intense in the months of May and June and at its least in February. The country as a whole receives an average precipitation of between 600mm and 800mm annually in the plains – about the same as that of southeast England – and between 800mm and 1,200mm in highland regions.
When to visit
The one thing that you can be certain of, for the time being at least, is that wherever you go and whenever you choose to visit Serbia, it is unlikely to be overrun with tourists.
Generally speaking, the best time to visit is anytime between late spring and early autumn. Depending on personal interests, it is a good idea to try and make your visit coincide with particular events that are taking place throughout the country, ie: for music fans this might be during the EXIT Festival (pop and rock) that is held in Novi Sad during July, the Dragačevo Trumpet Festival (Gypsy brass bands) that takes place at Guča in western Serbia every August, or the Belgrade Music Festival BEMUS (classical) that is hosted by the capital in October. Alternatively, you may wish to time your visit to coincide with religious and cultural celebrations like Orthodox Easter, which can be an enjoyable time to visit. Overall, May, June and September are probably the most perfect months, although May and June are also marginally the wettest. In the countryside, early to mid-October can be a delight, still reasonably warm but with golden autumn colours, and this is a superb time for energetic outdoor activities like walking or cycling. Hotel accommodation and public transport can be at a premium at certain times of year like Easter, New Year or during the EXIT festival in Novi Sad in July or the Belgrade Book Fair in October, but as a rule this presents few problems. The one thing that you can be certain of, for the time being at least, is that wherever you go and whenever you choose to visit Serbia, it is unlikely to be overrun with tourists. Enjoy this while it lasts.
Highlights and itineraries
Highlights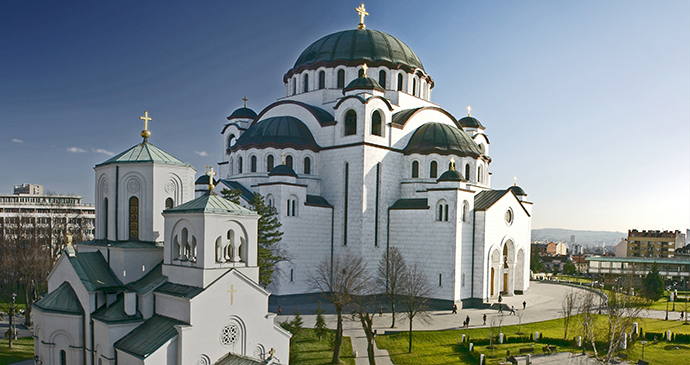 The Temple of St Sava in Belgrade is undeniably a highly impressive structure: a neo-Byzantine colossus with echoes of St Sophia in Istanbul © D. Bosnic, Archive National Tourism Organisation Serbia
Serbia has always been overlooked by visitors to the southeastern Europe region; this was even the case during the heyday of Yugoslav tourism in the 1970s and 1980s. It is difficult to understand why this is, as the country has plenty to offer: a fascinating, although admittedly not beautiful, capital city that boasts a rich cultural life, with excellent restaurants and nightlife; quiet, rural market towns that still cling to traditional ways; and a countryside that is characterised by lush green hills and forested mountains, with age-old monasteries hidden away in remote valleys. Perhaps the current lack of foreign visitors should be seen as an advantage as, in this case, low tourist numbers equate to low prices.
Belgrade is worth at least a couple of days if your interests are cultural and historical; if you are of a more hedonistic persuasion then you will need longer, as Belgrade has one of the best restaurant, nightclub and music scenes in all of southeast Europe. Much the same can be said of Novi Sad, which offers a slightly more refined and second-city version, although the city can easily be visited as a long day trip from the capital.
Other Serbia highlights might include a trip along the Danube to see Golubac Castle, the archaeological finds at Lepenski Vir and the Iron Gates at Đerdap. Further options might be a monastery tour to see some of Serbia's hidden gems like Studenica or Manasija; a tour of some Hungarian minority towns in Vojvodina like Subotica with its ornate secessionist architecture or Sremski Karlovci with its splendid Habsburg buildings; or hiking among the forested hills of Zlatibor and Kopaonik national parks. Railway enthusiasts will enjoy taking part in one of Belgrade's summer steam excursions or travelling along the intriguing 'Šargan Eight' line.
In the south, the cities of Novi Pazar and Niš have a reasonable amount to see and both can serve as good bases for visiting the hinterland. Old Turkish towns like Pirot or Vranje are also worthy of a day's visit.
Suggested itineraries
The suggested itineraries below are for visitors with a general interest in the country and its culture. They all assume that Belgrade is the start and end point of any such visit. If your interests are more specific – music, monasteries or wildlife for example – then you will need to adapt and plan accordingly in order to get the full benefit of the time that you have in the country.
One week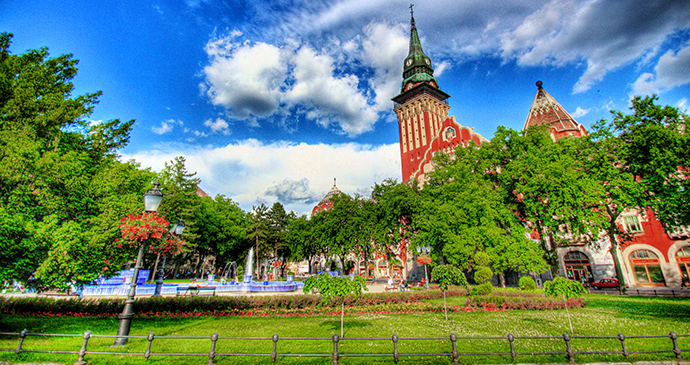 Subotica's town hall is surrounded by parks and fountains © Subotica Tourist Organization
A week in Serbia is enough time to explore the capital Belgrade, make a visit to the second city Novi Sad and still have a few days left over to take in some attractive Vojvodina towns like Subotica or Sremski Karlovci. Alternatively, after visiting Belgrade and perhaps day tripping to Novi Sad, you could spend two or three days exploring some of the more easily visited monasteries of central Serbia like Žiča, Ljubostina or Manasija.
Two weeks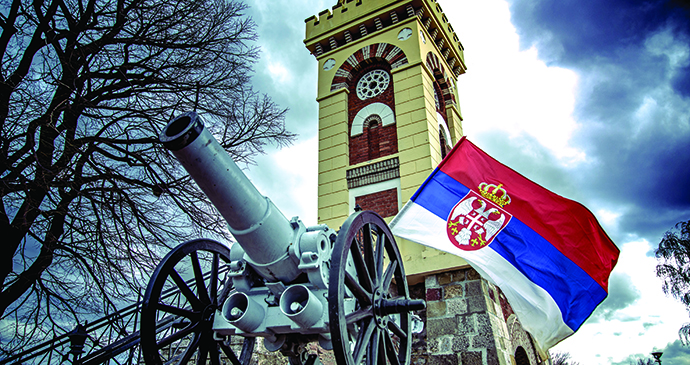 Niš is home to several sites relevant to historic Serbian statehood © Tourism Organisation of Niš
A fortnight affords far more flexibility. After Belgrade and Novi Sad, a short circular tour of Vojvodina to the north could take in some of its towns like Sombor, Subotica, Vršac and Sremski Karlovci before returning to the capital and then venturing east along the River Danube to visit Golubac Fortress and Lepenski Vir. Or instead, after returning to Belgrade, make a circular tour of either southeast Serbia, taking in destinations such as Kruševac, Niš, Sokobanja and Zaječar, or alternatively, head to west and southwest Serbia, visiting the Tara National Park, Zlatibor and the Sandžak region around Novi Pazar.
Three weeks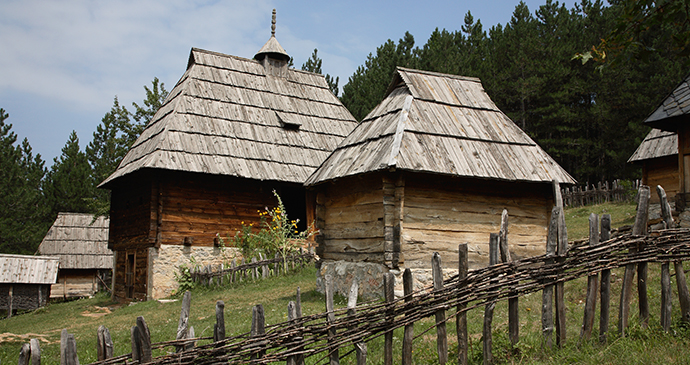 Zlatibor is a region of high mountains, pine forest and alpine meadows, with little in the way of large settlements © D. Bosnic, Archive National Tourism Organisation Serbia
With three full weeks at your disposal, it is possible to see quite a lot of Serbia. As well as Belgrade, this could include parts of Vojvodina as above, and then incorporate a sweeping circular tour that takes in much of Serbia's south. Places to include on such an itinerary might include the city of Niš, the unusual rock formations at Đavolja Varoš, the Kopaonik area, Novi Pazar, the central Serbian town of Kraljevo and some of the monasteries of Šumadija. It might also be possible to squeeze in a visit to the west of the country, visiting either the Tara National Park or the Zlatibor region where you could take a trip on the Mokra Gora railway. Another alternative might be to venture all the way east along the River Danube to Kladovo after returning to Belgrade from Vojvodina. From Kladovo, head south through the little-visited east Serbian towns of Zaječar and Knjaževac to reach Niš before heading back to Belgrade. To get a full impression of all of Serbia's markedly distinctive regions – Vojvodina, the Danube, southeast and southwest – would realistically require a full month.