Eating and drinking
Accommodation
Eating and drinking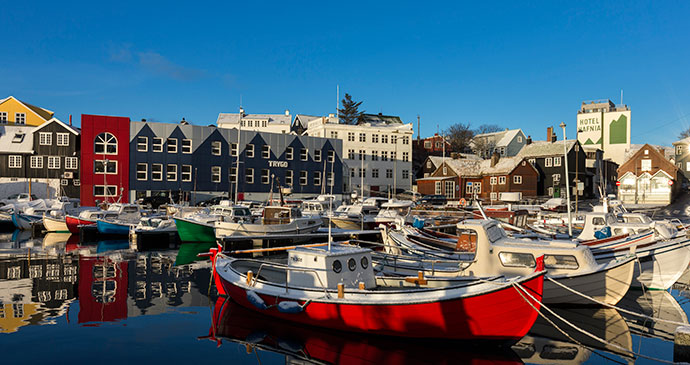 Tórshavn is your best bet for a wide range of eating options © VisitFaroeIslands
Whilst in the Faroes, it's worth searching out and sampling some of the islands' traditional foods. A particular favourite is wind-dried sheep's meat, skerpikjøt, prepared around Christmas time and then nibbled throughout the year.
Similarly to accommodation, the greatest choice of eating and drinking establishments can be found in Tórshavn where you will find everything from Burger King to sumptuous smorgasbord spreads of every Faroese and Nordic delicacy you care to imagine, generally served in the hotels. In the smaller villages, though, it can often be difficult, if not impossible, to find somewhere to eat and you may well find yourself backtracking to the nearest main village to get some food. While out in the sticks, you can always rely on filling stations to hold a small selection of sandwiches and to serve up hotdogs with mustard (always very good and not nearly as tasteless as you may think) and sometimes chips. If the worst comes to the worst, look for a supermarket and go self-catering (remember, though, most supermarkets are closed on Sunday); there's generally some kind of food store in all but the smallest of villages. On board the larger ferries (operating on the routes Tórshavn–Suðuroy and Gamlarætt–Skopun), there are cafeterias serving snacks and coffee. For a more personal dining experience, ask the tourist office about Dining with the locals or heimablídni as it's known in Faroese, an opportunity to meet local people and eat with them at home. Naturally, times and locations are subject to change but you can find more details at visitfaroeislands.com/see-do/dining/heimablidni and the tourist office will have the latest information.
Faroese breakfast, as served in the hotels in Tórshavn, and less extravagantly elsewhere in the country, is a Scandinavian-style cold table of hams, cheeses, herring, cereals, yoghurts, fruit and sometimes Danish pastries. It's a help-yourself affair and you're permitted to take as much as you like and visit the table as many times as you like. There are also limitless supplies of coffee, tea and juice. The main meal of the day in the Faroe Islands is lunch, which, in Tórshavn at least, throws up a variety of options. Once again, an extremely good-value help-yourself buffet where you can eat your fill for around 150kr is a decent option. Lunchtime in the Faroes is any time between about 11.00 and 14.00, though most people tend to eat around noon or 13.00. If you're looking to save money while in the Faroes, switch your main meal of the day to lunchtime and you'll save a packet – have a snack in the evening instead, bought from the supermarket or bakery, and you'll make your money go much further. Dinner can be expensive for what you get – meals are often heavily meatorientated (rather than fish-based) with an accompaniment of (more often than not) overcooked vegetables and masses of potatoes. Sadly, due to the lack of fresh vegetables in the islands, many eateries serve veggies straight out of a can. Frustratingly for a country so influenced by the sea, it can be hard to find fresh fish on the menu. You should count on around 250–350kr for an upmarket two-course restaurant dinner, though of course you can eat in the pizzerias and cafés of Tórshavn for around half of that.
While in the Faroes it's worth searching out and sampling some of the islands' traditional foods. A particular favourite is wind-dried sheep's meat, skerpikjøt, prepared around Christmas time and then nibbled throughout the year; virtually every home in the islands has its own hjallur or meat-drying outhouse. Pilot whale meat and blubber is occasionally also available on the menu (particularly at a Faroese evening or sometimes on the Faroese smorgasbord served up during the summer at Hotel Hafnia in Tórshavn) though it is somewhat of an acquired taste. Look out too for roast lamb and boiled wind-dried fish, ræstur fiskur – two other delicacies. Popular fish dishes (should you be able to find them on the menu) include haddock, halibut, plaice and salmon.
What will push the bill up is alcohol; a bottle of wine is roughly around 250kr, a draught beer usually starts at 60kr. It's much cheaper to do your drinking at home – which is what many of the Faroese do.
For information on tipping etiquette, see Tips on Tipping.
Buying alcohol
Owing to a strong temperance movement (and religious objections), alcohol has only been (relatively) freely available in the islands since 1992. Before then the Faroes practised a system of public prohibition and every bottle of the hard stuff (including wine) had to be shipped in from Denmark and was doled out in rations. Mercifully, the Faroes have now entered the modern age and alcohol is more readily available – albeit restricted by some bizarre legislation. Forget any notion of nipping into the nearest supermarket to buy a bottle of wine for dinner because alcohol is not available in the shops. The only place to buy any form of alcohol, be it strong beer, wine or spirits, is Rúsdrekkasøla Landsins (known colloquially as rúsan) a state-run monolith responsible for all-things alcoholic. Opening times are limited and you'll find only six of these liquor stores in the entire country; they're located in Klaksvík, Miðvágur, Saltangará, Skálavík, Tórshavn and Drelnes. In short, if you're heading out into the wilds, stock up before you leave town or you'll be left with the pathetically weak fizzy beverage sold in supermarkets, ljóst pilsnar, purporting to be beer yet with an alcohol content of barely 2.8%.
Accommodation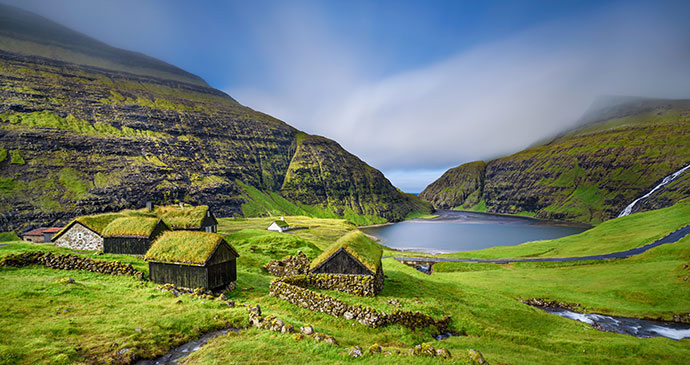 At times, finding places to stay outside of Tórshavn can be difficult © Nick Fox, Shutterstock
Outside Tórshavn, finding somewhere to stay in the Faroes can be tricky since many of the villages simply don't have anywhere; however, it's always worth checking with the local tourist office who will know the very latest situation. In the capital, things are booming and there's a choice between six hotels (more are planned), a couple of guesthouses where you have access to a kitchen to prepare your own meals, a number of private homes offering bed-and-breakfast accommodation and a campsite.
Prices are roughly in line with what you would expect to pay in any other northern European country. The best value-for-money options are guesthouses, which allow you to cut costs by self-catering. There are also a limited number of youth hostels and campsites dotted around the islands, though both are generally only open during the summer months. Since there is no common or public land in the Faroes (unlike in the other Scandinavian countries where an 'Everyman's Right' provides free land access to all), camping is only permitted in designated areas. It is not allowed to camp in a caravan on the roadside nor is it permitted to camp in car parks, in lay-bys or at viewpoints.