Emilia-Romagna is Italy's 'Food Valley', the queen of culinary delights, home of the nation's favourite ham, cured meats, cheese and balsamic vinegar, not to mention a cornucopia of fruit and vegetables, seafood, wild mushrooms and truffles.
Every province, every village even, has its own specialities, which often appear on menus in Emilio-Romagnolo dialect to complete the bewilderment of the innocent diner. In general, dishes tend to be meaty but vegetarians need not despair; there will nearly always be options or that old standby, pizza. Vegans, however, may find it tough going.
Salumi
Salumi means cured pork products – cold cuts, if you will – and no place in Italy does them as well and as abundantly as Emilia-Romagna, where the most typical antipasto is a selection of salumi, called an affettati or tagliere (literally,'cutting board').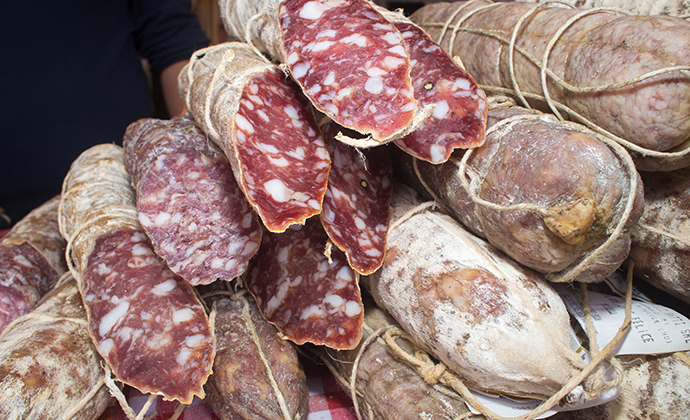 Piadine and other obsessions
What goes with your plate of salumi? A foaming glass of dry Lambrusco and a something else, depending where you are. In Romagna it's sure to be a hot and savoury piadina, a soft round flatbread traditionally made with flour and lard. Each province on the Emilia side also has its own flatbread or focaccia or paste fritte or gnocco fritto – deep-fried little golden pillows.
Throughout Emilia you'll find tigelle, made with yeast and lard baked in a round waffle-iron, and borlenghi, enormous crepes usually cooked out of doors and traditionally topped with cunza – a mix of chopped rosemary, garlic and lardo – folded and served, although some heretics replace the lardo with Parmesan.
In Reggio and elsewhere, look for erbazzone, a very thin rustic pie filled with spinach or chard, onions and sometimes pancetta or cheese.
Primi
Pasta is the classic primo, or first course. Many of Italy's favourite forms originated here, and taste better here than anywhere else. Several come from the word torta, or twist, which describes how they're made: the pasta is rolled and cut, the filling is spooned on, and sealed in a ring with a twist. The classic tortellini are part of the region's mythology, and ideally served in capon broth.
In Bologna they are filled with pork, ham, mortadella and Parmesan. Bigger ones are tortelloni. Tortelli, usually stuffed with herbs and ricotta, or pumpkin or other fillings, can be twisted but are usually square or shaped like half-moons and served with melted butter and Parmesan, or a sauce. Another classic, tagliatelle should be ideally served with a ragù– the mother of 'spag bol', a dish as bastardised in the UK as mortadella has been baloneyed in America.
Secondi
Main courses (secondi) tend to be on the hearty side as well. One heraldic dish is stracotto, topside of beef, cooked for hours (or days, by some extremists) in wine with herbs and vegetables until it becomes incredibly tender; sometimes it has sausage and a garnish of mushrooms.
You may also find rosa di Parma: a fillet of beef tenderloin, stuffed with Parmesan and prosciutto, rolled up, roasted and sliced. Another classic, bollito misto, is several boiled meats served with sauces, which oft en comes on a cart (carrello dei bolliti), allowing diners to pick and choose. Coppa arrosto, a speciality of Piacenza, is pork cooked in butter, oil, garlic and rosemary, then doused with wine and roasted in the oven.
Rabbit is popular: coniglio alla cacciatora, sweet and sour, or coniglio saporito, rabbit stew with chicken livers, anchovies and capers, or even the elaborate coniglio in porchetta, a speciality around Cesena, made with deboned rabbit, flavoured with fennel, garlic and rosemary, bacon and rabbit liver then stuffed with minced beef and pork, rolled up and baked.
Cheese
Besides Parmesan and its Grana Padano cousins, Emilia's cheeses include stracchino (delicious soft cow's cheese, often eaten on an antipasti plate with salumi, in a piadina or even mixed in mashed potatoes) and fresh semi-soft ribiòla made in Piacenza.
In the Apennines, try soft white raviggiolo, one of the country's oldest cheeses; unlike most, the curd isn't cut, but is simply left to drain on fern or fig leaves. It's usually eaten fresh with olive oil and pepper, or stuffed in pasta. In Romagna, look for formaggio di fossa, or 'pit cheese'.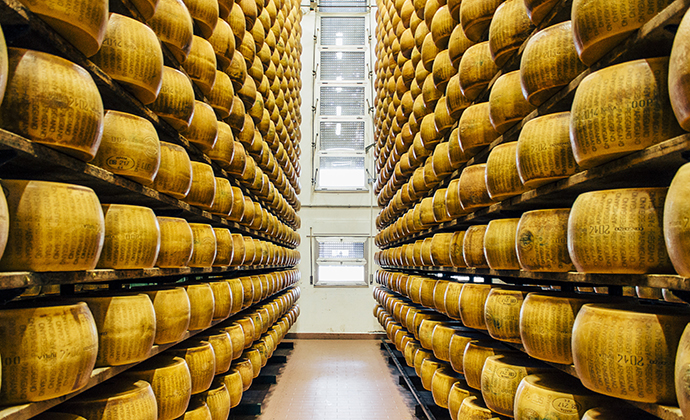 Sweet stuff
Unlike some regions in Italy, desserts are serious business in Emilia- Romagna, and often there are special dessert menus. Among the most traditional are sbrisolona, a crumbly, cookie-like cake, often flavoured with lemon zest or almonds; torta di riso, a delicate cake of rice, sugar, almonds and milk; zuppa inglese, the Italian version of trifle (the name seems to derive from the trifle that members of the Este family enjoyed while visiting the court at London); buslàn, hard ring-shaped biscuits flavoured with lemon zest, for dunking in dessert wine at the end of a meal; spongata, a dense cake filled with honey, nuts and candied fruit; and a dense chocolate-and-coffee cake from Modena.
For sheer decadence, it's hard to beat a torta di Duchessa di Parma, a hazelnut cake laden with pastry cream, zabaglione, and chocolate ganache.
Wine and liqueurs
Stretching from north of Genoa to the Adriatic, Emilia- Romagna is Italy's fourth biggest wine producer. Much of the wine ends up as cardboard boxes of supermarket plonk, but the region also produces some gems among its 77 DOC (Denominazione di Origine Controllata) wines.
Two of the region's finest, Pignoletto from the Colli Bolognesi and Romagna Albana, get Italy's strictest rating: DOCG (Denominazione di Origine Controllata e Garantita). Best known of the DOC wines are Lambrusco in Emilia and the rubyred, fuller-bodied Sangiovese (the 'blood of Jove') of Romagna, made from one of the main grapes of Tuscany's Chianti, although the results are usually lighter and fresher; the finest bottles, however, can hold their own with the noble Tuscans. The third by volume is straw-coloured Trebbiano, a refreshing single-grape wine, best drunk young.
Beer
With its huge student population and thirsty summer tourists, beer has always been a serious tipple, though not a distinguished one. Now, however, Emilia-Romagna is playing a big role in Italy's momentous beer revolution, with more than a hundred craft breweries (microbirrifici) and brew pubs, nearly all founded in the last decade or so. The best known, so far, is the Birrificio del Ducato, which since its foundation in 2007 has won awards and exports all over the world.